In a recent article, I highlighted the application of quantitative analysis to produce meaningful and objective investment information. The article also looked at the outlook for the stock market based on several quantitative models.
Here, we will take a look at "QE3" and how other key markets reacted to the latest round of quantitative easing -- and even how some markets moved before the actual QE3 announcement. We'll also study the technical outlook for several of these major markets.
QE3
Even before QE3 (the third round of Quantitative Easing) was officially announced, there were rumors that the FED had already initiated QE3 in early September. Most notable was Jim Rogers, who told India's Economic Times, "I do not know if they (FED) will announce it. I know they are going to print more money. They already are. If you look at their balance sheets, you will see that something is happening, assets are building on their balance sheets and they are not coming from the tooth fairy."
Gold
Interestingly, although QE3 was not officially announced until September 13, 2012, gold broke above its recent trading range in mid-August. Gold, which traded in a relatively tight range of $1575-$1625/ounce from May through much of August, broke out of its summer doldrums decisively - and currently trades at the $1780 range, basis the December 2012 futures contract.
Gold Weekly Chart (Dec. 2012 Futures Contract)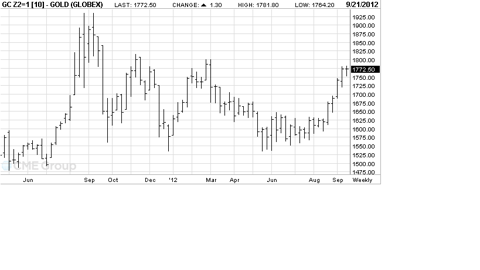 Source: CME Group
Technical traders often say that a market's technical trading action leads "market action" - and sometimes the news! Currently, most every time frame shows an upside trend in the gold market, so traders should have a bias to the long side. We note, however, that the market is extended - and that gold is touching upside resistance in the 1800 range.
As a result, traders should be cautious - and may want to look for a pullback before entering new long gold positions. Some invest in gold via ETFs such as the SPDR Gold ETF (NYSEARCA:GLD) or iShares Gold Trust (NYSEARCA:IAU), while others prefer individual stocks such as Barrick Gold Corp (NYSE:ABX), Newmont Mining Corp. (NYSE:NEM), or AngloGold Ashanti Limited (NYSE:AU).
Gold has been a hot news topic over the last few years, and here is analysis on the gold market we wrote at the end of 2011. The Bank of America / Merrill Lynch recently raised its gold price target to $2400/ounce.
U.S. Dollar
Earlier in the year, the U.S. dollar showed general strength, albeit with volatility associated with the European crisis. However, in the wake of QE3, the dollar showed similar (but typically inverse) market action to gold. With the FED primed to print money, the value of the dollar declined, as the price of gold climbed. The U.S. Dollar Index declined from 83 in early August, to its current level in the 79 range (December 2012 contract). Some investors get exposure to the U.S. Dollar by using the Powershares USD Index ETF (UUG).
Commodities
The path of commodities has been slightly different than for other markets, but also tells a story about the global economy and future potential growth. Here, you can see how commodities have fared during 2012, as measured by the Rogers International Commodity Index (RICI). Some investors obtain commodity exposure via the S&P Goldman Sachs Commodities Index (NYSEARCA:GSG).
After a rise in prices into February, commodity prices have done a "V" this year, declining from February into June, before rising to recent highs from June into September.
Rogers International Commodity Index (RICI) - 2012 Year-to-Date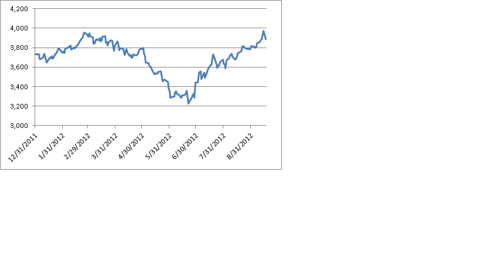 Source: Uhlmann Price Securities
The RICI has captured a diverse amount of market activity from various global events. Some institutional investors consider an investment in commodities as a way of capturing "event risk." For example:
The energy component of the RICI has tracked demand for crude oil - as well as economic hopes.
The 2012 drought helped to propel grain prices about 30% higher, which helped the RICI rise during much of the summer.
Commodities have been one of the fastest-growing sectors of the investment world - and for good reason. The benefits of diversification - as well as commodities' nominal performance make it a good addition for most portfolios.
In addition, the current trend for commodities is up. As the global economy eventually emerges from recession, commodities, as an under-owned asset, may have a good qualitative story to go along with the technical picture. We are bullish on commodities as a long-term diversifier.
Disclosure: I have no positions in any stocks mentioned, and no plans to initiate any positions within the next 72 hours. I wrote this article myself, and it expresses my own opinions. I am not receiving compensation for it (other than from Seeking Alpha). I have no business relationship with any company whose stock is mentioned in this article.
Additional disclosure: Long gold & commodities.
Disclaimer: Past performance is not necessarily indicative of future results. An investment in futures may result in losses.