By Sabina Bhatia
REITs have loyal followers in dividend investors because they must distribute at least 90% of their taxable income each year to shareholders as dividends. This also introduces volatility in the level of dividend payments, as the rate fluctuates along with the rate of growth in profits of the company. Look at what happened to Annaly (NYSE:NLY) on Sept. 19: The company announced that the third-quarter dividend to be paid on Oct. 1 would be reduced to 50 cents from 55 cents. With everyone looking for high-yield names, we thought this would be a good time to highlight American Capital Agency (NASDAQ:AGNC).
American Capital Agency today gives you a fat yield in a low rate environment. Yes, the business is risky and requires a lot of homework. Let's talk about the upside and downside scenarios for the stock before you plunge in to grab that yield.
Valuation
American Capital Agency now trades without the right to receive a $1.25 dividend declared Sept. 11. The stock currently is trading at $35 vs. its 52-week range of $22.84-$36.77 and 8 times its 2012 P/E multiple vs. Annaly, trading at $17.35 vs. its 52-week range of $17.22-$17.37 and nine times its P/E multiple. More importantly, American Capital Agency stock yields 15% vs. Annaly yielding 12%.
The market is still skeptical on the company's fundamentals given the Fed's decision to implement new quantitative easing. We will see it hurting yields and bringing spreads down. The next decision by management will be to cut dividends.
Click to enlarge image.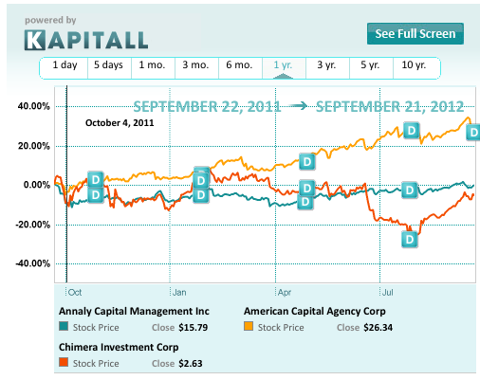 Let's discuss some of the pros and cons of this economic environment and its impact on American Capital Agency.
Downside
There are a few situations where we think the stock could stall its upside performance, the most significant being that U.S. growth is much stronger than expected. Also, given the most recent housing numbers, it is quite possible that the housing market recovers sooner than expected and the prepayment rates begin to rise. Most recently, it was reported that existing home sales rose in August to a more than two-year high, while new single-family home construction was at its strongest since April 2010. This could all be a catalyst for the Fed to move short-term rates higher.
Upside
The flip side of the situation looks a lot more realistic today. The situation around us is a global economic problem, the impact of which will be felt for a long time on the unemployment rate, the housing market, and the growth in GDP. In essence, prepayment rates are not going higher anytime soon, and the housing and economic numbers we see have not been consoling on a consistent basis. The probability that the Fed doesn't touch rates is very high. Who benefits from all of this? You're right if you said American Capital Agency.
Conclusion
There are several catalysts to add to the volatility to the stock, and a wait-and-see approach seems to be the right one at this moment.
For more on American Capital Agency, click here.
Disclosure: I have no positions in any stocks mentioned, and no plans to initiate any positions within the next 72 hours. I wrote this article myself, and it expresses my own opinions. I am not receiving compensation for it. I have no business relationship with any company whose stock is mentioned in this article.