The EUR/USD has surprised many with its run up to 1.3172, but it had a lot of help from the Fed with the announcement of a new round of QE3. We've been waiting for the EUR/USD to stop going up for an opportunity to sell -- is this it?
Technicals
EUR/USD (NYSEARCA:FXE) has broken inside the Bollinger Bands on the Daily chart: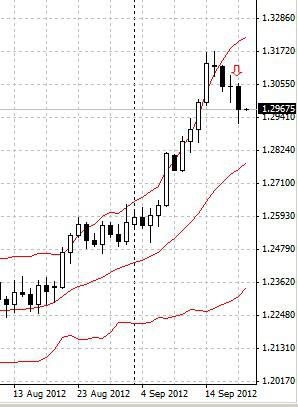 RSI is near 70:

Fundamentals
We should remember that while Mario Draghi gave many speeches supporting the EUR/USD, actually very little action was taken.
Yesterday the Markit Flash Eurozone Purchasing Managers' (PMI) Composite Output Index fell to 45.9 in September -- the lowest for 39 months -- from 46.3 in August. This indicates the region is headed for recession.
Right now, the only thing keeping the EUR/USD higher is the U.S. Fed policy and market perception of that policy. With that support, we can say the EUR/USD likely has a bottom, and will not completely collapse in the near term (or is less likely due to the Fed).
But we may have reached a short term high now that the Fed euphoria has died down. Now, as in August, news coming out of the eurozone may cause EUR/USD another leg down.
We don't know what will be the next event to strike the eurozone. Traders such as hedge fund manager Ray Dalio fear social unrest and a "10 to 15 year managed depression." George Soros is urging Germany to save the euro by cutting its austerity policies or by leaving the single currency altogether.
Whatever the trigger may be, the fundamentals are bearish EUR/USD, and we should prepare sell stop orders below the current price in case.
More Bearish Fundamentals
We have referenced multiple bearish fundamentals in previous articles about the EUR/USD. These remain unchanged.
The euro faces the following real threats:
Other signs linger as a harbinger of a potential euro collapse, such as banking mogul Lord Rothschild taking a 130 Million Pound ($22 million) bet against the single currency.
Short option ladder
If you have the ability to trade Forex options, a way to trade this would be to purchase a put ladder at:
1.28, 1.26, 1.25, 1.24, 1.20
This provides a few close to in the money and one deep out of the money. Deep out of the money options will usually have a higher percent return in the event of a EUR/USD collapse.
Forex Risk Disclosure - Click here to read
The risk of loss in trading foreign exchange markets, also known as cash foreign currencies, or the Forex markets, can be substantial.
Disclosure: I have no positions in any stocks mentioned, and no plans to initiate any positions within the next 72 hours. I wrote this article myself, and it expresses my own opinions. I am not receiving compensation for it (other than from Seeking Alpha). I have no business relationship with any company whose stock is mentioned in this article.