Market Recap
The market increased throughout, the day only to give back some of its gains in the last hour on a fairly quiet day. Things started out solid, as a Spanish news report and the iPhone 5 release gave the market some upside. A report mentioned that Spain was working on a potential bailout deal with European officials, which would also set up the ECB's bond buying program. That news dropped the dollar, and helped equities move higher. The iPhone release also moved tech stocks higher in the morning, but ran out of steam in the afternoon. We are not looking into the day too much, as options expiration is typically a weak day in the market as stocks get pinned to certain levels. Overall, the Spanish news is bullish, and could develop into another market catalyst.
Here are some stocks we like moving into the next week and beyond:
Stocks To Trade
Today, we are looking at an earnings trade in Ashland (NYSE:ASH), longs in Williams-Sonoma (NYSE:WSM) and PepsiCo (NYSE:PEP), and shorts in Nike (NYSE:NKE) and Lululemon (NASDAQ:LULU).
For an earnings trade, we like the looks of playing Ashland. It is a company that we have played during earnings season throughout the year, as the company holds two things: great growth and great value. This coming quarter, Ashland is expected to see about 80% growth in EPS, along with 16% growth in revenue, vastly outperforming other chemical companies. At the same time, it has a future P/E of 10. It's no wonder that the stock has performed very strongly during the year, and we like playing the 75/70 bull put spread for October, as we expect another build into earnings. The stock has been holding its 20-day MA very strongly over the year, and it is currently holding it right under 75. As we move closer to earnings, we will see the quarterly traders enter the stock and bid it up to play a gap up that will move the stock above 75 by October expiration.
Trade: ASH, Oct20, 75/70 Bull Put Spread
Max Gain: 43%
(click images to enlarge)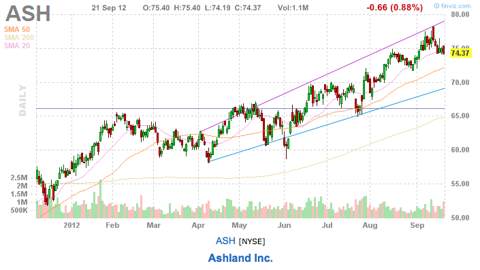 Click to enlarge
For longs, we like the looks of Williams-Sonoma and PepsiCo. Williams-Sonoma has been building a nice base since its last earnings report was very strong, and it looked ready to breakout today. The stock has failed to break over $45 now twice in the month, but the story is good here. Fundamentals are strong, with growth coming back for the company after a rough couple years, and value is still good with the future P/E at 15. We believe the stock is poised to breakout over $45, and it has held up well, despite rough earnings from Bed Bath & Beyond (NASDAQ:BBBY).
We have Buy-rated PepsiCo with an $80+ price target by the end of the year. We still feel strongly that the company can make more headway. One reason we like PepsiCo is it is seeing good growth in a well diversified portfolio of snacks and drinks that is better able to deal with currency issues than Coca-Cola (NYSE:KO) has. Also, we believe that Europe will be in better shape in the second half of the year as far as consumer spending.
Stock Trade: Long, WSM
Breakout Point: $45
Options Trade: PEP, Oct20, 70/67.50 Bull Put Spread
Max Gain: 25%
For shorts, we like the looks of Nike and Lululemon. Nike has been looking quite weak this week despite strong market conditions, and we are fearful that it will continue to see some downside as it nears its next earnings report. Its last earnings report was a bit of a disaster, as investors are growing fearful about Nike's margins, and that could be putting a ceiling on near-term upside. The stock is still holding its 50-day MA, but if that is lost, this turns into a very good looking short.
Additionally, Lululemon is looking like a Sell. While the growth of the company is impressive, we continue to believe that it is better suited as a $50-$60 stock with current growth models rather than $80. That can be seen by the 33+ future P/E that the stock holds. We believe that Lululemon's chart is starting to roll over, and if the market starts to flatten, the stock could drop as traders exit it. The $80 mark has been very strong resistance all year, and we like that area for a bear call spread.
Stock Trade: NKE, Short
Breakout point: Failure of 50-day MA
Options Trade: LULU, Oct20, 80/82.50 Bear Call Spread
Max Gain: 25%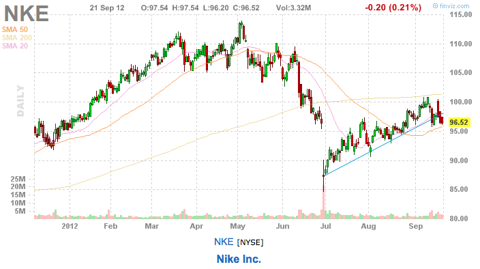 Click to enlarge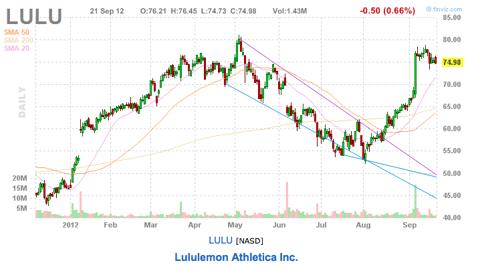 Click to enlarge
Tomorrow's Outlook:
The market is closed tomorrow.
Our Moves/Holdings:
We had a great day in the market as we locked in more gains on current positions. We hit our first target in our Yum! (NYSE:YUM) long for a 2.5% gain. We also hit our first target in our OpenTable (NASDAQ:OPEN) puts for a 14% gain. We closed down our Discover (NYSE:DFS) sold puts, as they expired worthless for an 18% gain. Our Fiserv (NASDAQ:FISV) long opened up for a 3.8% gain, as well from our Goldman Portfolio. We added a long in Williams-Sonoma to our Equity and Options Portfolio, as well as long in Ashland to Earnings Alpha.
We have the following positions:
In our Short-Term Equity Portfolio, we are long Watson Pharma (WPI), Potash (NYSE:POT), and Yum! We are short Cardinal Health (NYSE:CAH) and US Bancorp (NYSE:USB).
In our Options Portfolio, we are long Apple (NASDAQ:AAPL). We are short OpenTable.
In our Earnings Alpha Portfolio, we are long Target (NYSE:TGT), Alexion (NASDAQ:ALXN), Costco (NASDAQ:COST), Polaris (NYSE:PII), Crocs (NASDAQ:CROX) and Discover Financial (DFS).
In our Goldman Sachs Up/Down Paper Portfolio, we are long American Water Works (NYSE:AWK), Apple, Manitowoc (NYSE:MTW) and Fiserv .
Charts courtesy of finviz.com.
Disclosure: I have no positions in any stocks mentioned, and no plans to initiate any positions within the next 72 hours.
Business relationship disclosure: The Oxen Group is a team of analysts. This article was written by David Ristau, one of our writers. We did not receive compensation for this article (other than from Seeking Alpha), and we have no business relationship with any company whose stock is mentioned in this article.