About a month ago, I wrote an article on Activision Blizzard (NASDAQ:ATVI) in which I disagreed with the general consensus on Seeking Alpha that the company is undervalued. While I tried to write a somewhat in-depth analysis of each game series, I didn't focus enough on perhaps the most important element to the valuation of the company: the longevity of "World of Warcraft" (WOW) and the release date of "Titan" (the expected successor to "WOW"). I think most investors or analysts make the mistake of assuming that "Titan" will be released in 2014, which is the official release date. The problem with that assumption is that Blizzard is notoriously known for delaying release dates by one to three years. As I will argue in this analysis, a delay of only one year could remove potential "alpha" from the investment.
"World of Warcraft"
"WOW" is a subscription-based online game, which was originally released in 2004 and has since seen several expansion packs that have added new content to the game. As the subscription-based model adds revenue on a monthly basis (rather than just when the game is sold), it adds some stability to the volatile gaming industry. In the below graph you can see the number of subscribers since 2006.
Click to enlarge images.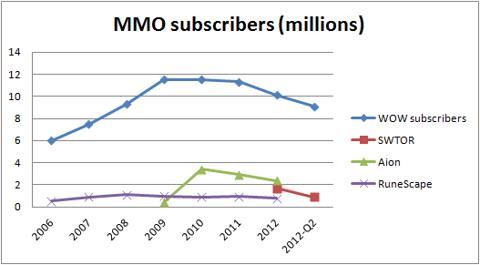 Source: MMOdata.blogspot.dk.
As you can see, "WOW" continuously increased the numbers of subscribers until 2009, when a slight decline began. The decline steepened in 2011. As of July 2012 there were 9.1 million subscribers.
Things to note about the MMO (massive multiplayer online) competitors to "WOW": "Aion" and "Runescape" are actually free to play, and while "SWTOR" was expected to be a huge challenger to "WOW." it has disappointed -- the number of subscribers is already declining. EA Sports has therefore decided to make "SWTOR" free to play, and I believe this could make some old subscribers return to the game
Why "World of Warcraft" Has Lost Subscribers
However, none of the MMO games are a big threat to "WOW." Rather, I believe we need to look to other game genres.
In May 2012, Blizzard released the role-playing game (RPG) "Diablo 3." Prior to the release I expected that if this game was successful, it could lower the subscriber base of "WOW" significantly as the games are relatively similar (despite the fact that they are in a different genre). In terms of sales the game did indeed deliver, as more than 10 million players have bought the game. However, in terms of longevity, the game didn't deliver and a majority of the players have already stopped playing. While the developers of "Diablo 3" weren't happy and have since patched the game in order to provide more content, the management team of ATVI probably doesn't mind it that much as the disappointment of "Diablo 3" could boost subscriber numbers of "WOW."
But the strongest competitor to "WOW" and the current market leader in the gaming industry is "Leagues of Legends" (LOL). The game was originally created as a mod on the "Warcraft 3" engine (another Blizzard game) and is a free to play. It's very casual-friendly, which means that it's targeting a large part of the non-hardcore gamers. Blizzard has over the last few years actually tried to make its games easier to play for casual players. Games such as "Starcraft 2," "Diablo 3," and the latest expansion pack of "WOW" are in a lot of ways more casual-friendly than their predecessors. However, there is a very thin line between giving new players a great experience and not making the game so easy that it hurts the longevity of the game. To be honest, though, I think Blizzard (in general) is missing the point and hasn't focused enough on what really matters: the social experience. That's an area where both "Diablo 3" and "Starcraft 2" have failed. On the other hand, "LOL" shines in this aspect as it's a team-based game and it's free to play, which means that you can play together with all of your friends.
While the subscriber numbers of "WOW" might see a slight increase in Q3 (due to the disappointment of "Diablo 3"), "WOW" is an old game that is declining in activity. Another MMORG, "Guild Wars 2," has recently been released and has received great reviews. I think it's likely that this game will take away a couple of millions subscribers from "WOW" over the next one to two years. As such, Blizzard is currently in the process of developing a new MMORG called "Titan."
"Titan"
Not much is known about this game yet. Blizzard has told us that it's not supposed to replace "WOW," as it will be slightly different. But I think most players and analysts are convinced that "Titan" will be the game that ends the popularity of "WOW." Blizzard is famous for prioritizing quality over quantity, and no other gaming company matches Blizzard on the quality of its games.
So I don't fear that "Titan" won't be a success. Instead, I fear that the release date of the game will be delayed. Blizzard typically releases games when they are done rather than following strict deadlines. So while the expected release date is 2014, I think there are reasons why the game could come out later. We haven't seen any footage of the game yet, and before the first footage of the game shows up it will typically take another one to two years before the game is released. "Titan," however, might be different from other Blizzard game such "Diablo" and "Starcraft." "Titan" should be a huge profit generator, while "Diablo" and "Starcraft" cause cannibalism in the "WOW"-subscriber numbers (which could incentivize Blizzard to delay or lower the priority of those games).
Even though I am convinced that the development of "Titan" has a very high priority, I still think it is very possible that the game will be released in 2015 or perhaps even 2016. In this thread, you can see the consensus among hardcore fans.
A Scenario Analysis
To quantify the risk involved with the release date of the game I have come up with a scenario analysis. In the first graph below, you can see the estimated number of subscribers to "WOW" and "Titan," respectively. In the second graph, you can see the combined ("WOW" plus "Titan") number of subscribers. As you can see, I expect the total amount of subscribers between 2014-16 to be higher if "Titan" gets released in 2014 rather than 2015. But I also expect interest in the game to fade out quicker, which means that subscriber numbers past 2016 are slightly lower.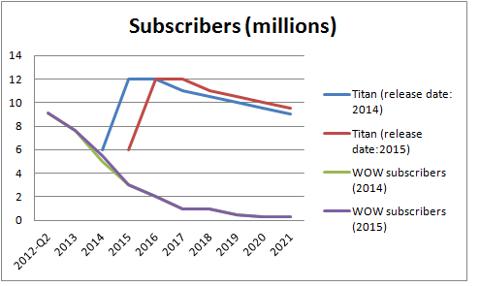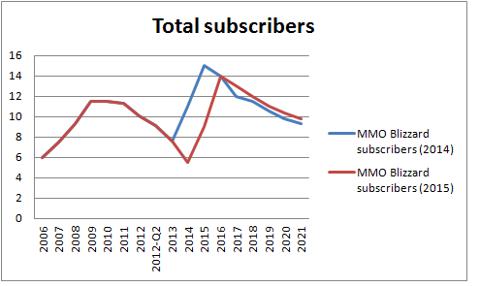 In the table below, you can see the impact the release date has on the future income. I have estimated that the present value difference is equal to $707 million. So if "Titan" gets released in 2014, the stock should be worth $0.63 more than if it's released in 2015 (ceteris paribus). So if you are a slightly bullish on ATVI and believe the fair value of ATVI stock is $13, then it might be worth to do some more research on "Titan" before you invest, as a delayed "Titan" could remove potential alpha from the stock.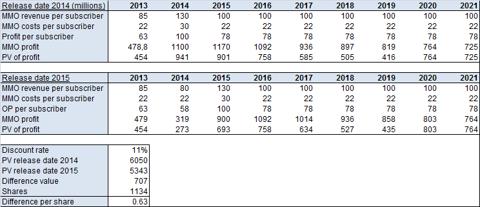 Disclosure: I have no positions in any stocks mentioned, and no plans to initiate any positions within the next 72 hours. I wrote this article myself, and it expresses my own opinions. I am not receiving compensation for it (other than from Seeking Alpha). I have no business relationship with any company whose stock is mentioned in this article.