Most people religiously believe that Visa (NYSE:V) and MasterCard (NYSE:MA) are much better investment than Discover (NYSE:DFS) and American Express (NYSE:AXP). The consensus views are here:
Visa and MasterCard don't have credit exposures to American consumers.
 Visa and MasterCard hold very large market share. In fact, Visa and MasterCard enjoyed over 80% of credit and debit card transactions
The economy is in a toilet, and more and more consumers fall behind mortgage and credit card payments. Why touch Discover and Amex?
Card payment transactions have increased double digits year after year, even during the economic slump.
All these arguments are true, except one small issue that most people overlooked: just how exactly each company makes its dough.
Visa and MasterCard are in exactly the same business, and Discover and Amex are in a very similar business (let's say 95% similar).
Let's use Steve Murray's point as an example: let's say you go out and purchase a watch for $100 by using your Visa card. Out of that $100 purchase, the merchant would usually pay 2%, or $2, of that fee for the use of the card. Out of that $2 fee, only about $0.20 go to Visa the rest would be paid to the issuer of the card (ex: Chase, Citi, etc.) and the bank it corresponded the transaction with. Large banks have huge clouds over Visa and MasterCard. In order to keep them happy, Visa and MasterCard typically rebate back 15 cents out of that 20 cents back to the large issuers. To smaller banks, well Visa and MasterCard just says "no, no rebates, sorry, you are too small".
Put into perspective just how powerful large banks are: Citi (NYSE:C), Chase (NYSE:JPM) and BofA (NYSE:BAC) account for about 70% of Visa and MasterCard total credit card transaction volume.
Before Visa and MasterCard became public companies, they were jointly owned by the banks. Visa and MasterCard's annual profits were equally distributed back to card-issuers based on how much business they did for Visa and MasterCard. There was no competition between Visa and MasterCard.
Since they became public, they are now fighting each other, and Amex and  Discover, over card-issuing deals with potential card-issuers. As competition heats up, I see Visa and MasterCard losing pricing power completely. In the future, issuers will likely only issue one brand to get the most rebates. In other word, Visa and MasterCard will constantly see their revenue per transaction drop, even though more and more electronic transactions are going to take place. Visa and MasterCard will get smaller and smaller portions of their pie as time goes on.
Discover and Amex would be much better investments; these two companies have a large consumer base that will not defect overnight. Yes, the economy is in a crapper; yes, charge-offs will go up; and yes, everyone is bearish on these two businesses; but one fact remains: these two businesses have pricing power. Charge-offs are irrelevant. They can simply hike the interest rates that cardholders are paying to offset the rise in charge-off expenses. It's called risk-based pricing.
As seen in the chart below (click to enlarge), in the credit card industry, profits mostly go to card-issuers.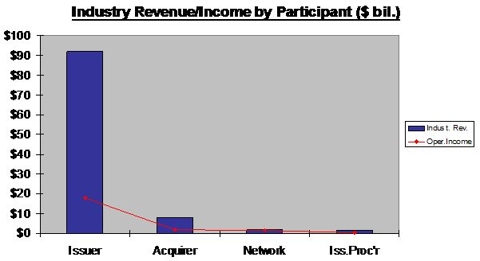 Discover has many great things going for it nowadays; by early next year, I expect it will reach acceptance parity with Visa, which should help its business. And in the last 4 years, Discover has improved credit quality in its loan portfolio. In fact, Discover has the lowest charge-offs rate among the largest card-issuers.
Disclosure: none