Commodity Chart Of The Day
Weekly Canadian Dollar
(click image to enlarge)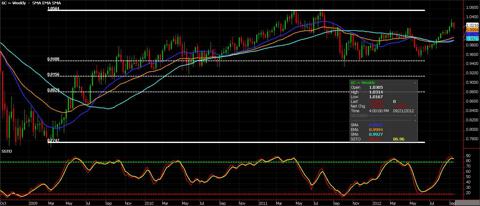 In the last four months. the loonie has been moving one way -- higher -- having appreciated 6.25%, lifting prices to 13 month highs. That was what happened -- not what I think will happen moving forward. As one can see, prices are overbought on the weekly chart above. I've been voicing in recent weeks that I'm expecting a correction in several of the major commodity sectors.
It has already begun in energies, with crude oil and the distillates failing this week. The metals complex is the next commodity sector to correct, in my mind. As go energies and metals, so goes the Canadian dollar.
First, prices must take out par, but aggressive traders can scale into bearish trade looking for lower action ahead. In the coming weeks, I think prices in December futures can find their way to 99 cents, which represents a 3% decline. My favored play is shorting futures while simultaneously selling out of the money puts 1:1.
Risk Disclaimer: The opinions contained herein are for general information only and not tailored to any specific investor's needs or investment goals. Any opinions expressed in this article are as of the date indicated. Trading futures, options, and Forex involves substantial risk of loss and is not suitable for all investors. Past performance is not necessarily indicative of future results.
Disclosure: I have no positions in any stocks mentioned, and no plans to initiate any positions within the next 72 hours. I wrote this article myself, and it expresses my own opinions. I am not receiving compensation for it. I have no business relationship with any company whose stock is mentioned in this article.