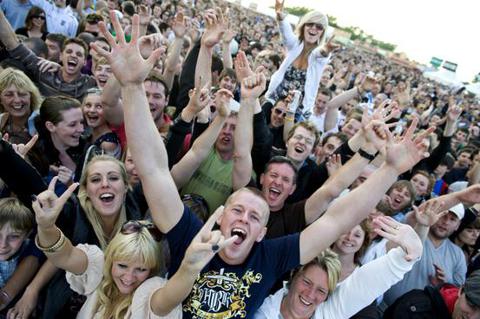 Click to enlargeOn a day that the entire world was focused on the release of Apple's (NASDAQ:AAPL) iPhone 5 and another large portion of the world was complaining about the omission of Google (NASDAQ:GOOG) maps on the new operating system, I felt like the lonely guy hanging out at the Cricket store, waiting for the release of the new Nextel model.
Sometimes you have an epiphany and realize that your time would be better spent at T-Mobile, waiting for the new RIM (RIMM) Blackberry, but then Josh Brown, The Reformed Broker, has already used that imagery, much to my chagrin. He did apologize to me, however, for beating me to it.
As the market came to its close today -- the end of another Quadruple Witching Day -- I have the opportunity to look at all of the shares in my portfolio that will be assigned to others as they exercise their contract rights.
If you're the kind of person who likes the comfort and warmth of crowds, the crowds have fallen into two camps lately. There are those that feel that this rally is unwarranted. It has frequently been referred to as the "least respected rally." In addition, there are camps that feel that precious metals are going to continue to soar higher, and then go even higher.
Whereas past history has shown that September Quadruple Witching tends to end with a positive outcome, a broader view of history tends to indicate that the crowd typically gets it wrong.
Today, they got it only mildly wrong.
I happen to have been in that crowd that hasn't shown much respect or love for the market rally since late July. Sure enough, the crowd was the wrong place to be.
The last time that this happened was in the first few months of 2012, but it's happening again, and if nothing, I am both a creature of habit and a believer in patterns.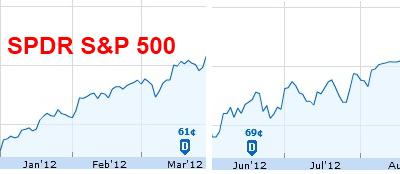 Although I know nothing about technical analysis or interpretation of charts, the slopes of the two periods in question look amazingly similar to me. You can fill in the missing time period and figure out for yourself how the SPDR S&P 500 (NYSEARCA:SPY) got from Point A to Point B.
Coincidentally, or maybe not, that was also the last time that the precious metals markets decided to climb more than I was comfortable with, as I was heavily committed to their value going down, through an all too large position in ProShares UltraShort Silver (NYSEARCA:ZSL).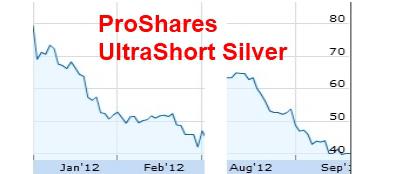 Those slopes look pretty similar as well, and are mirror images of the SPY movement.
Back then, as now, the stock market move was slow and steadily upward. The precious metal market move was sudden, jerky and marked by predictions for record levels.
That was a painful, but like the Biblical expression, it too, passed, only to come back again. Had the Bible been longer in its length, perhaps the issue of recurrence and periodicity would have been addressed.
The above slopes give me some cause to not jump out a basement window as I look at the level of my ZSL holdings, which once again have become too large of a position for me. I feel some comfort because I know what happened between Points A and B.
What really has characterized the first couple of months of 2012 and the past two months has been the absence of news. Not that there has been good news, there just hasn't really been any news at all. Most recently, the working hypotheses of the day have changed with rapidity. One day, there's a Chinese economic slowdown that is surely going to impact the world economy. The very next day, there's a Chinese commitment to economic expansion that will lift the world's economy.
Most of all the past two months have been marked by lots of faith -- faith that all of the promises of a resolution to the European banking crisis will come to fruition. Although most people don't get terribly deflated when they discover that the Easter Bunny may not be real, the downside to discovering that the European unity may be illusory can be substantial.
That's why I continue to believe that precious metals will buck the crowd. Hopefully sooner, rather than later. The chart tells me sooner, but I'm hoping that the crowd gets even more bullish and does so even faster. A Time magazine cover story on gold or silver could only help.
But in the meantime, this coming Monday is a replay of the end of the August 2012 option cycle in that many assignments results in lots of cash looking for their new homes. Of course, the same old problem of wanting to resist purchasing shares at what is a near term top is always there when assignments are rampant.
What distinguished the close of this cycle, however, from the previous one is that the last two days of this cycle saw some price weakness for a change. In fact, today gave substantial opportunity to rollover a number of sold call contracts to the next weekly cycle, as price weakness was perfectly timed.
If this coming Monday (September 24, 2012) follows the script of the past two months and opens on a lower note, that would be fortuitous, as even with today's price drops, I ended up with many assigned positions and will need to replace 40% of my portfolio.
What makes the upcoming week appealing is that it was relatively easy to identify potential bargains going into the week. Whether or not they prove to be such is another issue, but this week's decision process was easier.
As always, selections fall into Traditional, Momentum and Double Dip Dividend categories (see details).
The list of Traditional stocks this week is familiar, as all have been owned or are currently owned in the past month and are all serial purchase veterans.
American Express (NYSE:AXP) leads the list. Whereas my onetime favorites Visa (NYSE:V) and MasterCard (NYSE:MA) haven't had anything in the way of meaningful price pullbacks to warrant their repurchase, American Express just keeps plugging away in relative obscurity. Although I'm not likely to sell monthly calls if I buy shares, American Express will also go ex-dividend during the October 2012 option cycle.
Boeing (NYSE:BA) has taken its share of stock hits lately, and has trailed the S&P 500 every step of the way in 2012. In all likelihood, only serendipity can explain why recent purchases of its shares have fared better, but Boeing is yet another example of how a stock doesn't have to have its shares appreciate in value in order to be appreciated. As long as people are willing to pay up for the ability to purchase options in the hope that shares will soar as high as a Dream Liner, there's little reason not to periodically own Boeing's shares.
Although British Petroleum (NYSE:BP) continues to get more than its share of bad press and has more potential liability overhangs, it consistently seeks to return to its natural trading range. At $43, it's a little on the high side at the moment, but even if prices drop and calls sold upon them expire, it won't take long to start a new round of option selling until shares are assigned and perhaps another dividend is collected.
Still on the theme of oil and gasoline, Conoco (NYSE:COP) is also a bit higher priced than I would like, but it too offers an appealing return and without the immediacy of legal action as so often confronts British Petroleum. This past week marked the first time that I had owned and recommended its spin off, Phillips 66 (NYSE:PSX). Although the shares were only held for a week before assignment, I don't think that anyone would care if the parent came and took its place, as long as it performed as well.
Coach (NYSE:COH) is a real serial purchase of late. Ever since its recent earnings disappointment, it has traded with gusto, both up and down. Although I currently own shares, at this price I may be inclined to add to my holdings. It sustained a large price drop in Friday's trading and fell below the strike price of outstanding contracts. However, as opposed to some others that suffered the same fate, I chose not to roll over the Coach call contracts because, rather than selling them into share price weakness, I believe that shares will rebound and offer a richer premium. Besides, Coach doesn't offer weekly contracts, so there's no reason to rush to make that sale for fear of missing out on an income generating opportunity.
Another repeat customer is Dow Chemical (NYSE:DOW) which also goes ex-dividend in the coming week. I have recommended shares on multiple occasions and currently own several lots at various prices, in addition to having just had shares assigned. Although its monthly option premium is less enticing than a few months ago, as overall market volatility has fallen, it is always a reasonably safe choice when looking for a place to park cash.
The stock for which I have the least conviction is one that's been in the headlines lately, but more as a political tool both for and against the Mitt Romney campaign. Staples (NASDAQ:SPLS) has been the recent subject of a possible buyout. Obviously, the squashing of such rumors would be adverse for the share price. Although going ex-dividend this week, the lack of a weekly option makes it a bit less likely that this one will get beyond the radar screen
Finally, among the Traditional stocks this week is JPMorgan (NYSE:JPM). Although a few dollars higher now than when last owned just a few weeks ago, financial shares took a breather last week. Given the rapidity with which sectors are moving and out of favor, it may be time to stock up again, perhaps prior to its upcoming ex-dividend date.
This week's momentum choices are also all familiar and recent selections: AIG (NYSE:AIG), Abercrombie and Fitch (NYSE:ANF) and Cliffs Natural Resources (NYSE:CLF). Their yo-yo like action delivers higher than average premiums, but of course, sometimes at the expense of one's stomach lining. Coming off some recent share weakness in Abercrombie and Cliffs, at the moment they appear more appealing as candidates upon which to sell puts. AIG on the other hand, can really go either way, and very much depends on how it begins trading on Monday.
Traditional Stocks: AXP, BA, BP, COH, COP, DOW, JPM, SPLS
Momentum Stocks: AIG, ANF (puts), CLF (puts)
Double Dip Dividend: AXP (ex-div October 2012), DOW (ex-div 9/26), JPM (ex-div 10/3), SPLS (ex-div 9/26)
Remember, these are just guidelines for the coming week. Adjust accordingly with market movement, and you'll have the makings of a healthy income stream for the week with reduced risk.
Disclosure: I am long DOW, COH, JPM, ZSL, and I may initiate positions or sell puts in AIG, ANF, AXP, BA, BP, CLF, COP, SPLS. I wrote this article myself, and it expresses my own opinions. I am not receiving compensation for it (other than from Seeking Alpha). I have no business relationship with any company whose stock is mentioned in this article.