Europe to Follow U.S. Trends in Leveraged and Inverse ETFs
Leveraged and inverse ETFs are two sectors in the U.S. ETF market that have experienced a boom over the past couple of years.
According to a report on "ETF Liquidity Trends" filed by Deutsche Bank on July 22, inverse (short) and leveraged ETFs generated the third- and sixth-highest turnover levels respectively.
Paul Amery of IndexUniverse notes that in this same report by Deutsche Bank, there were 18 leveraged and 18 inverse ETFs in Europe, which represents roughly 2% of the European ETF market. This lags behind U.S. numbers, in which there are 45 inverse and 31 leveraged ETFs, combining for more than 4% of the U.S. ETF market.
Despite the domestic ETF market being larger than that of the European market, inverse and leveraged ETFs in Europe are not yet as prevalent as those in the United States for a number of potential reasons. In Europe, for one, there's a relative lack of interest on the part of retail investors.
Regardless of the development of the European leveraged and inverse ETF sector being slower than this sector here, it is an area which is host to dynamic product development and increasing demand. Some long and short ETFs include:
UltraShort Financials ProShares (SKF), up 33.1% year-to-date
Rydex Inverse 2x Russell 2000 (RRZ), up 11.1% year-to-date
Rydex 2x S&P Select Sector Health Care (RHM), launched July 22
UltraShort Basic Materials ProShares (SMN), down 13.2% year-to-date
Ultra Financials ProShares (UYG), down 50% year-to-date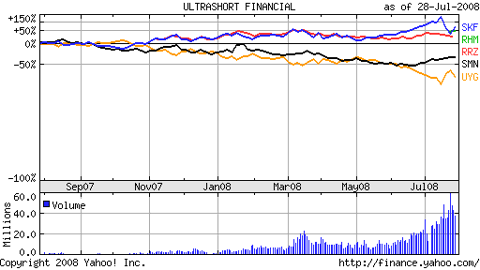 Short and Leveraged ETFs Are Beefing Up
Some investors like to say short and ultra short ETFs are similar to steroid use - bulking way up on an unnatural time scale.
For instance, the ProShares Ultra Oil and Gas (NYSEARCA:DIG) beefed up more than 60% through June since its early 2007 inception, only to lose 30% in less than one month's time as oil prices slipped, reports Chris Bain for Associated Press.
These types of funds retain their popularity because of their ability to make investors money, even in a down market. Money has been pouring into these ETFs as they aim to profit by taking sizable bets on a sector or the broad market using leverage. "Ultra" ETFs made up 6 of the 20 most actively traded ETFs, and each touted a daily volume above 10 million shares.
The short and ultra short ETFs are for short term hedges, and are not recommended for long term bets. The ETFs, which use futures and swap agreements, are easy to trade and can protect a portfolio. It is a good way to provide insurance without actually having to go short. They are useful for investors who do not want to sell a losing position but want to protect against further declines.
These ETFs have been successful, but they are not for everyone. Use them with caution and know when to quit. Other short and ultra short ETFs:
ProShares Ultra Short Financials (NYSEARCA:UYG), down 53.8% year-to-date
ProShares Ultra Dow 30 (NYSEARCA:DDM), down 88% year-to-date
Rydex Inverse Russell 2000 (RRZ), up 5.8% year-to-date
Rydex 2x S&P 500 (NYSEARCA:RSU), down 27.6% year-to-date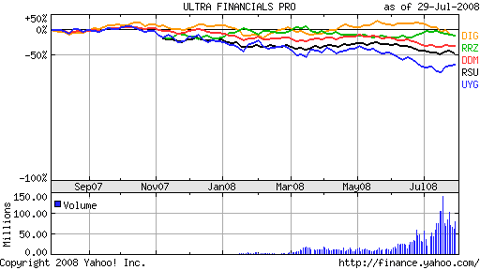 Read the disclosure, as Tom Lydon is a board member of Rydex Funds.
Don't Underestimate the Power of a MicroCap ETF
Microcap ETFs might hold the smallest of small companies, but they can also be capable of big things.
The Russell microcap index is actually an index made up of businesses so small, you may not have heard of a majority of them. But Gary Gordon for ETF Expert points out that once the U.S. economy reaches its lowest point and businesses begin to show signs of growth, the smallest businesses may be the ones to grow the most.
In an economic recovery, smaller companies tend to perform best because they're nimble and quicker to act when the market conditions are favorable.
iShares Russell MicroCap Index Fund (NYSEARCA:IWC) is one such ETF that puts all these businesses in one easy-access basket.
Although business cycles of the past have shown that microcaps are an indication of what lies ahead in the near future, investors may want to wait for another sign of recovery within the technical realm. IWC has yet to actually lead the S&P 500. Also, IWC ralied after the summer 2007 subprime scare, then did a nosedive, and then went up with the news of the Bear Stearns bailout, only to bottom out for the June and July summer heat.
Gordon feels that once the recession is half way through, we may not feel a recovery coming on, but IWC has been equally treading water, possibly acting as a sign that small businesses may have good things ins tore for them soon. The fund is down 10.9% year-to-date.
Other microcaps to keep on the radar once the economy shows strength:
First Trust Dow Jones Select Micro Cap Index Fund (NYSEARCA:FDM), down 6.7% year-to-date
PowerShares Zacks Micro Cap Portfolio (NYSEARCA:PZI), down 13.4% year-to-date