Fed Chairmen Ben Bernanke announced a new round of Quantitative Easing, what some pundits are labeling QE - Infinity, and I am busy reworking my IRA accounts. My first act was to liquidate many of my mortgage REITs. Here's why.
I first began heavily investing my IRA money into mortgage REITs in 2009 when blood was still gushing through the streets from the 2008-2009 mortgage horror. Once I was satisfied that I had identified some REITs strong enough to survive and thrive, I bought in, enjoying the massive dividend yields, while elsewhere interest rates cratered.
The mortgage REITs had entered a sweet spot with the low interest rates. Mortgage REITs work best by borrowing money at low rates while investing that money into higher paying mortgages. They live on the spread between what they borrow an what they can get in return. With low enough rates and a solid spread, mortgage REITs practically print money.
The danger of toxic mortgages was well past, but investor fear of anything mortgage was allowing REITs to thrive. And so they have the past few years religiously gushing reliable, double-digit dividends. While the ride has been bumpy lately, overall mortgage REITs have been wildly profitable for me the last three years.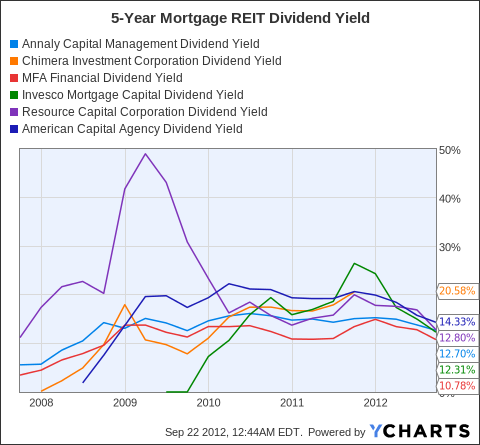 NLY Dividend Yield data by YCharts
There was even a massive buying opportunity in 2010-2011 to pick up more REITs at reasonable prices. Indeed I expanded my holdings in companies like Annaly Capital management (NYSE:NLY), Chimera Investment Corporation (NYSE:CIM) and newcomer Resource Capital Corporation (NYSE:RSO). However, dividends have been slipping during 2012.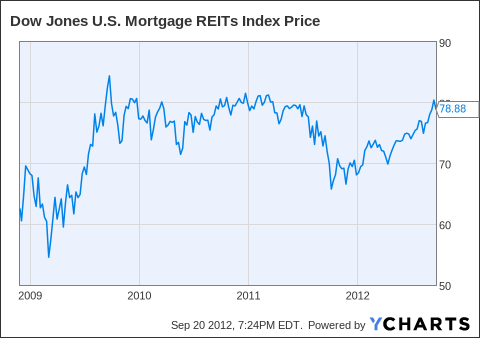 During this time, I remained on the watch for two dangers which could turn my happy investment into ashes: squeezing profit spread or rising interest rates/inflation. QE3 may just have let Pandora's evils out of the box.
Taking the second problem of rising interest rates and inflation first: If inflation and interest rates kick in, the value of low interest mortgage portfolios held by the REITs will plummet. Book values crash and the spreads between loans and mortgage rates will squeeze and everything will get immeasurably ugly. However, I think fears of future inflation and rising interest rates are false for the near future.
The worries of inflation come from the trillions of dollars of QE that the Fed has been pumping into the economy since 2009. The reasoning goes that with such a massive expansion of the money supply that rapid inflation was just around the corner. A quick look at the Money Supply explains that fear: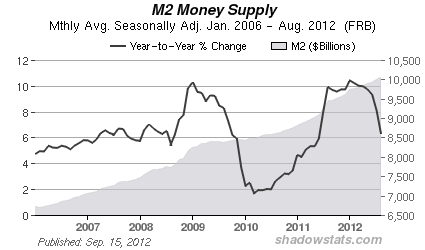 With so much money sloshing around the economy, the dollar has to weaken and inflation is just around the corner, right?
Well, except that almost none of that money is reaching the economy. Banks are sitting on over $1.8 trillion, well over the $500 billion or so they are required to by Federal Reserve Rules. Companies are sitting on historically high cash hoards, and even good old you and me consumer are saving at rates unseen since the 1950s.
From an economic and unemployment angle, this has been the problem with previous versions of QE. The trillions of dollars ponied-up by the Fed have simply been soaked up by the system and still there is not enough moving through the economy to jump start growth.
QE3 hopes to bypass the failures of earlier QE programs by going past banks with the Fed buying $40 billion in mortgages a month. The theories go that it will drive mortgages down, people will refinance, buy new houses, and kick start construction and real estate.
This is the danger to mortgage REITs. Mortgage rates go down and their very profitable spreads deteriorate. Worse, their currently profitable mortgages begin to melt away as debtors take advantage of new rounds of rate reductions to refinance out of the old rates. Within months, dividends drop, causing share prices to drop...
Will this happen? I think so, but it is definitely not a given. Still the danger of falling dividends and thus capital loss has become high enough that I am decreasing my holdings. I am transitioning out of most of my mortgage REIT holdings and looking for other high yielding REITs in other sectors to move in to. I have already sold Annaly and Chimera, but I am not ready to completely abandon the group, and for now still hold Resource Capital. I think it has the best risk-to-yield for now, and with some dividends still to come later this month, I am willing to wait on it, at least.
What do you think?
Disclosure: I am long RSO. I wrote this article myself, and it expresses my own opinions. I am not receiving compensation for it (other than from Seeking Alpha). I have no business relationship with any company whose stock is mentioned in this article.