The Fed fired its last bullet too early. No longer will FOMC meetings be dramatic events the market looks to when rallies become long in the tooth. You can't get more 'open ended' than 'open ended' - asset purchases can't be any more perpetual than perpetual. From this point forward, it will be retail sales from which the market takes its cues, as these reports will serve as a proxy for gauging how effective QE has been at producing the so-called 'wealth effect'.
Indeed, the market is already putting quite a bit of faith in consumer discretionary stocks, as exemplified by the fact that for several months now the z-score of the group's price-to-book (p/b) ratio has been at or above two, making it an outlier in terms of its relationship to the p/b ratio of other sectors. In other words, the sector is overvalued.
One wonders if it was wise for the Fed to announce the new asset purchases before the fiscal cliff debate heats up. Had the FOMC waited until December, it could have offset the uncertainty a fractious political environment will occasion and concurrently, it could have boosted consumer confidence just as the Christmas shopping season enters the late innings. It isn't like the market really needed QE in September in the first place, as a research note from Morgan Stanley released Friday demonstrates.
For instance, consider the following two charts that compare forward p/e ratios, as well as credit spreads for periods in which quantitative easing has been announced:
Click to enlarge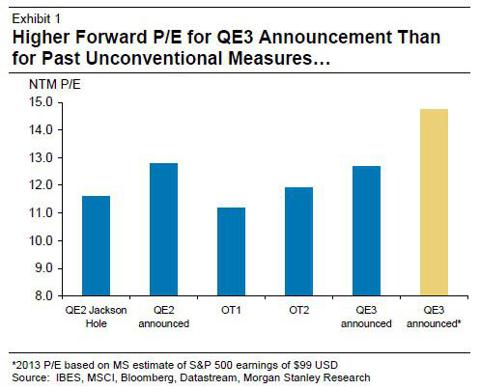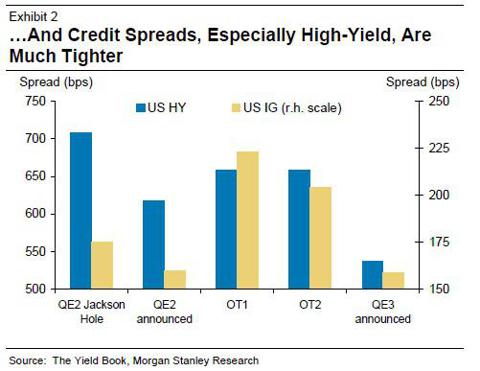 Source: Morgan Stanley, et al.
As you can see, there really was no market pressure surrounding the announcement of QE3. Forward p/e ratios were higher and credit spreads were dramatically tighter than they have ever been for a QE announcement. This is especially ironic: one way the wealth effect supposedly works is via the conveyance of financial well-being through the equity and credit markets, but they were both already more than sufficiently propped-up going into the announcement.
Given this, it seems as though the Fed should have waited to play its cards. Now the market must enter the fourth quarter and the fiscal cliff debate with no new QE announcement to look forward to. While it is likely that Washington will be able to strike some manner of tenuous compromise regarding the fiscal cliff, that outcome is anything but certain, as Bob Janjuah so eloquently put it in his note "When Money Dies":
"...if Bernanke's actions are perceived by Republicans to secure Obama a new four-year term, I see it as now highly likely that the fiscal cliff will become a full-on reality rather than just a thing we worry about."
In case you are unfamiliar with exactly what components (tax cuts and spending cuts) make up the fiscal cliff, here is a useful guide from Citi: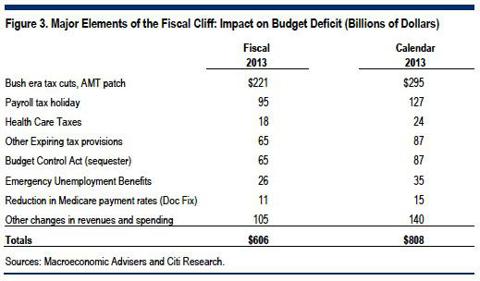 Source: Citi, Macroeconomic Advisers
You can see from the graphic that the tightening occasioned by the cliff amounts to around 4% or 5% of GDP depending upon whether you measure it from fiscal or calendar 2013. Many would no doubt argue that the more accurate measure is the calendar year because quite a few of the cuts take effect in January.
For Citi's part, its research team has devised three scenarios regarding the cliff, and while it likes the base case (a solution which avoids most of the cuts and results in modest fiscal tightening to the tune of around 1% of GDP) as the most likely, it notes that a political stalemate like that described by Janjuah could result in a 'cliff dive'. Here is Citi's forecast for the market should Washington fail to strike a compromise:
"Market reactions include a 20% selloff in equities (roughly in line with the decline associated with the 1968 fiscal tightening discussed earlier) that partially reverses to within 10% of the baseline path by 2015. The simulation also includes a parallel $20/bbl drop in oil prices. Our scenario also incorporates a 5% depreciation of the dollar." (emphasis mine)
Furthermore, Citi projects the unemployment rate would jump to 9.5%, GDP would contract by 1.2% during 2013, and the Taylor Rule would call for a policy rate of -4% (recall that the Taylor Rule currently prescribes the tightening of rates going forward, so this represents a dramatic reversal of fortunes).
What all of this shows is that rather than place the fate of the recovery in the hands of the American consumer and a Congress that has proven utterly incapable of striking compromises in the past, it might have been prudent for the Fed to hold onto its open-ended asset purchase announcement until December when it may have been used most effectively in terms of countering market uncertainty. But it was not to be.
Investors should now begin to ask themselves how much they trust Congress and the American consumer because that is where the faith is being placed going forward. For my part, I remain bearish and recommend entering short positions in U.S. equities SPY, QQQ, and DIA over the next few weeks, as it has been shown that the post-QE rally fades at around 40 days.
Disclosure: I have no positions in any stocks mentioned, and no plans to initiate any positions within the next 72 hours. I wrote this article myself, and it expresses my own opinions. I am not receiving compensation for it (other than from Seeking Alpha). I have no business relationship with any company whose stock is mentioned in this article.