Shares of Direxion Daily Gold Miners Bull 3x Shares ETF (NYSEARCA:NUGT) are up 133% over the past two months.
Click to enlarge
Central Bank Stimulus
The major driver of the move higher in NUGT has been the rally in gold itself. As shown by the chart below, gold prices have surged more than 12% over the past two months. The catalyst for the rally in gold has been central bank action.
The most recent round of central bank stimulus began in early September, with the ECB's announcement of its newest program called "Monetary Outright Purchases." The ECB's program seems to have removed the risk of an ugly deflationary situation in Europe.
However, the positive impact on gold from this program may be muted as the program will be sterilized, meaning the ECB will not engage in an operation which will increase the money supply.
Following the ECB's action, the Federal Reserve announced its own bond buying program, QE3, on September 13. Immediately after the announcement, gold prices surged higher and the dollar traded sharply lower.
Not to be outdone by the Fed and ECB, on September 19, the Bank of Japan announced a new bond buying program of its own. Simply put, there have been many positive catalysts for gold in September.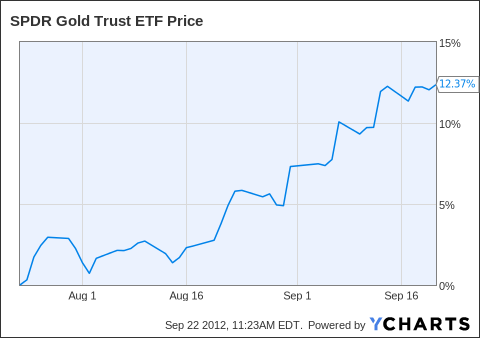 Gold Miners Outperform
In addition to the move higher in gold, another key reason why NUGT has been able to rally so sharply has to do with the relative strength of the gold mining stocks compared to gold itself. As shown by the chart below, in which gold miners are represented by the Market Vectors Gold Miners ETF (NYSEARCA:GDX) and Gold is represented by the SPDR Gold Trust ETF (NYSEARCA:GLD), the gold miners have been much stronger than gold itself over the past two months.
Compounding
Typically, most leveraged ETFs are hurt by the effects of compounding because of the volatile nature of most markets. However, over the past two months, the move in gold has not been volatile as there have been very few moves lower in gold. The steady move higher in gold has allowed for NUGT to gain more because of compounding.
That said, I do not expect the move in gold going forward to be as smooth as it has been over the past two months. As shown by the chart below, over the longer term, compounding has had a decidedly negative impact on NUGT.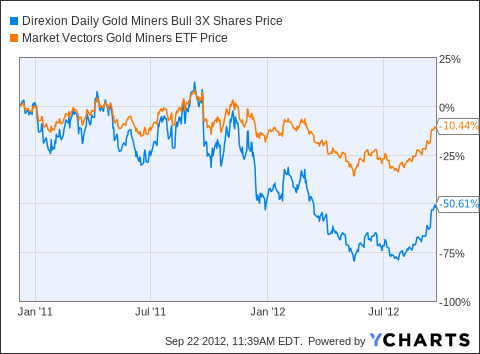 The chart above shows that, since inception, NUGT has lost about 20% of its value due to compounding. With GDX down about 10%, NUGT, because of its 3X nature, should be down about 30%. Instead, NUGT is down 50%.
Conclusion
In my opinion, buying gold right now on central bank easing is too obvious a trade to work. While I think gold and other commodities will move higher over the medium and longer term, I think that the trade is due for something of a consolidation over the short term. As far as my opinion on NUGT goes, I would like to reiterate what I said in a previous article:
Before market participants decide if NUGT is the right trade for them, investors must first consider their time frame. For day traders and short-term swing traders, NUGT can be a good way to play any momentum in the gold miners. However, for long-term holders, NUGT is certainly the wrong play. The same goes for UGLD and UGL, okay for short-term traders, but not long-term holders.
Disclosure: I have no positions in any stocks mentioned, and no plans to initiate any positions within the next 72 hours. I wrote this article myself, and it expresses my own opinions. I am not receiving compensation for it (other than from Seeking Alpha). I have no business relationship with any company whose stock is mentioned in this article.