Refiners have been on fire over the last few months and have been one of the strongest performing sectors in the market during the three month old rally. They have also provided a couple of the best performers in my portfolio including Phillips 66 (NYSE:PSX) and Tesoro (NYSE:TSO). Another strong performer has been Calumet Specialty Products (NASDAQ:CLMT) which is showing impressive earnings growth and boasts an 8% yield as well. I continue to hold all of these names although I have taken some profits in Tesoro and Phillips 66. I continue to hold my full position in Calumet, which I have owned since March and remains a core part of the income part of my portfolio. The company seems to be hitting on all cylinders.
Positives/Catalysts for Calumet:
 
Insiders have been net buyers of the stock over the past year.
It made a strategic acquisition of small refinery in Montana in August that will expand revenue growth and cash flow.
It just announced it is expanding its gas to liquids plant in Pennsylvania to produce another 1000 barrels/day in specialty products.
Consensus earnings estimates for both FY2012 and FY2013 have consistently and significantly increased over the past three months (See Chart).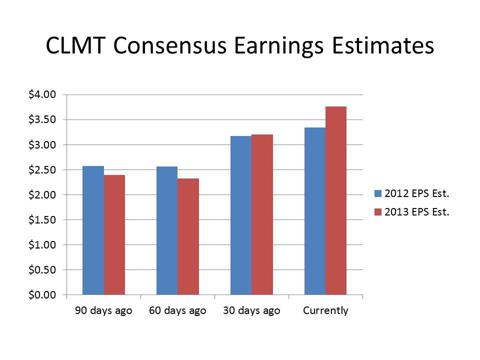 Click to enlarge
"Calumet Specialty Products Partners, L.P. produces and sells specialty hydrocarbon products in North America. It operates in two segments, Specialty Products and Fuel Products." (Business description from Yahoo Finance)
3 additional reasons CLMT is a still a solid pick up for income investors at $30 a share:
 
CLMT yields just under 8% and has increased its payouts over 30% over the past four years. If company hits current consensus estimates, investors can expect payouts to increase significantly over the next 12 to 18 months.
The stock is selling for just over 8 times forward earnings, a discount to its five year average (11.4).
The stock sports a minuscule five year projected PEG (.28) which is almost unheard of for an 8% yielder.
Disclosure: I am long CLMT, PSX, TSO. I wrote this article myself, and it expresses my own opinions. I am not receiving compensation for it (other than from Seeking Alpha). I have no business relationship with any company whose stock is mentioned in this article.