Masimo (NASDAQ:MASI), a 2007 $17 IPO that was founded in 1989, held its first Investor Day last week and broke to a 52-week high on pretty big volume as options expired.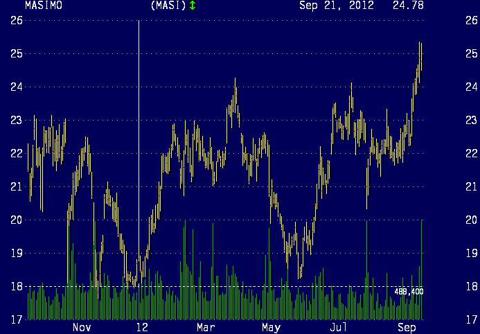 Some people look at a chart like that and get excited about a breakout, while others, perhaps more numerous, see it and feel like they may have missed the boat. I think everyone will feel alright about this one after looking at the price action from a longer-term perspective: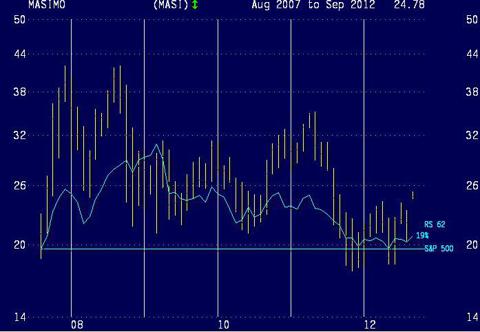 A few quick observations:
The stock is beating the market since its IPO
MASI has never broken below the IPO price
Sales and EPS are at all-time highs (not on chart)
I got involved with MASI, which focuses on non-invasive patient monitoring, in March, adding it to my Top 20 Model Portfolio near 22. We had done well with Somanetics, a similar company that was acquired by Covidien (COV). I had added MASI to my watchlist in December, after Synovis Life Technologies, one of our holdings, was acquired by Baxter (NYSE:BAX). I saw some parallels, which I will explain later, regarding reported sales and earnings lagging the true growth, potentially leaving a growth stock at value stock pricing. In a nutshell, my view was that the casual analyst or the careful machine was missing the real story.
While the stock moved up initially, I was pretty frustrated with the action into May, which not only pushed it well below our purchase price but also tested what I viewed as pretty critical support near 18. We added again in August near 22 after it pulled back from 24 on the Q2 earnings report. The stock is a little overbought currently, so I am not saying it's a compelling buy today at this price, but, following the Investor Day, I have raised my one-year target by about 10% to 36.50, suggesting 47% upside from the 24.78 close on 9/21.
Background
Joe Kiani, a UCSD engineer, founded the company in 1989. The core technology that enabled the company to steal the pulse oximetry market was signal-extraction technology (SET). While this has gotten them to where they are, the real score comes with the RAINBOW SET, which has been slow to take off but promises to revolutionize hemoglobin monitoring in a variety of settings. The business model is compelling, with an extensive partnering with OEMs. The company's "boards" are placed into monitoring equipment, and the vast majority of sales come from consumables. The technology helps improve healthcare outcomes and lowers cost.
Kiani (47) remains a big shareholder and has made a couple of substantial purchases in the past year. He owns about 10% of the company, and insiders control about 12.5%. His management team has been stable and has strong backgrounds.
The balance sheet is very strong, with $120mm cash (about 10% of the market cap) and no debt. The company recently bought back stock (1.8mm shares at $19.61 in late 2011 and 1.2mm shares at $22.74 in H1-2012 to complete a 3mm authorization from 8/2011), and it has paid several special dividends.
The key overhangs have been the slowness of hemoglobin to take off, which I will address below, and the step-down in royalties from Covidien. The two companies settled litigation that reduced the royalty rate from 2011 to 2014. Obviously, a big concern is what happens in 2014 - the company says assume that they go away and that they invest in litigation again. The other issue is that the drop in high-margin royalties created the impression of slowing business, especially on the EPS line, when, in fact, product sales continued at a double-digit pace.
Recent Fundamentals
MASI has posted strong sales results this year, but it has done two acquisitions that were dilutive (Spires Semi and Phasein) and also has been investing in a new technology (X-Cal) that has temporarily depressed gross margins. The product sales have been robust, growing 11.5% including some headwinds from foreign currency. Overall sales have been slower due the decline in royalties (a function of the new rate), which was fully phased in compared to a year ago in Q2. With the decline in royalty, the dilution from Spires and the temporary hit to product GM, EPS in H1 were flat (though in Q2 they grew modestly). Sales estimates by the street for 2012 have increased marginally as the year has progressed, though some may be attributed to the Phasein acquisition.
Investor Day Highlights
I thought it was a great Investor Day. Kiani and his team did a great job of explaining the costs and benefits of their technology and the many things that they are doing to assure long-term growth. They explained the Phasein buy, which is an adjacent and complementary technology (this sounds like a great way to ramp their RAINBOW Acoustic Monitoring for respiration in the intermediate term). The highlight was the four-customer panel discussion. Not only did we hear about what makes Masimo products so vital from their perspective, but we also learned about why it has taken so long for the hemoglobin opportunity to unfold (the "gizmo and gadget committee" is a must-hear for anyone who wants to gain an understanding of hospital procurement of new technology). Perhaps most importantly, I (and some of the other analysts) picked up on a revelation: MASI, which is very heavy in engineers, is extremely responsive to customers. It turns out that an acquisition from a couple of years ago came about due to customer input too.
What investors heard that most likely excited them the most was that the company has the ability to control its spend such that operating margins could expand rather dramatically to 25%. It's a balancing act, and Kiani has chosen to make investments today that will pay off, in his words, for decades. Remember, he is the biggest investor! Sadly, many investors focus only on the short term, but Kiani has resisted the temptation to sacrifice long-term growth by maximizing short-term profitability. The company also hinted at a near-term special dividend if Obama is reelected (in anticipation of higher dividend taxation).
Valuation
I see Masimo as a 15-20% top-line grower, with a high-60s GM on a business model that is based primarily on consumables. This puts the company in a rather small universe of stocks that I think merits a 4X EV/Sales valuation. For MASI, though, I am using 3.5X trailing sales. Why? First, there is a chance that some of the sales (royalties) are going away. It represents about 6% of current sales. I also reduce the valuation slightly because there is a potential conflict-of-interest for CEO Kiani. While I don't think it's an actual conflict based on my understanding, it's important for investors to realize that the RAINBOW technology is actually not owned by MASI. The bears overemphasize the risks in my view, but the bulls should make sure that they are comfortable with this disclosed potential conflict.
Based on analyst assumptions (interpolating the 2012 and 2013 projections), and assuming no growth in cash, this results in a potential price of $36.50 a year out. Translating to forward P/E, (based on 1/4 of the 2013 estimate of 1.29 and 3/4 of my own 2014 estimate of 1.41 to get to an approximate September 2014 trailing EPS) it's about a 25 P/E after taking out the cash, which is a reasonable target in my view. For perspective, the current valuation is 2.8X EV/Sales, with a low in December (when it attracted my attention for the first time) at 2X and a steady decline from 8X at the end of 2007.
Conclusion
While MASI has rallied, I think it has only begun. Their first Investor Day will go a long way to making potential institutional investors more comfortable with the story, which is basically one of cost reduction and quality of outcome improvement for the Hospitals. The company has a compelling offering and several growth drivers, some of which I didn't even mention, like international expansion and a new patient monitoring interface (Radical-7). This is a growth stock that has suffered from poor optics due to a royalty rate reduction as well as some other temporary factors. I like the idea of investing along with CEO Joe Kiani, who is a visionary and thought leader. He is a long-term thinker and is highly aligned with outside shareholders. Importantly, he is signaling that he intends to let more flow to the bottom-line and that there is likely a special dividend ahead.
If you have read this entire article, you deserve a reward! First, here are my notes from earlier this year - you may find them helpful for more background information. Better, check out the slides from Investor Day, which were broken into Part 1 and Part 2. You can link to the webcast as well. It lasted over three hours, with CEO Kiani kicking it off, several other execs following, a most informational panel with four customers (and a Q&A), a financial presentation, a summary by Kiani and then some Q&A for management.
Disclosure: I have no positions in any stocks mentioned, and no plans to initiate any positions within the next 72 hours. I wrote this article myself, and it expresses my own opinions. I am not receiving compensation for it (other than from Seeking Alpha). I have no business relationship with any company whose stock is mentioned in this article.
Additional disclosure: The author includes MASI in one or more models he manages.