Microsoft Corporation (NASDAQ:MSFT) is a cash cow dividend stock. I have accumulated a position based upon the company's focus upon dividend growth. I believe there are 7 reasons why Microsoft stock is a quality holding for a diversified portfolio. This article will focus upon the 7 reasons to buy Microsoft today.

Click to enlarge
Personal Pension Plan
I refer to my dividend stocks as my 'Personal Pension Plan'. There is only one person looking out for my Pension Plan. That one person is "Todd Johnson". I can't rely upon an investing magazine or a sell side stock analyst for investing ideas. The only action, in my view, for excellent investment returns is personal stock research.
1. Dividend Increase
Microsoft, on September 18th, increased their dividend by 15%. This is a pay increase for the pension plan.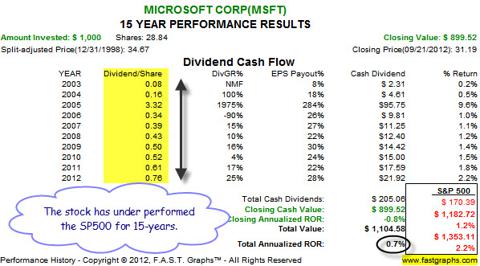 Click to enlarge
Every company needs a business plan. If they are executing correctly, the dividends should continue to increase. My job is to ensure the company delivers on their business model. If they fail, then I need to examine if I should exit the position. The dividend hike is an excellent sign. On the other hand, as discussed below, Microsoft must prove if the Surface can compete against the industry leaders.
Microsoft's new dividend per quarter will be 23 cents. This amounts to a 92 cent per share annual dividend. Based upon a $31.19 stock price, the current yield is 2.9%.
2. Balance Sheet
As a 'bond first' investor, I want to check out the balance sheet. Bonds have higher priority in the capital structure, so I need a quality balance sheet before purchasing common shares. If the balance sheet is questionable, then I will always opt for buying the bond ahead of the dividend.
Microsoft has about $7.40 cash per share per the SEC 10Q. The capital structure has about 15% in long term debt. The company has about $12 billion in long term debt. The debt due in 5 years amounts to $6.75 billion. This is a very enviable balance sheet with adequate cash liquidity for acquisitions, dividend increases, and stock buybacks.
3. Share Buybacks
I focus on share buybacks. The rationale is earnings per share will increase if fewer shares are outstanding.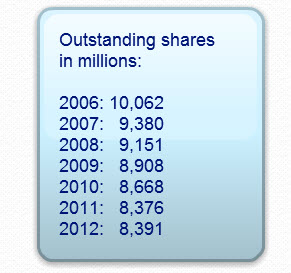 Per the above table, the 2012 outstanding shares have decreased by 16.6% since 2006. My experience has been a share reduction typically results in higher dividend increases. Microsoft, per their 15% dividend increase, is not an exception.
3. Revenue Growth
Revenue is the bread and butter of a successful business. If revenue is not increasing, then there is a fundamental problem with the product mix.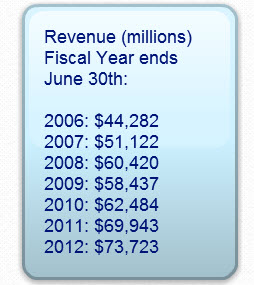 Revenues in 2012 increased to $73,723 million from $44,282 million in 2006. Other than a slowdown in the difficult 2008 economy, the company is growing the top line numbers. These are not the revenue growth figures of 20 years ago. Cash cow investors recognize revenue slows down as the company matures.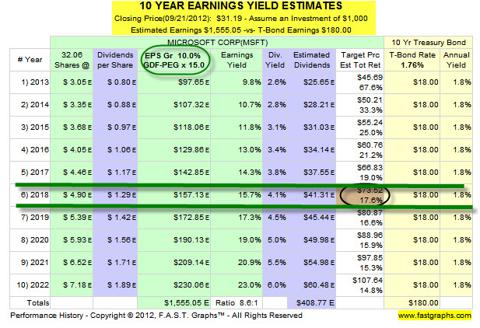 Click to enlarge
4. Earnings per Share
Microsoft's earnings per share (NYSEARCA:EPS) have continued to grow over the past 7 years. The stock price has remained fairly stagnant.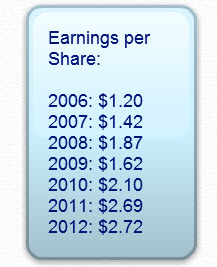 Microsoft is trading at an 11.47x price to earnings (P/E) multiple. The forward P/E multiple is approximately 10x. Microsoft is expected to earn $3.05 in 2013. As the fiscal year ends June 30th, Microsoft will report their 1st quarter numbers with the September 30th quarter data.
5. Product Segment Revenue
Technology is constantly changing. There are winners and losers. Microsoft was built upon the MS Word, MS Works, MS Excel programs. These types of product offerings are now available for free via Corel, Google (NASDAQ:GOOG) Documents, and new competition always around the corner. Cloud computing is replacing the disk drive software programs.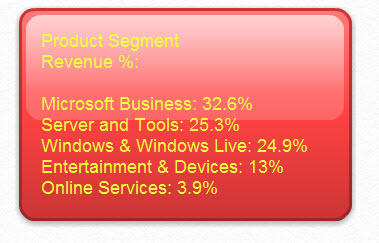 Microsoft offers enterprise software to businesses which need to have reliable, trustworthy, innovative, and corporate wide accessibility.
Customer support is crucial as viruses and bugs continue to increase within the corporate information technology side of the enterprise software programs. Microsoft charges revenues for its products in order to provide quality software programs but also reliable customer support.
6. New Products
Microsoft purchased Skype which has many opportunities for revenue growth. The integration into new platforms and on desktops is immense. Skype does offer free services, but there are plenty of revenue choices too.
The changing tech space has evolved from desk top personal computers, to laptop personal computers, to an increase demand for tablets. Apple's (NASDAQ:AAPL) iPad has a first mover advantage over the competition. As revenue dollars move away from the laptop to tablets, Microsoft has taken significant counter measures. Apple produces the iPad via outsourcing. Apple also produces the Apple operating system in house with their developers and engineers.
Microsoft, on the other hand, has historically produced software and sold the software to hardware manufacturers. This time around, Microsoft is playing hard ball and building the hardware in house. Everyone knows the importance of the new tablet and cloud computing revolution.
Microsoft has historically relied upon Dell Inc. (NASDAQ:DELL) and Hewlett-Packard Company (NYSE:HPQ) to sell the hardware with Microsoft software installed at point of sale. Naturally, the Microsoft entrance into hardware will cause some 'concerns' about the vendor reactions. My view is if you want something done right, you do it yourself. Microsoft is in a situation where it must stay competitive or their business model will suffer.
Microsoft recognizes the need for the Microsoft Surface to gain market share as an iPad alternative. Microsoft is likely to gain acceptance in enterprise budgets. The Surface has received positive reviews at this stage. The product is not currently available for sale. Ideally the product will be available during the 4th quarter for retail sales.
The Windows 8 platform is integrated within Nokia's (NYSE:NOK) smart phone. Steve Ballmer knows how high the stakes are. The Microsoft operating systems needs to be accepted within the marketplace. This is why the Surface will be created in house.
Google's Android operating system has 68% of the current market share. Amazon (NASDAQ:AMZN) is aggressively building new Kindle tablets to offer Amazon electronic purchases.
The winners will be separated by market share acceptance, partnership alliances, and desirable products. Microsoft needs the Surface to excel and the Windows 8 to gain market share in order to compete with the major players.
7. Alpha
The term "Alpha" simply measures a fund manager's, or my abilities to outperform the market without taking on additional risk. To outperform the market (e.g., SP500) is very possible with the tools available in 2012. Microsoft provides a cash cow business model with an increasing dividend.
I employ owning Microsoft shares; implementing synthetic long positions; establishing synthetic covered call positions; and selling bullish vertical put spreads; and selling covered calls against the long Microsoft stock. These produce additional returns besides the typical long Microsoft position.
Action
My investment strategy requires a constant review of individual holdings. The success of the Microsoft Surface tablet will be tell tale sign of future growth. Microsoft is a stock with a cash cow mentality. The high growth days are in the past. The present day Microsoft needs to make appropriate acquisitions that add to revenue growth and the company's mission statement. I believe Microsoft is a desirable name to own due to its new product mix, strong balance sheet, legacy software programs, established enterprise relationships, and reasonable market valuation.
Disclosure: I am long MSFT, AAPL, AMZN, GOOG. I wrote this article myself, and it expresses my own opinions. I am not receiving compensation for it. I have no business relationship with any company whose stock is mentioned in this article.