While still below the highs of recent years, holdings at both the SPDR Gold Shares ETF (NYSEARCA:GLD) and the iShares Silver Trust (NYSEARCA:SLV) have risen sharply recently, that is, along with the price of gold and silver in anticipation of (and then in fulfillment of) Fed Chief Ben Bernanke again firing up the central bank's printing press.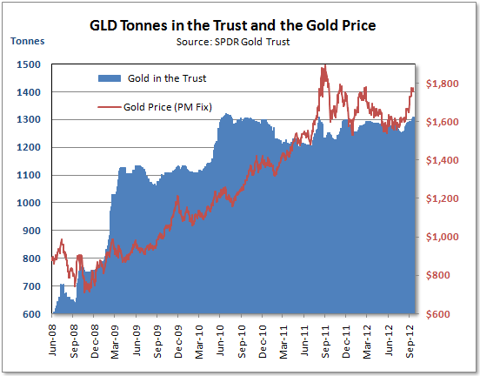 The GLD holdings are now up to 1,308 tonnes, just 12 tonnes shy of the record high set back in June of 2010 and that mark will likely be eclipsed in a matter of weeks as the inventory has been growing at a rate of almost 10 tonnes per week since the QE3 bandwagon began rolling last month.
As for silver, at just under 10,000 tonnes, holdings at the SLV ETF are still almost 1,500 tonnes back of where they were when silver mania most recently took hold 18 months ago. However, there has been a steady increase in recent weeks, some 172 tonnes being added just this week with Friday's report yet to come in, perhaps indicating that the 10,000 tonne level had been breached for the first time in a year.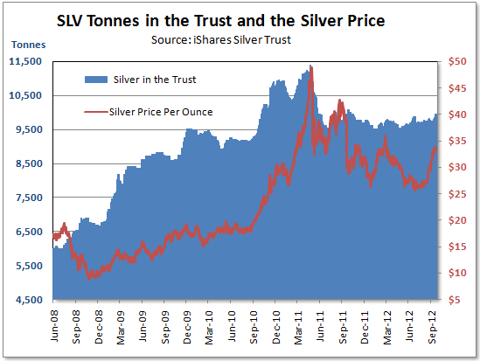 My guess is that, along with Bernanke's printing press, precious metals are just getting warmed up and it is going to be a very busy fall and winter ahead.