Today (July 31), all major Chinese internet media outlets are reporting that Giant Interactive (NYSE:GA) will likely pay half a billion dollars to buy Shanghai-based online game company Nineyou International Limited (9you). Rumors indicate negotiations have entered the 'detail' phase.
GA and 9you both deny these reports. 9you published a formal announcement that it has no plans whatsoever to merge with another company.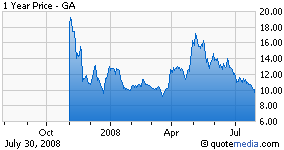 GA closed at $9.00 Wednesday, down 10%, while the Dow Jones Industrial Average gained 1.63% and the NASDAQ rose 0.44%. $9.00$ is the all-time closing low for GA.
Apparently, GA's stock price was punched by the rumor. The rumor could be either true or false, however, if it is true, is the quoted price of half billion dollars a bargain or not?
Analysys International ranks 9you as China's No.1 casual game operator. Revenue in 2007 was about $100M. Four months before, Singapore's Temasek Holdings invested $100M in 9you. I think 9you's operating margin is around 50% and year-on-year sales growth should be at least 30% (China online game industry average) in the next few years. What's more, 9you has at least $100M cash in hand. If I am right on all these estimates, GA will be buying 9you at a P/E of 8 and a PEG of less than 0.3. I think this represents a fair valuation for 9you.
Since GA is now trading for only $9, its 2009 forward PE is just above 8 itself. In a market climate like this, 9you has few chances to offer an IPO on its own. Even if 9you manages to IPO, the ensuing market value will not be above half a billion dollars. If I was an investor in 9you, I'd be happy to receive GA's current offer price.
From GA's point of view, taking $500M to buy 9you will not hurt its intrinsic value. Maybe Wall Street thinks it's safer to keep cash on hand when the economy is so shaky and has therefore punished GA. But the truth is China's online gaming sector is full of cash. Taking the chance to acquire a valuable business when capital markets are so miserable is a brave strategy that could truly pay off down the road. I regard this action as classic "buy low sell high."
If GA does not buy 9you soon, its stock price should recover. If it does decide to take the plunge, it should have itself a good investment, which will also serve to send shares higher long term.
Disclosure: Long GA