Edited By Kate Boehme
Vale S.A. (NYSE:VALE) is one of the largest mining companies in the world. Headquartered in Rio De Janeiro, Brazil, the company is primarily focused on the production, exploration and sale of basic metals in Brazil and internationally. Vale is also engaged in the logistics, fertilizers and steel businesses. In addition, its bulk material sector focuses on the mining of iron ore and pellet production, along with the operation of Brazilian southern and northern transportation systems, connected to mining operations.
Vale pays good, but floating, dividends. Upcoming dividends are expected to amount to $0.57 in Q4 2012. The five-year dividend history suggests that Vale is a sufficient, yet volatile, dividend payer.
Dividend History
Vale has a market capitalization of about $136 billion and a solid dividend history. At the moment, the company has a dividend yield of just above 6 percent and an annual dividend of $1.153. Current annual dividends show a five-year annualized growth rate of over 40 percent. The company has a payout ratio of 72 percent.
In order to gauge this company's dividend stability, I have examined its financial performance in depth. Vale has already announced that it will make minimum dividend payments of $6 billion, which is 50 percent more than the increase announced last year.
click to enlarge image
Dividend Yield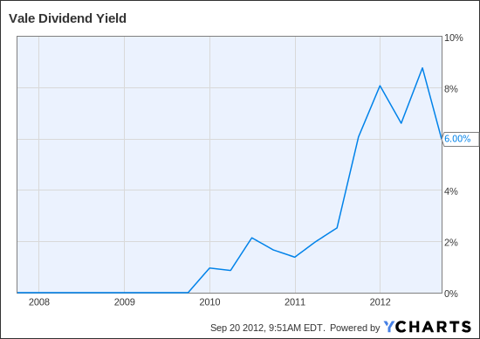 Click to enlarge
VALE Dividend Yield data by YCharts
China-Boosted Earnings Potential
Vale net revenues for the last quarter amounted to almost $12 billion, around $3 billion less than the previous year's revenues. This may be largely attributed to the slowdown in the global economy, which has affected Vale, as it has many other corporations. Nevertheless, recent economic stimulus sponsored by the Chinese government in order to boost their economy has had a positive impact on Vale, since China is one of the company's largest target markets. Recently, the Chinese government approved $150 billion in infrastructure projects. As a result, all over China there has been an increase in the procurement of iron ore to meet the increased demand for steel.
Last week, the commodity prices at the Chinese port of Tianjin saw its largest increase in years after leaping 6.7 percent to $95 per metric ton. At the moment, Chinese manufacturing has the capacity to produce $800 million tons of steel every year, and most Chinese companies are operating at 70 percent capacity utilization. Therefore, an increase in the demand for iron from such a big market is great news for the biggest iron ore producer in the world. I expect Vale revenues to improve in the coming quarter.
Cash Flows
This mining giant has exceptionally solid cash flows. For the most recent quarter, cash flows from Vale operations stood at $4.3 billion. Although cash flows for the previous quarter are less than those of the same period last year, the decline comes from a lower net income due to depressed revenues and a more than $1.2 billion charge for reversal of deferred income taxes. However, after taking into account the financing and investing needs, Vale was left with cash and cash equivalents of just above $4 billion.
Capital expenditures are a major expense for this company so, during the previous quarter, Vale invested over $3 billion in the acquisition of new property, plants and equipment. In fact, total capital expenditures for the previous year stood at over $16 billion for Vale. Furthermore, over the past three years the company has improved its operating cash flows significantly, and the year-end number of cash flows from operations stood at close to $24.5 billion. However, due to the high capital expenditures, free cash flows were $8.4 billion for the previous year.
Debt
Total long-term debt at the end of June stood at just above $23 billion for Vale. These debt levels look quite daunting just based on the numbers, but it is important to remember that such values are normal for a company of this stature. Vale has over $16 billion in foreign debt and $7.2 billion in domestic debt. However, $3.8 billion of the foreign debt is categorized as loans and financing, while $11.3 billion is in US dollar fixed-rate notes. In addition, the firm has $994 million worth of fixed-rate notes in euros. On the other hand, the domestic debt is divided between a general price index market and debentures. According to company disclosures, the largest portion of the debt ($8.7 billion) has been acquired at rates between 7.1 percent and nine percent. Only one big portion of the debt ($4.9 billion) is acquired at more than seven percent; all other debts carry less than a five percent interest rate. Vale has strong cash flows and, therefore, should be able to meet its debt obligations without any trouble.
Summary
Recently, Vale's earnings have been a little shaky due to poor global economic conditions and the overall poor performance of the commodities sector. However, future growth looks positive as the global economy recovers. Brazilian government recently announced an interest cut to boost its own economy.
Two of the biggest economies in the world are working to boost economic activities by introducing major stimulus packages. These efforts will certainly have positive ramifications for Vale operations. As a result, revenues and earnings for Vale will improve in the near future. I expect Vale to carry on with its healthy dividends. At its current price levels Vale is clearly an attractive investment.
Disclosure: I have no positions in any stocks mentioned, and no plans to initiate any positions within the next 72 hours. I wrote this article myself, and it expresses my own opinions. I am not receiving compensation for it (other than from Seeking Alpha). I have no business relationship with any company whose stock is mentioned in this article.