Beating the market isn't easy. Even professionally-run hedge funds are underperforming the market this year. Investors can match stock market returns by buying securities like the SPDR S&P 500 ETF (NYSEARCA:SPY). However, this relegates you to average gains, which have been virtually nil since 2000.
For more than 8 years, Pipeline Data has introduced professional money managers to stocks that have the potential to triple in value. Since 2009, we've been sharing that expertise with the Seeking Alpha community. 2011 was a banner year for our portfolio, yielding a peak return of 109%, compared to a peak return of just 8% for SPY. Ironically, our performance was actually dragged down by an abnormal number of our picks that were acquired (5 of 18 -- 28% of our portfolio).
Of course, higher risks generally accompany the promise of higher rewards. We would caution against expecting 100%+ annual returns or such a high incidence of acquisitions. That being said, our aim is to maximize risk/reward such that our winners more than compensate for the losers.
Going forward, readers will be able to gain access our complete investment portfolio exclusively on Seeking Alpha. You'll notice that this first installment includes names we haven't discussed on Seeking Alpha before. Historically, these picks have been strictly reserved for Pipeline Data's institutional customers. You can find our latest thesis statements below. We will provide updates when our positions change.
Take special note of the Classification column. Most of our picks fall within our Three-Stage stock. Those that don't have a Three Stage classification are either Value plays or are riding the wave of a hot product and/or trend. An asterisk signals that the jury is still out on whether the classification is deserved, so conservatism is warranted. Stocks with a "Wait Time" classification should also be approached cautiously. Until upgraded to "Gold Mine", only a modest position is advisable. See our thesis notes for further details.
The Poised to Triple Portfolio
Ticker

Company

Classification

Position
Change

AAPL

APPLE

Gold Mine

ALVR

ALVARION

Value*

ATTU

ATTUNITY

Gold Mine

Added

CSOD

CORNERSTONE ONDEMAND

Gold Mine

DWCH

DATAWATCH

Gold Mine

Added

FB

FACEBOOK

Wait Time

LF

LEAPFROG

Wait Time

LGF

LIONS GATE

Hot Trend*

Added

LTRX

LANTRONIX

Wait Time

NUAN

NUANCE

Gold Mine

PSTX

PATIENT SAFETY TECH

Gold Mine

Added

RMKR

RAINMAKER SYSTEMS

Gold Mine*

Added

QADA

QAD SOFTWARE

Value

Added
Thesis Updates
ALVARION (NASDAQ:ALVR) has been a money loser for investors, highlighting the risks of investing in unprofitable "value" plays. The company has invested $100M in R&D over the past 3 years, but has struggled to monetize its technology/patents. Enter Hezi Lapid, who has taken the helm as CEO. During his last stint at ALVR, the stock rose 800% to $17 in one year. Lapid has been cracking the whip and has the company moving toward profitability and a possible buyout, something I predicted in a recent Seeking Alpha article.
This is a value stock with an asterisk (also known as a possible value trap). We'll remove the asterisk when the company begins to post a profit. There are many ways to win, but it's possible to lose your entire investment for a shot at making 10x your money.
ATTUNITY (NASDAQ:ATTU) is taking off on exploding demand for Big Data. Along with Splunk (NASDAQ:SPLK), ATTU provides key technology to customers of Amazon Web Services (AWS). Attunity Cloudbeam synchronizes customer data to Amazon and replicates it to the servers on Amazon's network. Splunk enables visibility, analytics, and a growing number of other services as it relates to the company's data. Splunk crushed it July-quarter estimates, posting 71% growth, prompting investors to bid the shares up to a $3B market cap.
Similarly, ATTU posted 110% growth in its June quarter. The shares remains under the radar, but have been on the move as investors start to realize that it is 1/7th the size of SPLK, but trading at 1/40th the price. We introduced this stock at $3.36 (split adjusted) early this year. After rocketing to a 52-week high of $9.75, it's been taking a breather, offering new investors a chance to get in before the next run. See our valuation analysis on Seeking Alpha for more.
DATAWATCH (NASDAQ:DWCH) is a Big Data related software company we introduced to Pipeline Data customers several months ago. We planned to write it up for Seeking Alpha after visiting the company in May. However, I left for a 3-month stint in Europe, so this pick remained under wraps. On the day of my return, the company delivered blowout results, sending the shares up nearly 30%
Despite the recent run, it has plenty of upside to go. It's a classic Three-Stage stock, which took off with the early-2011 appointment of accredited CEO, Michael Morrison ("Great Find" - Stage 1). The shares nearly doubled from 3 to 5 in a few weeks on the news. After that, the stock went nowhere for 12-months, as Morrison settled in and formulated his plan ("Wait Time" - Stage 2). Recently, the last few quarters have been outstanding, driving the stock from under 6 to over 20 this year ("Gold Mine" - Stage 3).
Looking at Morrison's track record and recent board addition, we expect DWCH to continue hiring sales people and driving sales, with an eye toward selling the company for maximum shareholder value.
FACEBOOK (NASDAQ:FB) may be pressured in the near-term due to uncertainty regarding its mobile monetization strategy, eccentric CEO, and share lock-up expirations. However, these concerns are either unwarranted (Zuckerberg is a bona fide genius; we don't care if he talks to Wall Street…just make us money) or things that will clear up in due course (see Pandora's most recent quarter -- mobile monetization is coming).
In the meantime, many investors are overlooking one of the most important investment consideration -- Facebook has revolutionized how the world connects and communicates. Like Bezos, Zuckerberg appears to be building deep hooks and moats to ensure long-term global dominance. When the time is right, the profit spigot will be opened. We've all seen it happen many times before. Most investors would see it in FB if they'd just stop thinking about the next 6-months and consider the enormous and unassailable position the company has created. MySpace messed up and Facebook took the reigns.
Unless we see something come around to take its place, we'll recommend being invested here. The near-term issues do matter though, so start with a small position and scale in prudently.
LEAPFROG (NYSE:LF) hit the mother lode with its LeapPad Explorer. This "iPad for children" is a learning device that quickly earned the trust and admiration of American families. Leapfrog is revered by parents everywhere, but lumpy execution has held its full potential in check. LeapPad 2 was recently released, but investors are fearful that competing products like the iPad and Kindle will steal LF's thunder.
We love the new management team and the company's excellent communications with shareholders. However, for now, we're classifying LF as a "Wait Time" stock until we see if the LeapPad still has momentum.
LIONS GATE (LGF) LGF has positioned itself to seize control of the massive teen demographic now that Warner Bros' Harry Potter series has concluded. Warner Bros President has been quoted as saying, "We're not going to replace Harry Potter with any single movie - not unless we had a Twilight or a Hunger Games." Well, Lions Gate has both and much more, due in part to its Summit acquisition. The company has also acquired the rights to a large stable of promising titles, each one of which LGF will cross-market with the others.
If successful, we'll remove the asterisk from its Hot Trend classification later this year. In the meantime, the risk/reward is well-placed for investors who have an appetite for risk (and commensurately big profits). FYI, LGF's next home-run teen franchise might be "Divergent". The book is gaining traction at a meteoric pace, setting LGF up for a blockbuster movie release in early-2014.
LANTRONIX (NASDAQ:LTRX) is a new-management turnaround. New products are being introduced at a record pace. Some new products can take up to 18-months to gain traction, but they already have 12-months under their belts. LTRX is still in "wait time", but that should change within 2-3 quarters. Company is profitable and management has been executing well against its promises. It's not often you can say that about a company with a $30M market cap.
As always, "Wait Time" stocks require patience and positions should be built accordingly. See our earnings analysis for more.
NUANCE (NASDAQ:NUAN) is an increasingly valuable player in the ongoing technological revolution. We have followed the progress of its Dragon voice-recognition software since 1995. The journey was far longer than we could have imagined, but cloud computing has finally brought this innovation to the tipping point. We can envision speech recognition being combined with language translation (offered by our first Seeking Alpha article/triple, Lionbridge LIOX) to create the world's first universal translator, ala Star Trek. It's going to happen. It's just a matter of when.
PATIENT SAFETY TECHNOLOGIES (OTCQB:PSTX) is a new addition to this list. A recent Seeking Alpha article tells the story well. The company has been demonstrating great traction and win-rates, leading us to anticipate 1,000 hospital-customers by 2015. Based on PSTX's operating model, that will translate into 36-cents on EPS, with a strong growth trajectory. Give that 36-cents a 15 multiple and we have ourselves a $5.40 stock -- a triple from current levels.
QAD SOFTWARE (NASDAQ:QADA) sells software to product manufacturers. Once installed, it rarely comes out and the company collects an annual maintenance fee as insurance against failure. With U.S. manufacturing experiencing a renaissance, QADA stands to benefit for years to come. Despite its promising outlook, the company is selling for less than 1x its recurring maintenance revenue stream. With a 90%+ renewal rate, that revenue stream is just as good as Cloud subscription revenue -- sticky and profitable, making it very easy for the company to remain profitable. In fact, we've never lost money on a software stock with QADA's financial profile.
In addition to its exposure to the repatriation of manufacturing, QAD also provides leverage to the Fed's efforts to reflate the real estate market. The company owns its headquarters, which happens to sit atop an enormous piece of prime real estate overlooking the Pacific Ocean on a cliff in Santa Barbara, California. Its land dwarfs that of the numerous multi-million dollar estates that surround it. If that wasn't enough, due to accounting rule, the property has been being depreciated on its balance sheet for year, leaving its value severely understated on the balance sheet.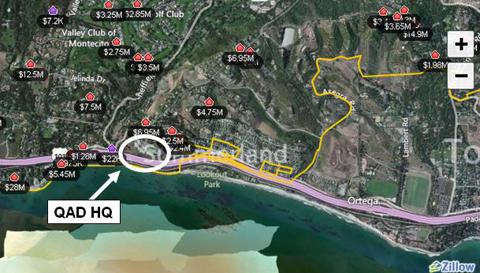 In our estimation, this stock is worth well over $20. It just needs a catalyst. In the meantime, investors can hold the stock through good times and bad, collecting a 2% dividend while the company's balance sheet continues to grow.
RAINMAKER SYSTEMS (RMKR) may prove to be the most explosive name in our portfolio. RMKR has combined deep domain expertise in telesales and combined it with powerful Cloud-based software which enables large companies to create instant revenue streams by targeting small- and mid-sized customers. Its growing customer list includes the likes of AT&T, Cisco, Intel, Microsoft, and SAP. RMKR also outmaneuvered Digital River (NASDAQ:DRIV) to win a piece of the lucrative Symantec business. Thus, despite its size, the company has established an enterprise-grade pedigree. See Ken Nagy's SeekingAlpha article for more background info.
Most recently, the company guided to sequential revenue growth for Q3/Q4, cash flow positive results, and signed Comcast to a large multi-year contract. Looking at the company's target operating model, we see net income growing exponentially, from around $2 million next year to $6 million in 2014 to $10 million in 2015. That would represent 37-cents per share.
The company needs to continue executing to reward investors. If it does, as a fast-growing Cloud vendor selling into tier-one accounts, a P/E of 20 would be very reasonable. That would result in a $7.50 share price, which makes RMKR a potential 7 bagger from current levels.
Disclosure: I am long AAPL, ALVR, ATTU, CSOD, DWCH, FB, LF, LGF, LTRX, NUAN, OTCQB:PSTX, QADA, RMKR. I wrote this article myself, and it expresses my own opinions. I am not receiving compensation for it (other than from Seeking Alpha). I have no business relationship with any company whose stock is mentioned in this article.