The Paints and Coatings Industry has significantly blossomed this year, primarily as a result of the shale gas boom. The following note focuses on one of the major industry players, Sherwin-Williams Company (NYSE:SHW). The company's unique distribution platform, its range of diversified products, balance sheet strength, strong liquidity, and good management team, all make us bullish on the stock. In addition, the recent downward trend in raw material prices is a healthy signal for this industry, which was previously facing pressure from high costs. Still, SHW is trading at comparatively higher valuation multiples, and its share price is hovering near its 52-week high, which may make potential investors cautious. However, we still regard SHW as one of the best stocks for an investor who is targeting a rebound in the housing sector.
Paints and Coatings Industry Update
The Paints and Coatings industry is comprised of a multitude of different segments; each segment's future performance is contingent on a variety of factors. Our previous article summarized the factors affecting each of those segments in detail. Let's now revisit the most important segments to see whether there has been any substantial change.
Aerospace coatings derive their demand from the number of jet deliveries by the two chief jet producers, Airbus and Boeing (NYSE:BA). Although Airbus' deliveries have dropped in August as compared to July, the overall trend is encouraging enough to warrant a sustained demand from this segment.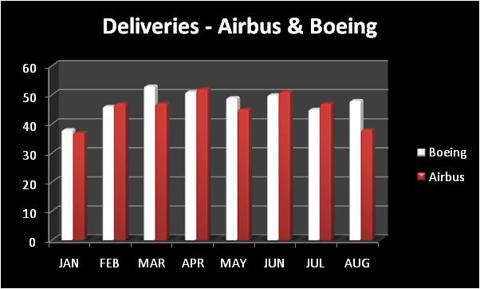 Source: Companies' data
The housing sector is continuing its slow yet steady recovery, after sustained depression post-the global financial crisis. The recently released data on housing starts shows that the groundbreaking on new homes rose by 2.3% in August, as compared to a fall of 2.8% in July. Residential construction spending in August was also 29.1% higher than last year's levels, which is signaling a turnaround in the housing market. Consequently, we feel that the demand for paints and coatings in this segment is going to improve.
To have an idea about the trend of demand in the repaint and maintenance market, one needs to look at existing home sales and the 20-city S&P/Case-Shiller Home Price Index. Existing home sales increased by 7.8% in August, while the Case-Shiller Index also increased by 0.5% in July, on a MoM basis. These developments bode well for this segment.
Raw Materials
Propylene is one of the key raw materials in the Paints and Coating Industry. Especially, companies like Sherwin-Williams Company , The Valspar Corporation (NYSE:VAL), PPG Industries (NYSE:PPG) and RPM International Inc. (NYSE:RPM) are those coatings companies, which have the highest exposures to propylene-based inputs, and so, its prices matter significantly. U.S. propylene contracts for the month of September have settled to a flat, with polymer-grade propylene (NYSE:PGP) settling at 78 cents/lb.
TiO2 is another major raw material in this industry. Its prices are also suffering from downward pressures as of late, as a result of improved supply conditions.
About the Company - Sherwin-Williams
Sherwin-Williams Co. is a specialty paints and coatings company, with a high exposure in the United States, from which it derives approximately 85% of its revenues. The company caters to do-it-yourself (DIY) customers, contractors, as well as multinational industrial manufacturers. It has three main segments, namely Paint Stores, Consumer and Global. The following chart shows its revenue breakdown in terms of these three segments.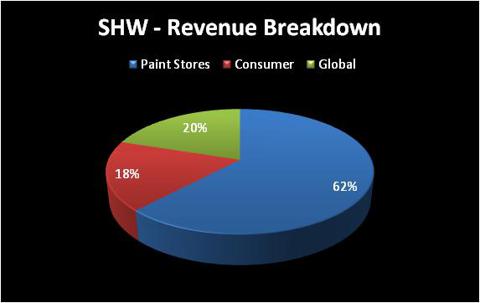 Latest Quarter Earnings & Financial Performance
SHW reported EPS of $2.17 in 2Q2012, while the consensus estimates were $2.12. Its revenue also showed a 9.3% increase to reach $2.57 billion. The company's full-year EPS forecasts of $6.2-$6.4 could fall short of Wall Street's expectations of $6.29, as the company expects raw material prices, especially that of titanium dioxide, to increase. However, the recent trends in raw material prices have been encouraging, which might enable the company in beating estimates at the year-end.
The company's liquidity position is strong, as it has available cash of $46.6 million and almost $506.1 million of availability under its commercial paper program. The latter is backed by a revolving credit agreement worth $1.05 billion, which is going to mature in July 2016. The graph below shows that the company's free cash flows have remained at high levels, and are projected to increase in the future as well.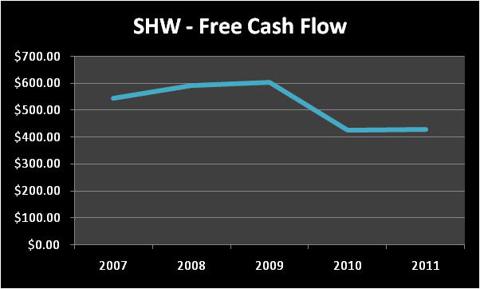 Risk Factors
The company is exposed to some of the risk factors, which can have a negative influence on our outlook:
Exposure to Raw Materials
The company is exposed to a lot of raw materials, whose volatility impacts the company's margins. Prices of major raw materials, especially TiO2, have risen in recent years, but the recent trends have been encouraging.
Cyclicality of End Markets
The company is exposed to residential, commercial, and general industrial markets, and the weakness in these markets can be detrimental to SHW. However, the currently rebounding housing market makes us recommend SHW as one of the best stocks, to aim for a full-fledged housing recovery.
The company is exposed to a host of lawsuits regarding the production of its lead pigment. If these litigation cases are unsuccessful or if there are further such suits, it will negatively impact the company and its share price.
Valuation
The following table shows that SHW is the most expensive stock among its peers, as its forward price-to-earnings ratio of 19x and EV/EBITDA of 15x is the highest of the lot. Plus, its dividend yield of 1.1% is the lowest amongst its peers. However, its long-term earnings growth rate of almost 16%, the best amongst its rivals, is too lucrative to ignore.
| | | | | |
| --- | --- | --- | --- | --- |
| | SHW | VAL | PPG | RPM |
| Forward P/E (1 year) | 18.85x | 15.31x | 15.04x | 14.18x |
| EV/EBITDA (NYSE:TTM) | 15.14 | 11.02 | 9.18 | 10.23 |
| LT earnings' growth rate | 15.65% | 11.40% | 9.30% | 10.52% |
| Dividend Yield | 1.10% | 1.40% | 2% | 3% |
Source: Reuters, Bloomberg, Yahoo Finance
Share Price Performance
The following graph shows the splendid share price performance of all major companies in this sector. The primary reason remains the cheap natural gas, which has reduced feedstock costs of the entire U.S. chemical sector. Among these companies, SHW is the leader, and its stock has appreciated by a whopping 63% this year.

Source: Google Finance
Disclosure: I have no positions in any stocks mentioned, and no plans to initiate any positions within the next 72 hours.
Business relationship disclosure: The article has been written by Qineqt's Basic Materials Analyst. Qineqt is not receiving compensation for it (other than from Seeking Alpha). Qineqt has no business relationship with any company whose stock is mentioned in this article.