Recently, I wrote an article comparing AT&T (NYSE:T) and Verizon (NYSE:VZ) as long term investments. I would like to continue the comparison theme with another pair of stocks that investors often have trouble choosing between, Coca Cola (NYSE:KO) and Pepsi (NYSE:PEP).
If you ask any investor, they will invariably have a clear opinion on who makes the better product. I'm a Coke man myself, and Pepsi is at best an acceptable substitute. However, if you ask the same investor which company is the better long term investment, the answers will not be nearly as clear. I asked a group of investors which they prefer, and the answers were almost split, with slightly more people favoring Pepsi.
From the 20 year period between 1992 and 2012, Coca Cola's share price has climbed from $10.13 to $38.62 (adjusted to account for splits), which is over a 7.3% annualized gain in share price, slightly outperforming Pepsi, which gained 7.2% annually during the same time period. This should definitely help you keep up with inflation, which is a major concern about retirement portfolios as retirees live longer and longer. If you retire at 65, it is more likely than ever that you will live into your 90's, and you can be certain that US dollars will not have the same purchasing power 20-30 years later.
The combination of share price gains with adequate yield is the goal of most retirement portfolios, so let's examine Coca Cola's track record in this area.
This is a plot of KO's quarterly dividend over the past 20 years: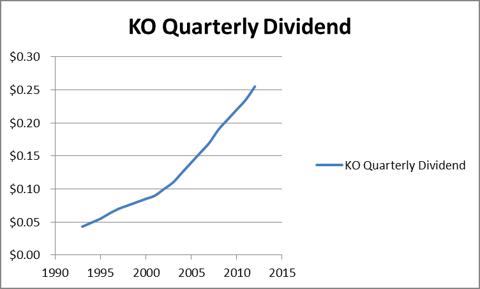 The dividend was increased throughout the entire period, every single year. On average, the dividend was increased 9.85% per year, which is very impressive income growth for prospective investors.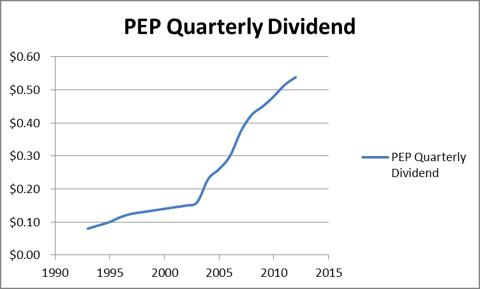 Pepsi also has a fantastic record of raising dividends, outperforming Coke in this area with a 10.91% average increase in payout every year.
So, how does one determine which is the better investment? My favorite method with dividend growth stocks is to back test a hypothetical investment to see which company has done a better job of creating value for its shareholders. Let's look at a hypothetical $10,000 investment made in 1993. For the purposes of this comparison, let's assume that we reinvest all dividends into new shares.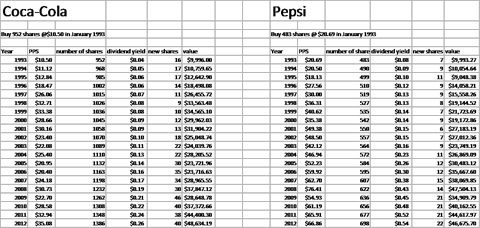 These two stocks are very close to one another in terms of historic performance. Over the past two decades, a $10,000 investment in Coke would be worth almost $2,000 more than an investment in Pepsi.
Pepsi is projected to grow its EPS at a rate of 7% over the next three years, which is in line with historical performance, so this is a good indication that past performance will continue. The same analysts are expecting Coke to grow at 9% over the same time period, mainly due to the consensus that Coke will grow faster than Pepsi in emerging markets.
In conclusion, these are two solid companies with great records of increasing shareholder value and income. I find that Coke has a slight edge to Pepsi, not only based on past performance, but expected future growth.
Disclosure: I have no positions in any stocks mentioned, and no plans to initiate any positions within the next 72 hours. I wrote this article myself, and it expresses my own opinions. I am not receiving compensation for it (other than from Seeking Alpha). I have no business relationship with any company whose stock is mentioned in this article.