We've danced around this kinda, sorta global infrastructure play for the past year but never devoted an entry to it. Based on these sort of earnings from Wednesday evening, it is time to begin taking a more serious look. Granted, when the "global growth" stocks sell off (with oil) this just goes down with the rest so it would not really provide any non-correlation with many other parts of the portfolio but it's quite a story. While sales were "only" up a quarter, profits doubled - that's quite a feat. Full report here.
Flowserve Corp (NYSE:FLS), which makes

industrial pumps and fluid handling equipment, almost doubled its second-quarter earnings, helped by strong demand, and it raised its outlook for the year

.
The company posted net income of $122.9 million, or $2.13 a share, compared with $63.2 million, or $1.11 a share, a year earlier.
Sales rose 24 percent to $1.16 billion.
Analysts on average expected earnings of $1.49 a share, before special items, on revenue of $1.13 billion, according to Reuters Estimates.
The company said it

continues to see strength in its large project infrastructure business globally in the oil and gas, power, chemical and water markets.

(

Sounds a lot like our global infrastructure stocks that absolutely get destroyed each time crude drops even $5, as if all these projects suddenly get canceled

.)
Backlog increased 34% to a record $3.05 billion from $2.28 billion at December 31, 2007.
It raised its 2008 earnings outlook to a range of $7.20 to $7.50 a share, compared with its previous forecast of $5.90 to $6.20 a share (wow). Analysts were expecting the company to earn $6.31 cents a share, before items, for 2008.
To put that in perspective, analysts already had $7.50 in estimated earnings for Flowserve....
.... in 2009.
And just like that, the company went to under 20x 2008 earnings.
There was a
nice upgrade by BMO Capital on July 7th
.
Charles Brady raised the Irving, Texas, company to "Outperform" from "Market Perform" in a client note early Monday. Shares are trading at a "compelling" price following a sharp decline last week, he said, and there is no weakening in demand among its oil, gas, chemical and power markets.
In addition, Brady said Flowserve is

positioned to continue to see strong bookings and sales growth. The company should also enjoy improved operating margins through 2010 thanks to better pricing, aftermarket sales and efficiency

.
"We believe Flowserve is in the midst of a multiyear uptick in top-line revenue growth, margin expansion and earnings growth," Brady wrote.
I realize the airlines, retailers, and banks are "compelling valuations" but really with such performance in so many sectors despite the doomsdayers, I don't understand the compulsion by people to run into fractured businesses, when we have incredible secular growth stories without 90% of the headaches. We have a 10-20 year once in a lifetime global industrialization/modernization movement and people are fussing because oil is $80, $100, $120, or $140. Whatever. This should bode well for our global infrastructure names...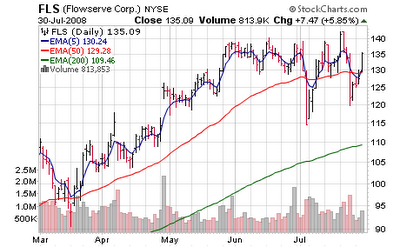 Disclosure: Author has no position.