After shares of semiconductor design company Advanced Micro Devices (NYSE:AMD) gave back its gains after CFO Thomas Siefert announced his resignation, I took the opportunity to add to my position in the $3.60 - $3.63 level, and I suggest that investors who can handle a high-beta stock with significant upside potential should seize the opportunity to pick up shares of the company which is near 5-year lows.
The CFO Resigned: Let's Talk About That
While a brief perusal of stock message boards will quickly yield accusations of accounting fraud, this just doesn't seem particularly likely. Unlike most micro- and small-cap stock frauds that show incredibly attractive growth rates, margins, and forward guidance, AMD has been particularly forthright with regards to its slumping performance. CEO Rory Read, in particular, doesn't "beat around the bush" when it comes to AMD's need to continue to improve execution. So, accounting fraud? Unlikely.
A possible explanation for the CFO's departure is that, after holding the position as interim CEO at the company after the departure of former CEO Dirk Meyer, Mr. Siefert wishes to pursue opportunities as a CEO elsewhere. Another could simply be that, as CEO Rory Reed has systematically replaced the executive team of the company, Mr. Siefert was simply not meshing well with the new corporate culture.
In any case, I don't see the CFO's resignation as particularly negative in the long run. Let me explain.
Is The Departure A Positive?
Shortly after the announcement of Mr. Siefert's resignation, a very interesting analysis of the event popped up on the technology news and analysis site, Bright Side Of News. According to the article, Siefert was responsible for a structural re-organization named "Project WIN". Unfortunately, according to the article, the majority of the cuts were in marketing and engineering, while HR, financial, and other "fat" remained in place.
With Mr. Siefert gone, the last remaining ties to the previous management team is gone, the new team will be able to restructure AMD without restraints -- for better or worse (I think better).
Intel's Warning: A Red Herring
When Intel (NASDAQ:INTC) issued much more aggressive guidance for the current quarter than AMD did, everyone simply assumed that AMD was continuing to hemorrhage market share to its much larger rival. However, it seems that Intel did not accurately forecast the weakening PC demand that AMD had. CEO Rory Read noted in the earnings call as well as at several conferences that PC demand for the quarter was tepid.
There are a few key reasons why Intel's warning isn't necessarily bad (and could actually be positive) for AMD:
AMD targets more cost-conscious segments of the PC market, and its lower end products generally outperform Intel's at the same price, likely making its products more attractive to OEMs
AMD operates and competes aggressively in the discrete graphics space, which according to Nvidia (as well as AMD's own reports) is still doing quite well.
AMD's market share is small compared to Intel's (80% verusus 20%), so AMD could see revenue growth in a flat-to-down PC market by aggressively taking market share from Intel
AMD already guided much more conservatively Q/Q than Intel did, so the likelihood of a revenue warning/miss is much lower than Intel's previously lofty expectations
Analysts Universally Hate It
I know, I know, that should be a negative, right? Nope. More often than not, sell-side analysts are wonderful at telling you the past but lousy at predicting the future.
Remember all of the $30+ price targets for Intel when it was in the $27-$29 range? And now notice how all of the price targets are in the mid to low $20's after the price has gone down?
When absolutely everybody hates the stock, even though it's fundamentally much more solid than people are giving it credit for, that seems to be one of the first signals that the bottom is near and that much more upside potential exists than downside. But let's not just base investment decisions on intuition. AMD is significantly undervalued for a lot of reasons.
Valuation: Folks, It Doesn't Get Much Cheaper Than This
A quick look at the price-to-sales ratio of AMD versus its peers in the semiconductor space seems to indicate that the company is woefully undervalued: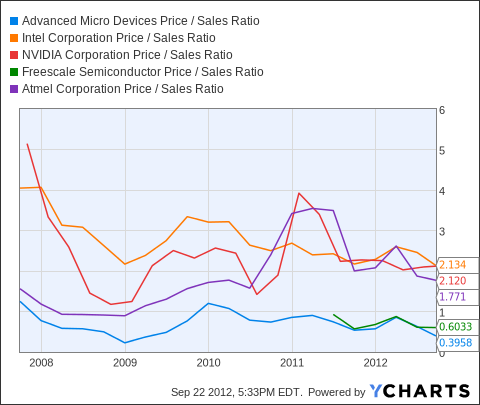 AMD Price / Sales Ratio data by YCharts
Of course, on a price-to-book ratio, AMD isn't quite the screaming buy as the price-to-sales ratio would indicate, due to its fairly sizable debt of $2.02B (an artifact of the ATI purchase in 2006):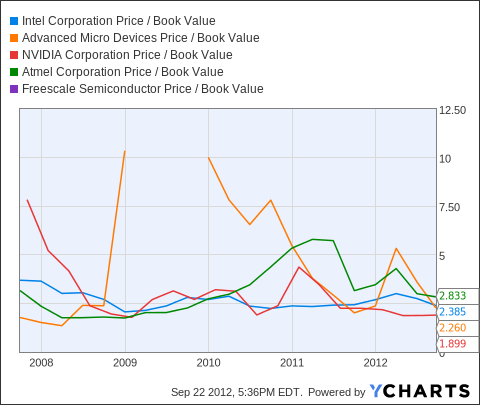 INTC Price / Book Value data by YCharts
But on the debt side of things, AMD has done quite well to knock it down to manageable levels: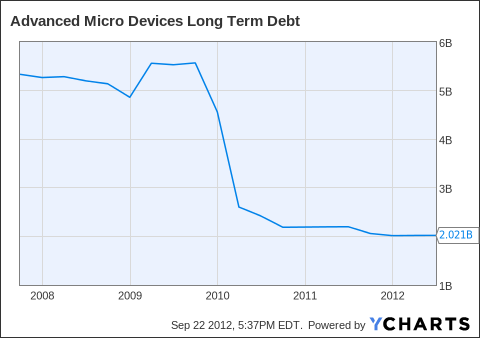 AMD Long Term Debt data by YCharts
AMD has also been cash flow positive for several quarters now, posting significantly improved cash flow numbers over the last year, and much better numbers than the last time that AMD traded in the $3 range: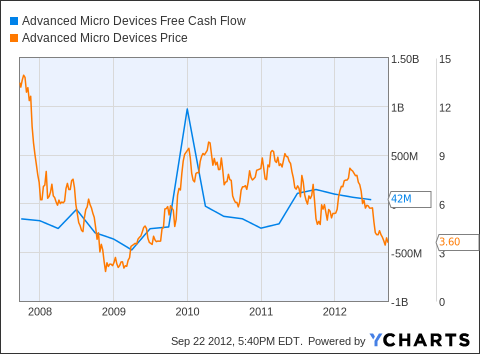 AMD Free Cash Flow data by YCharts
AMD's Secret Weapon: A Rich Guardian Angel
A little known fact that sell-side analysts and short sellers tend to ignore is that Mubadala Development Company holds a 19.4% stake in AMD. This is a major investor with a lot of capital. I am fairly certain that if AMD were ever in any serious danger of insolvency (which I highly doubt) or if the company continues to remain significantly undervalued, that Mubadala may very well increase its stake or outright buy the company. Mubadala's resources (remember, lots of money, and is also the owner of Global Foundries -- the world's second largest foundry) would make such a purchase attractive, as AMD would be more free to try even more aggressive designs.
Speaking Of Short Sellers: The Short Argument
Short sellers are fairly aggressive about their targets (20% of AMD's float is short) so it is worthwhile to examine the other side of the trade.
Short sellers target AMD for four major reasons:
Concern over product competitivenesss against Intel's offerings
The secular slowdown of sales in the PC market
The threat of ARM-based (NASDAQ:ARMH) processors eating into AMD's profitable low end x86-64 CPU business
Execution problems
It is a well established fact that in the server, desktop, and notebook spaces, Intel's products offer superior performance. Part of this lead is due to process technology (this advantage appears in the desktop and notebook segments -- Intel's server offerings are also 32nm) and part of it is due to micro-architecture superiority on Intel's part.
Another facet of the short argument is that, well, PC sales growth is slowing, so AMD will be much harder hit, since it is highly concentrated in the PC space. On that same note, slowing PC sales is supposedly due to ARM based devices such as tablets and smartphones replacing the need for the traditional notebook/desktop PC.
Finally, AMD's own internal execution problems have negatively impacted revenues and margins in the past and that continued operational deficiencies may lead to further dimished market share in the shrinking PC business, and eventually lead to continued struggle in future quarters.
Countering The Short Argument
While AMD is behind on high performance CPU micro-architecture, its low power "Brazos" chips significantly outperform Intel's "Atom" line of CPUs. Further, AMD's integrated graphics across all segments are superior to Intel's, and in a world where fundamentally new functionality matters more than benchmarks, AMD has the upper hand with cost-conscious OEMs and customers.
In servers, AMD's advantage in the low power x86 arena, coupled with its ownership of SeaMicro, could help its assault on the "micro-server" arena succeed.
On the ARM side of things, there's no denying that ARM's presence in tablets and smartphones is a headwind. However, AMD has designed processors for the tablet market that will see the light of day this year. The roadmap here is also fairly aggressive, and the recently demonstrated "Jaguar" micro-architecture is impressive.
Finally, on the execution front, we'll just have to see. AMD's CEO is a veteran of the PC OEM business, and it's not unreasonable to expect the company to get its problems on that front fixed.
Conclusion
Buy the fear, don't sell into it. AMD's unique positioning as the only credible threat to Intel in the x86 server market and PC market coupled with the only threat to Nvidia (NASDAQ:NVDA) in the discrete graphics card space gives it a lot of good IP. Further, AMD's pushes into the low power x86 space will likely be successful if past low power launches from the company are any indication.
The short interest is high, and the expectations are low. If you're ready to take a little risk and deal with some volatility, now is the time to pick up some AMD at near 5 year lows. Reporting an in line quarter or better coupled with decent guidance could be just the catalysts needed to get AMD back into the $5+ range.
Disclosure: I am long INTC, AMD, NVDA. I wrote this article myself, and it expresses my own opinions. I am not receiving compensation for it (other than from Seeking Alpha). I have no business relationship with any company whose stock is mentioned in this article.