Despite a consumer spending environment labeled "tepid" and weak traffic trends that caused her to cut her same-store sales [SSS] growth estimate in Canada from 4.5% to 4.0%, RBC Capital Markets analyst Irene Nattel remains very bullish on Tim Hortons Inc. (THI). In fact, her C$41 price target represents upside of more than 45%.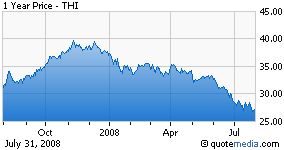 The coffee and donut chain reports second quarter results on August 7 and Ms. Nattel expects solid results. In terms of its sales, she told clients that 4.0% growth in the second quarter would produce an average of 3.8% for the first half of the year, below the company's guidance of 4% to 6%.
As far as Tim Hortons's U.S. business is concerned, the analyst said the consumer spending slowdown that hurt the industry in 2007 worsened in the first half of 2008. Ms. Nattel thinks Tim Hortons was probably able to achieve 1% SSS growth these, which reflects average price increases of 3% implemented in April.
She noted that on a price-to-earnings basis, the shares trade at a discount to the average for franchise-focused operators and McDonalds Corp. (NYSE:MCD) despite Tim Hortons' more conservative balance sheet, and compelling profits and return on equity.