September has been a stellar month for the market so far. Historically the weakest stock market month on the calendar, the month has produced a positive return of around 4% on the back of QE3. However, we are about to go through the first quarter since 2009 that is likely to have negative Q/Q earnings growth in the S&P. I have taken some profits in my portfolio. I am also looking to slowly increase my short positions in the coming months as I think 2013 is likely to have an ugly start for a myriad of reasons. (Fiscal cliff, Europe, election results, anemic job growth, etc…) On top of my list of possible short positions is Yelp (NYSE:YELP).
"Yelp, Inc. operates Yelp.com, an online urban city guide that helps people find places to eat, shop, drink, relax, and play based on the informed opinions of a community of locals in the know." (Business description from Yahoo Finance)
8 reasons YELP is overvalued at $27 a share:
The Barron's cover this week was on Facebook (NASDAQ:FB) and the article stated the company was still overvalued by 30%. I think this will be a wet blanket around the rest of the social media universe in the next week or so, including Yelp.
Insiders sold more than $15mm worth of shares in the latest filing period.
The stock is selling for more than 500 times forward earnings.
The company's business model does not have same type of moat around it as does LinkedIn (NYSE:LNKD), which is selling at less than 100 times forward earnings.
Now that the IPO period has long passed, analysts are no longer touting the stock. Cantor Fitzgerald recently put a "hold" on the stock. Street speak for "sell". Oppenheimer put a "perform" on YELP in April.
Consensus estimates for both FY2012 and FY2013 have come down over the past three months. The company is expected to lose 33 cents a share in FY2012 and about breakeven in FY2013.
The company has negative operating cash flow still and sells at over 15 times revenues.
The stock is selling at levels it has failed at several times over the past year (See Chart).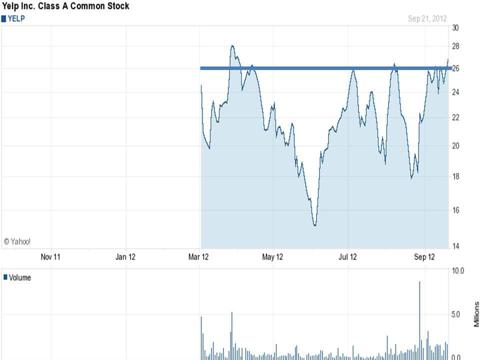 Click to enlarge
Disclosure: I am short LNKD. I wrote this article myself, and it expresses my own opinions. I am not receiving compensation for it (other than from Seeking Alpha). I have no business relationship with any company whose stock is mentioned in this article.
Additional disclosure: May also initiate a short position in YELP in next 72 hours