Canada's second largest bank, Toronto-Dominion (NYSE:TD), is a great alternative to investing in US financials, due to its under appreciated exposure to the US market, great dividend, and consistent perform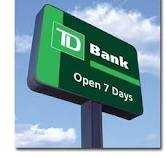 ance.
Most of TD's business is derived from US and Canadian personal and commercial banking. With thousands of locations spanning thousands of miles, this diversified mix of customers in a variety of regions offers TD consistency of deposits and loans. It also has strong brand recognition, sporting the recognizable green colors at most of its locations.
Canadian locations:
1,150 branches and 2,800 ATMS located throughout Canada
U.S. locations:
1,290 branches and 1,870 ATMS located throughout the East Cost of America, ranging from Maine to Florida.
Since personal and commercial banking serves as the most important segment of TD, lets take a special look at the earnings of both the US and Canadian segments: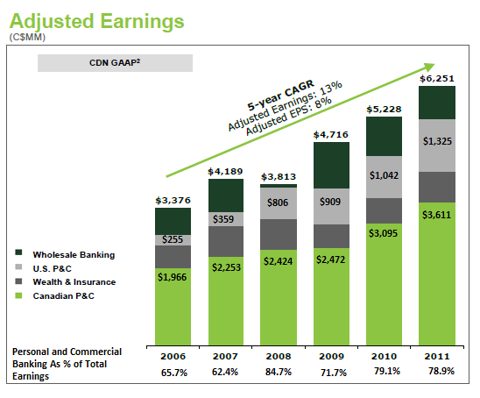 It seems TD's overall focus in personal and commercial banking as a % of its total business has averaged just over 73% since 2006. The big jump in 2008 is mostly due to the intelligent acquisition of Commerce Bank, which provided a big boost to TD's US exposure.
Bullet Proof Growth:
TD has consistently grown earnings for years, boasting a compound annual earnings growth of 13%, and adjusted EPS growth of 8%. These are impressive numbers, especially considering the downturn of the US economy hit during the middle of this measure in 2009. TD more than withstood this event, which was particularly devastating for many financials in the U.S. market, such as Bank of America Corp. (NYSE:BAC), JPMorgan Chase & Co. (NYSE:JPM), Wells Fargo & Co. (NYSE:WFC), In addition to share price and earnings resiliency, TD has also been the best performer over the past 5 years by comparison. Let's take a look at this outperformance: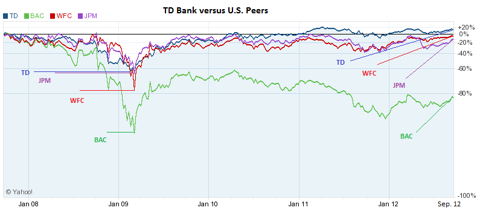 Dividend:
At a current price of 83.96/share, TD has a dividend rate of 3.8%, and a payout ratio of less than 50%. It also has an 11% annualized dividend growth rate, which in my opinion is outstanding. Let's take a look at the TD's long history of dividend growth: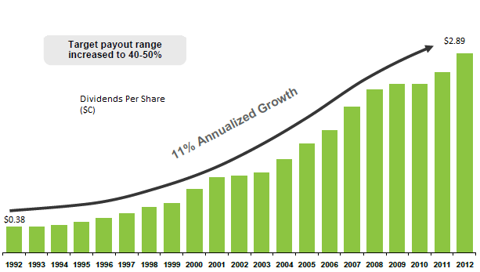 Summary:
Considering TD's diverse exposure in both Canada and the U.S., it offers a better level of safety than most U.S. based banks. Consistent earnings growth, as well as dividend increases, are reassuring attributes to shareholders. With a focus in personal and commercial banking, and a bonus kicker from its subsidiary, TD Ameritrade, TD Bank should continue to outperform other banks as it has over the last 5 years. I will be watching this bank for an entry point on the next pullback, if we get one.
Special Sources: TD 9/'12 Investor Presentation
Disclosure: I am long BAC. I wrote this article myself, and it expresses my own opinions. I am not receiving compensation for it (other than from Seeking Alpha). I have no business relationship with any company whose stock is mentioned in this article.
Additional disclosure: I may initiate a position in TD within the next 72 hours.