Clorox (NYSE:CLX) was started when five men decided to start a liquid bleach factory in 1913. For 56 years, it was a one-trick pony. That all changed after Procter and Gamble acquired the company in 1957, only to divest the company due to antitrust concerns in 1969. Since then, Clorox has successfully acquired some of the best consumer product brands, while internally developing others. With its 100-year anniversary just around the bend, it appears to be a good time to give Clorox's common stock, and its heterogeneous but dominant consumer product portfolio (see below), a once over.
Clorox is trading at a 22 P/FCF [1] ratio -- suggesting that the shares might be overpriced. At that ratio, the price per dollar of FCF is greater than 58% of S&P 500 companies on a trailing twelve month basis. If the reader is just looking for a quick up or down as to whether to buy at $71, my recommendation is to wait. Hold off for a better (lower) price.
Take a look at some of these familiar brands: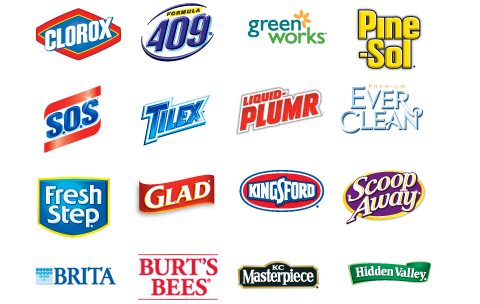 The namesake brand -- the liquid bleach Clorox -- still contributes 13% to sales after 99 years. Trash bags, like Glad, represented another 13% of sales; and Charcoal, or Kingsford, represented 11%.
This brand diversity is partially why Carl Icahn had said that his bid for the company last year was meant to draw in other buyers who could achieve synergies. That is, he figured (for example) Procter and Gamble (NYSE:PG) could be interested, given that there might be manufacturing duplications which, once removed, would make Clorox's portfolio more profitable.
And if not that, he suggested he would have broken up the company and sold it off by brand or category. When Icahn increased his bid to $80 a share -- before he subsequently dropped the bid -- management stated that such a bid undervalues the company. With today's price of $71.69 or 11% lower than the bid, is the company undervalued?
Valuation
Recent operating history has FCF trending lower and share price higher: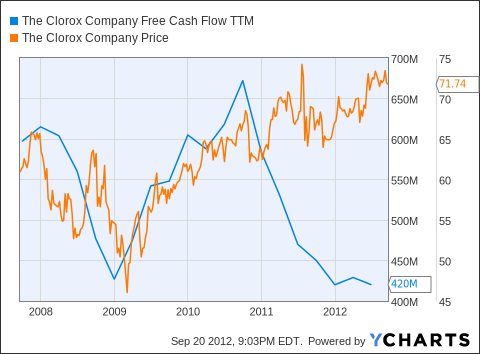 CLX Free Cash Flow TTM data by YCharts
This has, as the mathematics would suggest, driven the FCF yield lower: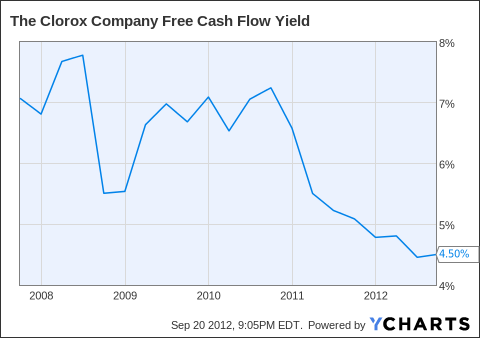 CLX Free Cash Flow Yield data by YCharts
A low yield is not bad if, say, the company is growing. And Clorox, after some declines in 2009, has successfully grown its revenue. For an investment in Clorox to be worth it, it would have to offer a better return than other investments -- and at current prices, I think there are better bargains else where (like I said, 58% of the S&P 500 is selling at a cheaper price relative to FCF).
That said, Clorox is good to watch because it has a great assortment of stable products.
Brand Power
Clorox's successful branding has succeeded in achieving strong pricing power. For instance, in fiscal 2012 it increased unit volumes of its products by 2% but increased sales by 4%, indicating an ability to raise prices.
Since 2005, it has increased prices 61 out of 63 times "successfully," which presumably means with little or no effect on product demand. Clorox increased prices on 70% of its portfolio in 2012 (or in its lingo, it "took pricing" -- see Barclay's Back-To-School presentation).
Notable Curiosities
Negative Equity
Clorox, because of its share repurchase activities, has negative shareholders' equity:

Therefore the return on equity calculation, used to measure management's ability to compound returns on invested shareholder capital, is an inapplicable measure. We can, however, measure management's use of capital in the return on assets calculation. When you compare Clorox to some of its peer group, it does quite well: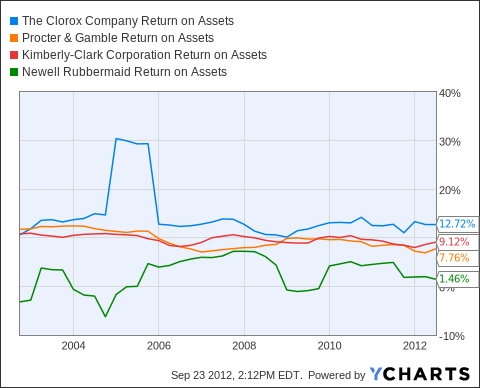 CLX Return on Assets data by YCharts
Therefore, by keeping its assets at a minimum it increases returns for shareholders. But because of its negative equity, we ought to note that its debt levels are around 56% of total assets: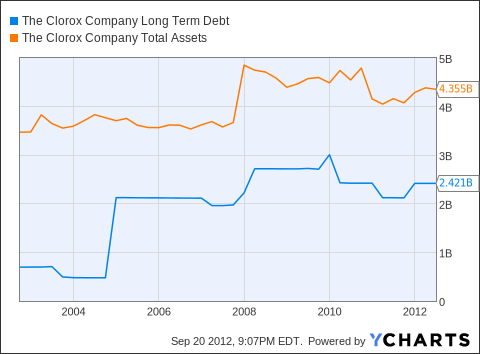 CLX Long Term Debt data by YCharts
Given the stability of sales for their brands, this level of debt isn't a huge concern -- it covers its interest expense by net income nearly 5 times.
Wal-Mart (NYSE:WMT)
Wal-Mart was Clorox's largest customer, making up approximately 26% of Clorox sales, or about $1.4 billion, in 2011. The next four largest customers make up another 29% of sales. One might think that Wal-Mart's private label brand, Great Value, would be causing Clorox's more expensive brands trouble. According to Clorox CEO Don Knauss, private label brands only take over the bottom of the market and they can help the brands which remain first in class. For competing brands lacking a market leadership position, private labels are disastrous.
And as noted above, Clorox has been able to raise its pricing, which, as Warren Buffett notes, is a good indication that a brand has a moat. The ability to raise prices also suggests that Don Knauss' opinion -- that private labels do not hurt Clorox's sales -- is correct [2].
U.S. Dependent
Clorox is highly dependent on the mature U.S. market: 79% of sales were generated in U.S. That is opposed to Kimberly Clark (NYSE:KMB) who generated only 50% of its revenue in the United States in fiscal 2011, or Procter and Gamble who generated only 35%.
Conclusion
This is good company in a good position -- it is just not selling below its intrinsic value. It is a very good company which, if acquired at the right price, would make for a good and stable, dividend paying holding.
Notes:
Free-Cash-Flow = FCF = Operating Cash Flow - Capital Expenditures
This is because in theory when consumer discretionary spending narrowed consumers ought to have moved purchases to the private label brand which is typically cheaper.
Disclosure: I have no positions in any stocks mentioned, and no plans to initiate any positions within the next 72 hours. I wrote this article myself, and it expresses my own opinions. I am not receiving compensation for it (other than from Seeking Alpha). I have no business relationship with any company whose stock is mentioned in this article.