Weekly Outlook: The market continued slightly higher on the back of QE3 announcements and movement closer to an ECB bond-buying program. Yet, the move was only slight in its direction, and after a lot of solid gains, many are wondering how much longer the market can continue higher. We believe that QE3 has put a solid floor on the market that will be hard to break, but we need more catalysts to continue higher. The coming week should continue to bring attention back to Europe after Spain was nearing a deal to get a bailout, according to a report on Friday. A healthy slate of data is scheduled to be released this week, and finally, we are nearing earnings season. We may see some profit/revenue warnings or guide highers that can be important to the market this week as well.
Economic data is busy this week and will be quite influential. Tuesday we get started with Case-Shiller Index and Consumer Confidence. Wednesday will continue with New Home Sales and Crude Inventories. The housing data on Tuesday and Wednesday will be interesting. Existing Home Sales were strong this past week, and we may see a continuation of positive economic data for the industry, which will be good for the market. Thursday is very busy with Durable Orders, Jobless Claims, and Q3 GDP numbers. We finish Friday with Personal Income/Spending, Chicago PMI, and Michigan Consumer Sentiment. The week is all about housing and consumers. Housing has been good to the market, while consumer data has been mixed. The market will definitely be reacting to this news, and if housing loses some footing, it could be hurtful to the market.
Overseas, the dominant story will be Spain and how their bailout situation develops. A move for a bailout there would be very bullish for the market and create more "risk-off" trading. As for data, we have some important announcements to be revealed this week. Monday we get some important Bank of Japan meeting minutes that will be getting Asian markets started for the week. From there, we get a key German Consumer Confidence report on Tuesday. Thursday is the big day with German unemployment information, British GDP, and eurozone Consumer Confidence. Finally, we finish on Friday with a giant slate of Japanese data that includes jobless rate, consumer spending as well as French GDP.
Earnings are pretty quiet as far as announcements, but this week and next week will be the weeks we get some companies giving insight into profit expectations that can move individual stocks/sectors this week. As for reporting companies, we will get important reports from Accenture (NYSE:ACN), Walgreens (WAG), Nike (NYSE:NKE), Discover Financial (NYSE:DFS), and Paychex (NASDAQ:PAYX). WAG and NKE will continue the consumer intensive look this week, while PAYX is important to employment trends. ACN is a good indicator of European growth, and DFS gives us a look at credit trends. NKE and WAG do have the power to move markets, but that's about it.
For the Fed, they have no announcements/speeches this week. QE3 has put a floor on market, and we would expect them to be very quiet for the rest of the week.
So, where are we headed this week?
It looks like the majority of the market's potential is based on economic data, earnings information, and European developments. If data is weak and Europe struggles, we could have a long week. If data is strong, the market has the potential to move higher. Spain and European developments may end up being the big story of the week. A bailout there would take another risk off the table and allow us to move higher. If talks fail there, it may not necessarily hurt the market, but it could threaten the ECB bond-buying program.
Stocks To Trade:
The two main stocks we like this week are Expedia (NASDAQ:EXPE) long and Harley-Davidson (NYSE:HOG).
Expedia made a great breakout on Friday on the back of a Deutsche Bank upgrade to Buy from Hold. That announcement came just a few days after Pacific Crest said that EXPE is gaining market share in online travel. EXPE is in a great uptrend, has analysts behind it, and has good fundamentals with a 17 future PE and estimated 20% EPS growth next year. The stock's move on Friday will either start a new trend or can create a bull flag that should be bought. Either way we will look to add this week. HOG has been looking quite weak as of late. We thought perhaps it was going to bottom at $42, but it got rejected at a downward moving channel, and it is now at a key $44 area. The company has not been able to get any long-term momentum going since earnings on August 1, and if the stock breaks its 50-day MA below it, it could be very detrimental to HOG.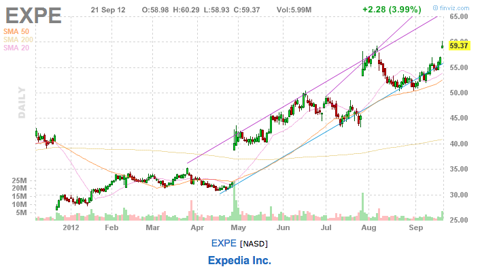 Click to enlarge
(Click to enlarge)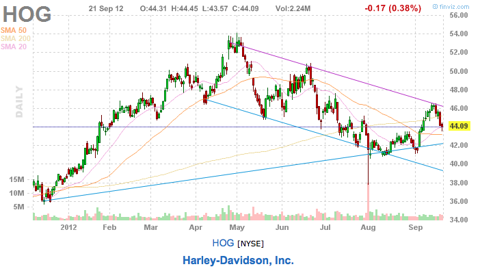 Click to enlarge
(Click to enlarge)
We have the following positions:
Chart courtesy of finviz.com.
Disclosure: I have no positions in any stocks mentioned, and no plans to initiate any positions within the next 72 hours.
Business relationship disclosure: The Oxen Group is a team of analysts. This article was written by David Ristau, one of our writers. We did not receive compensation for this article (other than from Seeking Alpha), and we have no business relationship with any company whose stock is mentioned in this article.