Stay Nimble Here - Weekly Market Outlook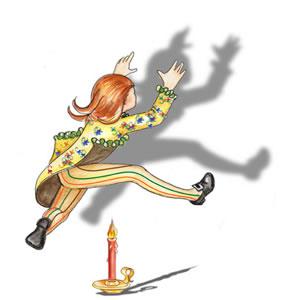 Stock buyer's enthusiasm from two weeks ago was stopped in its tracks last week, with stocks barely budging from their closing levels from the 14th. And just to be clear, it wasn't just a coincidence that stocks made no real net progress last week on a Friday-to-Friday basis. The market was just flat-out lethargic. The high/low range last week was a mere 17.09 points for the S&P 500... only 1.1% of its current value. The recent normal weekly range is somewhere around 2.5% of its value.
What's it all mean? For starters, it's evidence that investors are largely disinterested right now, for better or worse. It's also a slight hint that traders may not be sure what to think of the current situation. Things look and feel overbought, but we have to respect the bigger bullish trend that's been in place since June.
We'll slice and dice the market in a second. First, let's start at the top, with last week's key economic data.
Economic Calendar
It wasn't a huge week last week in terms of economic numbers, but it was a big one on the real estate and housing front. Specifically, housing starts ramped up from 733K in July to 750K in August. Permits fell from 811K to 803K in August. That's still a very strong number, however. More important, both sets of numbers are now well into a prolonged uptrend that extends all the way back to early 2011. It's becoming difficult to say the housing market isn't recovering.
Housing Starts & Building Permits (single-family & multi-family)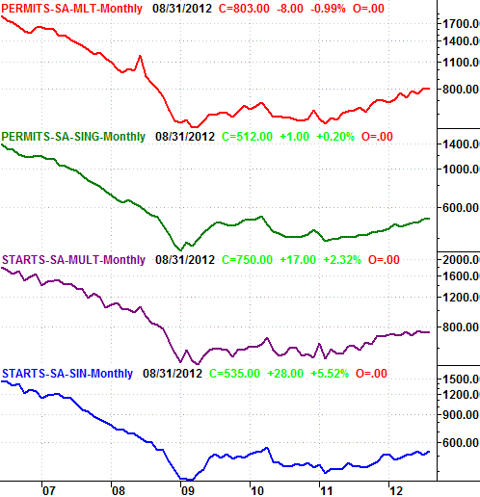 Existing home sales were surprisingly brisk as well, reaching an annualized rate of 4.82 million for August. That's about a two-year high. Inventories are also still near four-year lows. Sale prices continue to rise too, not just for existing homes, but also for new homes.
Everything else is on the calendar:
Economic Calendar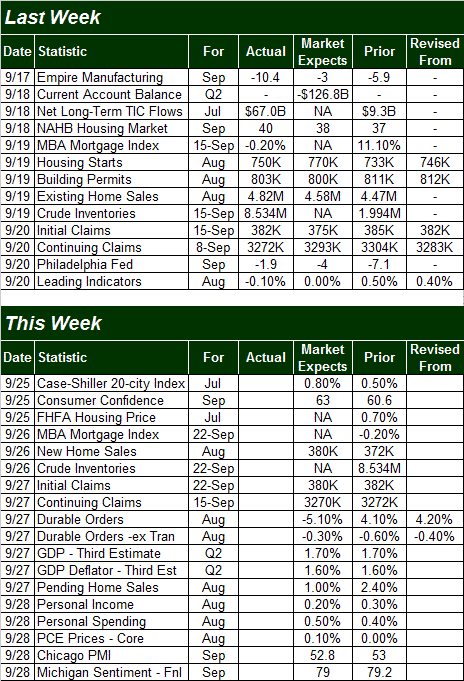 The coming week is going to be even busier, rounding out the real estate report card. But, there's a ton of stuff in the lineup worth keeping tabs on.
On the real estate and housing front, we're going to kick things off on Tuesday with the Case-Shiller home price index, which has been showing a little bit of improvement. The index suggests home values will have grown by another 0.8% for July. We'll also hear about new homes sales on Wednesday; economists say they're selling at an annual rate of 380K now. Pending home sales should be higher by 1.0% when we get August's report on Thursday.
This week is also an important one as a gauge of our industrial production. August's durable orders will be released on Thursday, and economists are looking for a drastic 5.1% plunge in the overall number. Don't get too freaked out, however, as almost all that dip will be the result of falling auto sales. The ex-auto durable orders figure should have only shrunk by 0.3% last month. We'll also get the third and final Q2 GDP growth rate. Most likely it will be confirmed at 1.7%.
Last but not least, this week is going to be a key one for consumer confidence levels. The Conference Board's key consumer confidence sore comes out on Tuesday; look for a reading of 63.0, up from 60.6 in August. The final (September) reading for the Michigan Sentiment index will be announced on Friday.
Stock Market
The weight of the 14.6% rally since early June once again weighed-in on stocks (NYSEARCA:DIA) (NASDAQ:QQQ) (NYSEARCA:IWM). Or, maybe it was just the fact that the market ran into some key resistance levels. Or, maybe it was a combination of both.
As you can see on the weekly chart of the S&P 500 (SPX) (NYSEARCA:SPY) below, the prior week's bump of the upper 26-week Bollinger band was followed by a slight dip this past week. We'd be hard-pressed to see it was the beginning of a major pullback. But, there's still a ton of room for stocks to slide lower before a significant floor was hit. As we noted last week, that floor - in the bigger picture - could be the converging 100-day and 200-day moving average lines, somewhere around 1375 level.
S&P 500 - Weekly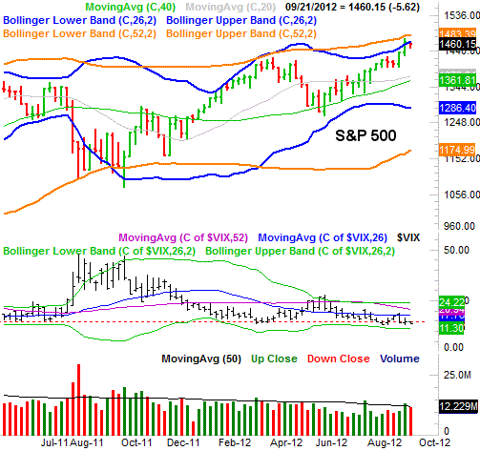 When we zoom in to the daily chart, we can see what's going on with a little more clarity. (Of course, there's really not much of anything going on, so what good does that clarity really do us?) There is one critical clue we're getting here, however... the upper 50-day Bollinger band (orange) become a ceiling this week after the SPX surged above it two weeks ago. Before the bulls get too excited again, the market's going to have to deal with that impasse. Trouble is, there's not a great history of time being spent above the upper 50-day Bollinger band lines.
It's also with the daily chart we can see just how low the CBOE Volatility Index (VIX) (NYSEARCA:VXX) is - and that it's not actually sinking any lower even though stocks are still edging higher. Specifically, the VIX has developed a floor at 13.40. Is it just a case of the VIX being mathematically unable to move under 13.40, or are traders just not yet on board with the market's march into new multi-year high territory? We're still leaning towards the latter.
S&P 500 - Daily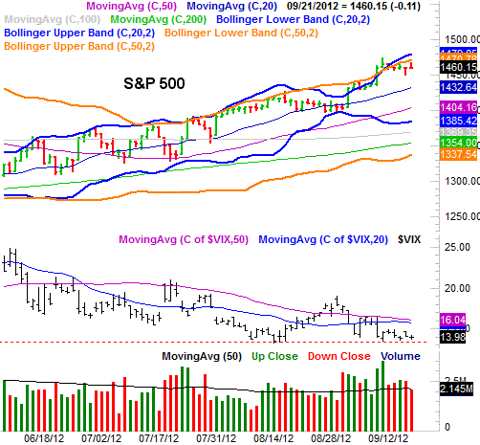 With all that being said, we can say this much about the market - last week's stall cooled off the bigger-picture bullishness at the absolute worst time, psychologically speaking.
Had stocks just continued to even make modest progress last week, traders would have likely remained enthused and interested enough to keep the S&P 500 plowing up and into those upper Bollinger band lines. With just that one-week pause, traders were given enough time to start second-guessing the bullishness. One more solidly bearish day and significantly lower close could start that avalanche. And this time, there's not a lot anyone can do stop that bleeding. We've seen more major stimulus or recovery plans unveiled all across the globe over the past three weeks (Europe, U.S., China, and Japan). There's no room or reason to unveil such plans again. Without that kind of mega-catalyst though, it's going to be near impossible to halt any wave of profit-taking. Just stay nimble here.
Disclosure: I have no positions in any stocks mentioned, and no plans to initiate any positions within the next 72 hours. I wrote this article myself, and it expresses my own opinions. I am not receiving compensation for it. I have no business relationship with any company whose stock is mentioned in this article.
Additional disclosure: BigTrends Rapid Options Income clients have an open SPY Iron Condor options position.