The prices gold and silver remained nearly unchanged during last week, as the effect of the announcement of the FOMC to launch QE3 seems to have dissipated (for now). Further, this announcement might have been an opportunely for many traders to take part of their bets on bullion off the table. On the other hand, there are reports that hedge funds continue to raise their bets on gold. As I have indicated in the precious metals weekly outlook, the main events of the week will revolve around U.S core durable goods report, developments in Europe regarding the EU debt crisis (Spain and Greece) and U.S new and pending home sales. On today's agenda: Minutes of the recent BOJ monetary policy meeting, FOMC member Williams Speech and German Business Climate Survey.
On Friday, gold edged up by 0.1% to $1,778; silver on the other hand slipped by 0.09% to $34.64. During last week, gold increased by 1.85%; silver, by 2.87%. Furthermore, on Friday the SPDR Gold Shares (NYSEARCA:GLD) also increased by 0.29% and reached by September 21, 171.96.
As seen below, the chart presents the shifts of normalized prices of precious metals in the last several weeks (normalized to 100 as of August 15). During last week gold and silver remained nearly unchanged.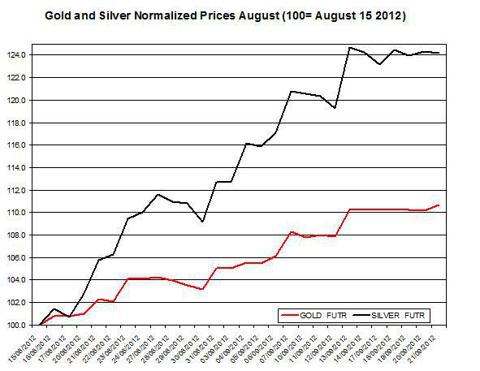 Click to enlarge
(Click to enlarge)
On Today's Agenda
Minutes of the recent BOJ monetary policy meeting: Following last week's BOJ monetary policy meeting, in which BOJ decided to expand its stimulus by 10 trillion yen, the Bank will publish the minutes of the meeting. The minutes may offer some insight behind the Bank's decision that could affect the Japanese yen;
FOMC member Williams Speech: Following the FOMC decision to launch QE3, one of the FOMC members will give a speech regarding the economic outlook of the U.S;
German Business Climate Survey: In the August report, the business climate index decreased to 102.3 in August; if this downward trend continues, it might adversely affect the Euro;
Currencies/Bullion Market - September Update
The euro/ USD edged up on Friday by 0.1% to 1.2981. During last week, however the euro/USD fell by 1.13%. Further, other currencies including Aussie dollar also depreciated last week against the USD by 0.88%. The relation between gold and euro remains mid-strong and positive: during August/September, the linear correlation between the gold and euro/USD was 0.576 (daily percent changes). Following last week's shift in market sentiment, this week this bearish market sentiment towards the euro and other risk currencies might continue, in such a case, it is likely to also drag down gold and silver.
Daily Outlook
The prices of precious metals remained nearly flat during last week despite the FOMC's decision to launch QE3. Nonetheless, QE3 is likely to keep bullion rates high even if these metals won't resume their rally during the week. In Europe, there are still expectations that Spain will make the formal request for the bond purchase program, until then the euro might continue to trade down especially as Germany is running out the patience with Spain's reluctance to ask for the ECB's assistance to purchase its bonds. China's money rate surged to seven month high plausibility due to a shortage in cash. This could also adversely affect commodities rates. Finally, if the Euro will continue last week's downward trend, this could also drag down bullion rates.
For further reading see" Gold And Silver Outlook For Sep 24-28"
Disclosure: I have no positions in any stocks mentioned, and no plans to initiate any positions within the next 72 hours. I wrote this article myself, and it expresses my own opinions. I am not receiving compensation for it (other than from Seeking Alpha). I have no business relationship with any company whose stock is mentioned in this article.