The Rural Mainstreet Index (RMI) remained below growth neutral for the third consecutive month, although the farmland price index jumped to its highest level since May. While farmer income is still strong, businesses linked to agriculture are experiencing retractions, according to bank CEOs.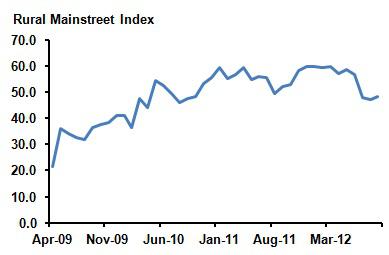 The Rural Mainstreet Index increased to 48.3 from 47.1 in August and 47.9 in July. The RMI is inching higher but still posted below growth neutral for the third month in a row.
According to Creighton University economist Ernie Goss, "The drought continues to dampen economic activity for businesses linked to agriculture such as ethanol, and agriculture-equipment sellers. I expect food processors to take a hit later in the year as higher food prices work their way through the system."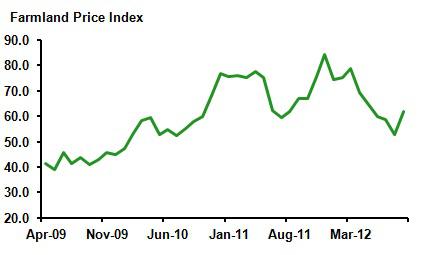 Agriculture
The farmland price index, which has been declining for three straight months, got a jump start this month and climbed almost ten points to 61.6 compared to 52.8 in August. This marks the 32nd consecutive month the index has been above growth neutral. The farm equipment sales index increased to an even growth neutral, 50.0, an enormous increase from the 38.3 it posted last month.
Bankers were asked this month to project farmland price growth in the next 12 months. Answers varied, but on average, bankers believe there will be a three percent gain in farmland prices in the upcoming year. Bankers were also asked if they expect harvest to occur earlier than in previous years. Overwhelmingly, 91% of bankers believe harvest will take place earlier than normal.
Banking
For the seventh consecutive month the loan volume index has increased, to a 70.2 from 67.6 a month prior. The check deposit index decreased to 48.3 from 49.1 in August and the certificate of deposit and savings instruments increased to 38.4 from 33.0 in June. "As in previous months, the drought appears to be increasing the cash needs of farmers in the region. We have been tracking a reduction in the percent of farmland and farm-equipment cash sales and upturns in the degree of bank financing," said Goss.
September's hiring index decreased to 50.9 compared to 51.9 in August. "Even though we tracked hiring growth for the month, the index is trending down. I expect job losses in the months ahead as the impacts of the drought spread to more and more Rural Mainstreet businesses," said Goss.
The economic confidence index increased to 43.0 in September compared to 39.6 from last month. "The drought along with a lethargic national economy are negatively affecting the business confidence of bank CEOs in the region," explained Goss.
Survey
This survey represents an early snapshot of the economy of rural, agriculturally and energy-dependent portions of the nation. The RMI is a unique index covering 10 regional states, focusing on approximately 200 rural communities with an average population of 1,300. It gives the most current real-time analysis of the rural economy.
Disclosure: I have no positions in any stocks mentioned, and no plans to initiate any positions within the next 72 hours. I wrote this article myself, and it expresses my own opinions. I am not receiving compensation for it. I have no business relationship with any company whose stock is mentioned in this article.