After back to back "sugar rushes" from the ECB and the Fed in the previous two weeks, the markets settled back for a bit of a rest last week. At least that is how it appeared from the price action. Where to next? Let's see if the numbers shed any light:
Perspective
Stocks: The stock market pulled back slightly after setting post-crash highs following the announcement of QE3, but the price spread was small on most of the major US indexes, and - until Friday - the volume contracted from the two previous weeks. Friday saw the market open higher and bounce both ways in the morning, but the afternoon session was dominated by sellers as the market faded into the close, the last half hour bringing acceleration to the downside on a surge in volume. It had all the hallmarks of a typical reversal day.
By the closing bell, the Dow Industrials, S&P 500 and NASDAQ Composite were all off fractionally for the week, while the Russell 2000 had shed 1%. The Dow transports, after gloomy outlooks from FedEx (NYSE:FDX) and Norfolk Southern (NYSE:NSC), undercut the lows of early September and dropped nearly 6% on the week. The Apple dominated (NASDAQ:AAPL) NASDAQ 100 managed to eke out a fractional gain.
S&P Sector action turned defensive after a couple of weeks of cyclical leadership. Among the nine major sectors, only the consumer staples and health care stocks posted gains, while tech and consumer discretionary were nearly flat. We saw profit taking in the financials, which dropped more than 2.4%, as well as the energy and materials stocks and the industrials, as growth concerns returned to the fore.
Turning to global markets, we saw eight of our twelve major foreign indexes in the red, with the Shanghai Composite sliding more than 4.5% to yet another new low. In the advancing column were Germany, India, Hong Kong, and Australia. Where we did see gains, they tended to be quite modest, as the overall global equity picture was generally defensive. Only India's Sensex 30, perhaps benefiting from reform initiatives, seemed genuinely robust.
Bonds: US Treasury yields fell back over the course of the week. The ten year note, which had briefly punched through its 200 day moving average, slid down to close under 1.8%. The long bond remained above the 200 day, but closed to yield under 3%. The shorter term five year note saw less volatility and spent most of the week under 70 basis points. Renewed investor appetite for fixed income extended to investment grade corporates and municipals, but junk saw a modest bout of selling. Inflation protection also fell out of favor as yields on TIPS rose slightly.
Commodities: There was considerable profit taking in the commodities, which saw the CRB index erase the previous two weeks of gains. WTI crude oil, which had finally broken through the 200 day after weeks of butting against it and briefly topped $100, fell back on aggressive selling, closing just above $93. Gold moved mostly sideways, consolidating its recent gains; on Friday the spot price ran up to $1,790 before sellers pushed it back down near $1,775 by the close. Copper saw a choppy consolidation as well. Corn pulled back to close under $7.50, while wheat continued to move sideways in a nine week trading range since the big summer run up.
Currencies: The US Dollar index, which had returned to its April - May lows, held support there and saw a slight bounce. The index remains under the key 80 level. The euro found resistance near $1.32 and pulled back under $1.30 by week's end. Sterling was little changed as it consolidated its recent gains above $1.62. Yen saw more volatile trading, but was also little changed over the course of the entire week. The Aussie and Canadian dollars were also choppy with a downside bias against the greenback.
Outlook
The relatively light economic calendar shed little new light last week. Conference Board leading indicators were slightly negative, as was the Philly Fed, which was less negative than forecast. Empire manufacturing, not a highly significant or widely followed indicator, was down more than 10%. First time unemployment claims again exceeded forecast. What seemed to worry markets the most was the very weak outlooks from two of the leading shipping firms, as mentioned above. FedEx in particular is seen as providing a window on the global economy, and its management did not very sound optimistic.
Stocks: In last weekend's article I cautioned investors that the market was a little extended after the twin central bank easing initiatives. Some of that short term overbought condition was relieved by last week's consolidation - the NYSE McClellan Oscillator back near zero Friday - but with the percentage of S&P 500 stocks above their 50 day MA at more than 80, I think caution is still warranted. While still bullish on equities, a few things are bothering me:
The quick return of the defensive sectors to leadership
The continuing breakdown of the transports. While not a Dow theorist, I understand why this is significant
The big reversal day on Friday, a cautionary technical signal
The US dollar index bouncing off support - that correlation is still in play
My outlook continues to be cautiously bullish and highly selective. Some of our holdings, such as Pfizer (NYSE:PFE) and P&G (NYSE:PG), went to new 52 week highs. It's tough to be bearish when your own portfolio is faring well enough. At the risk of repeating myself, holding broad indexes isn't an attractive equity strategy to me. At best, an index fund can function as a core holding, supplemented by carefully selected "satellite" positions to enhance return. I am still finding the best candidates in the consumer staples, energy, banking and tech sectors. Quality stocks making new highs, and those coming off successful re-tests of breakout points and support levels, are what I am looking for.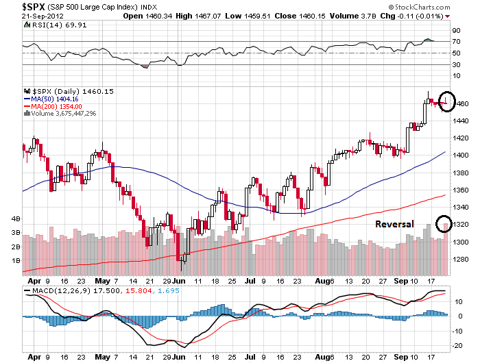 Click to enlarge
Bonds: The current trend in bond yields appears to be higher, but my impression is that quite a number of investors are really getting ahead of the market here. In the comments to another article here at Seeking Alpha, one even asserted with some conviction that a 15 year bond bear market started in July. I remain unconvinced, and think that we will see yields return to levels of 2010-2011 over the next year. However, for investors who have been buying longer term Treasury bonds over the course of the last 15 months, even a move back to previous yields will inflict considerable pain.
This is why I have been urging readers to stay away from long dated Treasuries during the flight to safety phase brought on by the European debt crisis. For those who have kept duration short, or put money to work elsewhere, a correction in bond prices should be welcomed as an opportunity to buy at more reasonable yields. For the long bond I would see that as something in the 4% range, for investment grade corporates around 5%, and for upper end junk 7-8% at minimum. As to the argument that bonds in general will be crushed by a broadly inflationary economy, I have yet to see compelling evidence that such an inflationary environment is on the forecastable horizon. Most of the reasoning I see is just repeating lists of headlines and talking points, not putting together any kind of coherent analysis.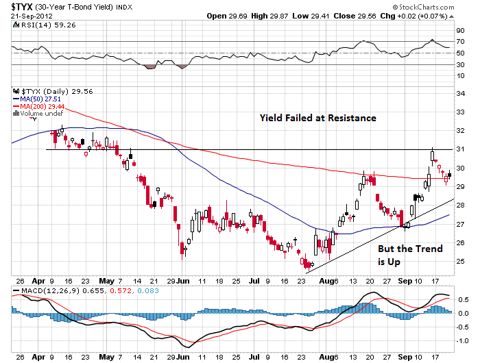 Click to enlarge
Commodities: As a confirmed commodity and in particular an oil price skeptic, I was not surprised to see the pullback last week. What did surprise me was the aggressiveness in selling oil. This tends to confirm my suspicion that $100 is not in the cards absent some Middle East disaster - which of course can never be dismissed altogether. Of course the other side of the trade is always the dollar, and the bounce off support in the dollar index certainly played a role in arresting the commodity rally. We still maintain an allocation to gold, which I suppose is my one concession to the crackpot economic theorist weltanschauung. The reversal action in stocks Friday was also seen in gold. Unless we see renewed weakness in the dollar, I am looking for gold to pull back toward the $1,700 area. If it comes off support there I would see that as a buy signal. A break below $1,680 or the 200 day would be my signal to close out positions.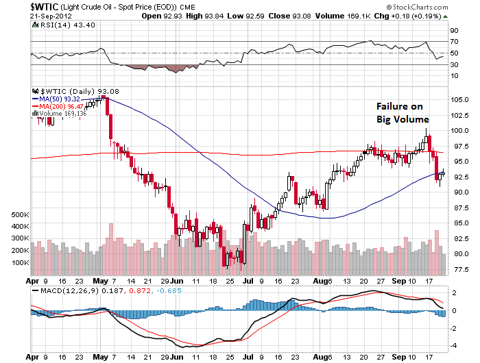 Click to enlarge
Currencies: The title of last weekend's article was "Risk on, but Watch the Dollar." Having come back to re-rest the April - May lows, I suspected the dollar index might see a bounce, and that is exactly what we saw last week. The euro rally stopped short of the resistance zone in the $1.33 - 1.34 area. We are at something of an inflection point here. There are a couple of things I am looking for in the short term: the dollar index to test resistance at 80, and the euro, having fallen below $1.30, to re-test the 200 day MA. Those technical levels will be significant, and are likely to clear up the outlook for equity and commodity strategies in Q4.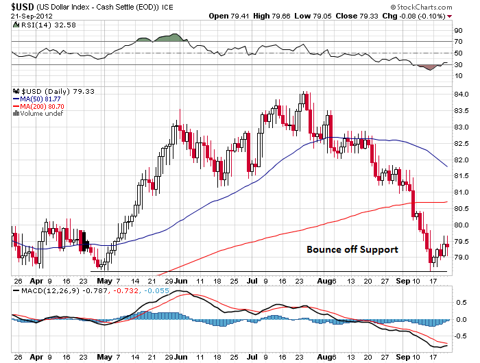 Click to enlarge
Disclosure: I am long PFE, PG. I wrote this article myself, and it expresses my own opinions. I am not receiving compensation for it (other than from Seeking Alpha). I have no business relationship with any company whose stock is mentioned in this article.