Everyone knows about the wild ride in shares of Green Mountain Coffee Roasters (NASDAQ:GMCR) over the past few years. This high flying growth company has seen its share of ups and downs. Until the most recent earnings report, the past year was filled with declines over growth and inventory questions, accounting issues, and competition fears.
Now when Green Mountain reported its latest quarter, shares hit an after-hours low near $15.25. Since then, shares rallied in part thanks to the buyback the company announced. Green Mountain shares more than doubled, hitting a recent high of $33.15 on September 12th. However, a little bit of profit taking brought shares back to $30. But late last week, Starbucks (NASDAQ:SBUX) announced its Verismo system was now available. That sent Green Mountain shares down more than $4, or 13% in two days. Again, the competition fears are out.
We've seen this story before. Back in March, when Starbucks originally announced it would be developing a single cup system, Green Mountain shares plunged. At that time, Green Mountain stated that Starbucks' product would be a complement, not a competitor, to its line of single cup systems. The Verismo system is a high-pressure system, while Green Mountain's Keurig is a low-pressure one.
But what appeared to trip up investors is that original thoughts were that the Verismo system would just be for espresso. However, in the Starbucks press release, it also states that the system will make "brewed coffee". Investors saw that as a warning sign that Starbucks is looking to take a piece of the single cup system pie. Despite the fact that Starbucks and Green Mountain have a partnership, there have always been critics who say that Starbucks could eliminate Green Mountain in no time if they wanted to. Those include Zacks Equity Research, which stated that "The Verismo machine is expected to pose strong competition to Green Mountain's Keurig Brewers."
Also, Starbucks CEO Howard Schultz told CNBC this past week that customers really want its branded coffee. When asked about the Green Mountain partnership, he stated that it was in place for the "time being". Also, we've seen numerous supermarkets try to enter the space recently. If rumors are true that Supervalu's (NYSE:SVU) Java Delight Uncup can be used with the Keurig machines, it adds another competitor to the space.
The key issue here is the long term effects of Keurig compatible k-cups, especially those not made by Green Mountain. If companies like Supervalu produce Keurig compatible k-cups, it could initially bolster demand for Keurig machines. However, a problem exists if those competitors take away k-cup share from Green Mountain. Remember, in Green Mountain's latest quarter, single serve packs accounted for $638 million of the company's $869 million in revenue, or 73.4%.
More competition for k-cups not only could steal away revenues from Green Mountain, but it could force Green Mountain to lower prices, spend more on marketing, etc. Margins could definitely be hurt, and this isn't a tremendous margin business to begin with. In the first 9 months of this fiscal year (their fiscal year ends in September), Green Mountain's gross margins were 32.72%, down from 33.55% in the prior year period. Profit margins were under 10% for the 9-month period, so any contraction in margins will have a huge impact on the bottom line, cash flow, and further financial flexibility.
So where does that leave Green Mountain right now? Well, here are the main points to remember when it comes to the name:
In fiscal 2011 (ending Sep. 2011), Green Mountain revenues rose 95%. In fiscal 2012 (ending this September), revenues are forecast to rise by just 44%, given the midpoint of the company's guidance. In fiscal 2013, revenues are forecast to just rise by 17.5%.
The company announced a $500 million share buyback at last quarter's earnings report. There are questions as to how they will actually have the money for it. At an average price of $20, the company can buy back 25 million shares. At an average price of $30, they can buy back about 16.7 million shares. Don't forget, the share count is still rising from executive options dilution and the like, so part of the buyback will be used to stop the rising share count.
Green Mountain has always been questioned for its accounting methods. There have been multiple SEC inquiries, and the company has been forced to restate past results. This was one of the issues hedge fund titan David Einhorn presented when he stated he was short the stock last year.
Of the near $3.34 billion in assets at the end of the previous quarter, only $139 million was in cash and equivalents. Inventory totaled $667 million, up from $417.5 million in the previous period (a 60% rise). Goodwill and intangibles totaled $1.29 billion.
This remains a heavily shorted stock. As of June 15th, there were approximately 23.25 million shares short, with approximately 155 million outstanding. By the end of August, about 41.5 million shares were short.
Currently, there are 13 analysts that have ratings on the stock. 4 analysts have strong buy ratings, with 2 buy ratings, 6 hold ratings, and 1 sell rating. The average rating is a 2.4, which implies a slight buy. Of the 10 analysts currently with price targets on the name, the average price target is $36.60 and the median price target is $35.50. The range is $25 to $60. Shares closed Friday at $26.76.
In terms of valuation, Green Mountain currently trades for 10.66 times expected fiscal 2013 non-GAAP earnings. While that may appear cheap to some, remember, this company is no longer growing at the rates it used to be. Revenues are expected to grow at a pace less than one quarter of what they did two years ago.
While I don't believe that the Starbucks news is an absolute killer for Green Mountain, it does reinforce the bear scenario for the company. This is becoming a more competitive space by the month, and investors should realize that the high flying revenue growth days are over for Green Mountain. When you add in a low cash balance, ongoing inventory issues, and questionable accounting, you have a name that could be set up for another fall. But you also have a stock that has already plunged over the past year, and a company that is buying back stock.
Going forward, the growth of this company is key. If Green Mountain warns again when they report their latest quarter, the stock will plunge again and probably retest its 52-week lows. However, if they can maintain their forecast or even raise it, the large short base makes this name primed for a huge rally.
I still maintain my opinion that Green Mountain is a short candidate, for a variety of the reasons listed above (growth issues, accounting, inventory, etc.). However, investors need to realize what that means. By stating it is a "short candidate", I am stating that Green Mountain has enough issues to be a good short. However, that means you should do your own research on it, and I am not arguing that you should run out today and short it like crazy. Remember, this stock has lost about 36% of its recent rally so far, as seen below. The stock has lost about $6.50 since its recent high, so a good short opportunity may have been missed. Like some of the other candidates, Green Mountain remains a good short candidate, but I only recommend shorting on pops, not drops.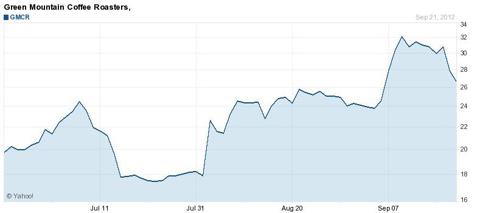 (Source: Yahoo! Finance)
Disclosure: I have no positions in any stocks mentioned, and no plans to initiate any positions within the next 72 hours. I wrote this article myself, and it expresses my own opinions. I am not receiving compensation for it (other than from Seeking Alpha). I have no business relationship with any company whose stock is mentioned in this article.