The Russell 3,000 is up 16.2% year to date, but the average stock in the cap-weighted index is up 19.51% in 2012, which means the smaller stocks are doing better than the larger ones.
Below is a chart highlighting the average year-to-date change of Russell 3,000 stocks broken up by sector. As shown, Health Care stocks in the Russell 3,000 are lapping the rest of the field with an average YTD gain of 36.87%. Consumer Discretionary stocks rank second with a gain of 23.82%, followed by Telecom (21.69%) and Financials (21.04%).
While four sectors are outperforming the overall market, six are underperforming. Utilities and Energy stocks are at the bottom of the barrel with average YTD gains of 3.77% and 5.46%, respectively. Industrials and Technology stocks in the Russell 3,000 are up roughly 14%, while Consumer Staples stocks are up 16.61% and Materials stocks are up 19.48%.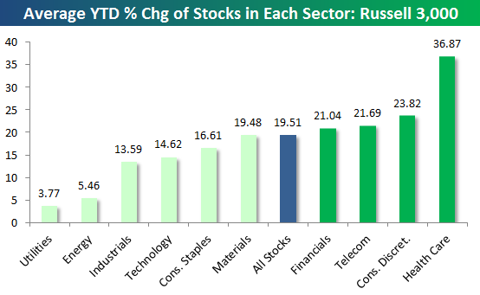 Below is a list of the 40 best performing Russell 3,000 stocks year to date. As shown, 9 of the 12 best performing stocks so far in 2012 are in the Health Care sector, with BioDelivery Sciences (NASDAQ:BDSI) leading the way at +689.95%. In total, 18 of the 40 best performers are Health Care stocks, the bulk of which are biotechs. Ellie Mae (NYSEMKT:ELLI) has been the best performing non-Health Care stock with a YTD gain of 407.61%. Some of the most well known names on the list of 2012's winners include Hovnanian (NYSE:HOV), Pulte Homes (NYSE:PHM), Cirrus Logic (NASDAQ:CRUS), Smith & Wesson (SWHC) and Sprint Nextel (NYSE:S).