Recently I was asked to identify two high-yield stocks with some growth potential that would be suitable for a novice investor. Some additional constraints were as follows:
yield greater than 6%;
stock dividends paid for at least 5 years non-stop; and
stock price greater than $2.
When faced with this type of problem I generally turn to one of my favorite stock analytical tools: the Portfolio123 stock screener.
Using the screener, I created a stock ranking system that would identify high-yield stocks. The main yield criteria used was:
top 5% of all (non-OTC) U.S. stocks;
average yield for the 4 years previous in the top 10% of all U.S. stocks; and
very highest yielding stocks (top 0.7%) eliminated as they are usually anomalies.
With these rules alone I found that the backtest results were not particularly impressive. So I introduced a few extra factors to boost the backtest performance. These factors included:
Quarterly return on investment
Short interest ratio
5-year dividend composite growth (%)
5-year net income composite growth (%)
5-year payout average (%)
5-year gross margin average (%)
In addition to the above ranking system criteria, I used two screener rules:
yield greater than 6%
minimum average daily dollar-volume (price*volume) greater than $1M.
The ranking system, screener rules and backtest results are shown below.
The screener top 20 picks are listed below.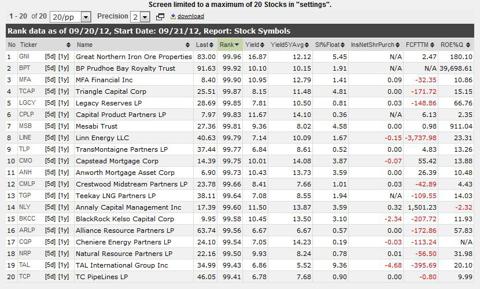 I reviewed each of the 20 stock picks using the website Yahoo Finance, which I consider to be an excellent source of company fundamentals.
All stocks from the list that had a payout ratio greater than 100% were eliminated. Then I reviewed the dividend history and deleted all stocks that didn't progressively increase dividend payments over time.
After completing this exercise I was left with four stocks: Triangle Capital Corp (NYSE:TCAP), Legacy Reserves LP (NASDAQ:LGCY), Linn Energy LLC (LINE), and Alliance Resource Partners LP (NASDAQ:ARLP).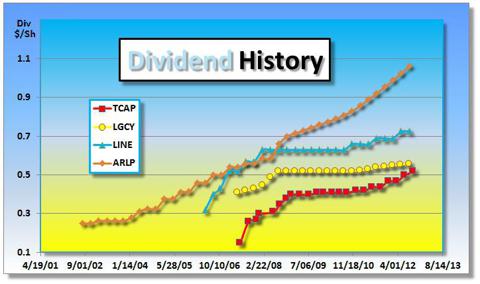 Symbol
Name
Industry
Recent Price
Market Cap
Yield
Yield
(5 yr)
Payout
Ratio
TCAP
Triangle Capital Corp
Asset Mngmnt
25.75
702.69M
8.2%
11.5%
77%
LGCY
Legacy Reserves LP
Oil&Gas
29.00
1.39B
7.8%
10.5%
65%
LINE
Linn Energy LLC
Oil&Gas
41.25
8.23B
7.2%
10.1%
59%
ARLP
Alliance Resource Partners LP
Coal
63.50
2.34B
6.7%
6.7%
52%
My final initiative was to eliminate two of the four remaining stocks, thus leaving two stocks for recommendation to the novice investor.
I first examined each company's operating cash flow and noticed that the cash flow for TCAP was negative. In addition the short interest (% of float) was also higher than I would have liked. A high short interest usually means that speculators are betting against the company's stock price. These two parameters were enough for me to strike TCAP from the short list.
| | | |
| --- | --- | --- |
| Symbol | Operating Cash Flow | Short % of Float |
| TCAP | -128.40M | 5.00% |
| LGCY | 182.05M | 1.00% |
| LINE | 92.51M | 1.70% |
| ARLP | 568.07M | 1.00% |
Two of the three remaining stocks, LGCY and LINE, are in the oil and gas industry, while ARLP is engaged in production and marketing of coal.
I decided that one of the two oil and gas stocks had to go, thus providing some diversification of investments. My final decision involved one of my favorite fundamental indicators: Net Income Available to Common / Market Capitalization.
This indicator provides a factor representing how much income is available to the investor based on the current investment (market cap). Higher values represent a better investment.
Symbol
Market Cap (1)
Net Income Avl
to Common (2)
(2)/(1)
LGCY
1.39B
156.91M
0.112
LINE
8.23B
873.86M
0.106
LGCY came out slightly ahead: 0.112 versus 0.106. Thus my two recommended stock picks were as follows:
Symbol
Name
Industry
Recent Price
Market Cap
Yield
Yield
(5 yr Avg)
LGCY
Legacy Reserves LP
Oil&Gas
29.00
1.39B
7.8%
10.5%
ARLP
Alliance Resource Partners LP
Coal
63.50
2.34B
6.7%
6.7%
Given the Federal Reserve's recent actions designed to ignite inflation, the price of resources such as oil, gas and coal should rise over time. I believe that both of these investments will perform very well into the future. I know I will sleep well making these recommendations.
Disclosure: I have no positions in any stocks mentioned, and no plans to initiate any positions within the next 72 hours. I wrote this article myself, and it expresses my own opinions. I am not receiving compensation for it (other than from Seeking Alpha). I have no business relationship with any company whose stock is mentioned in this article.