Shares of CenturyLink (NYSE:CTL) have stably grown by 27.36% over the past 12 months. At $41.89 per share, the stock is trading very close to its 52-week high of $43.43 just attained recently. CTL has been a popular dividend stocks given its lofty dividend yield at 6.9%, but should dividend investors buy on this upward price trend? I am of the view that CTL has become somewhat pricey after the solid rise and the company appears to have a tight financial capacity to support the current high dividend yield. My opinion is based on the following five reasons:
1. CL appears to be pricey relative to the company's growth potential (see table below). Analysts on average predict CTL's earnings to rise by a 2-year CAGR of 19.4% over the current and next fiscal years, largely lower than the average of 27.1% for a peer group consisting of CTL's competitors such as AT&T (NYSE:T) and Verizon (NYSE:VZ). Accounting for the EPS growth potential, CTL is trading at 3.4x PEG, a very high level compared to the peer group average of just 2.0x. It is also the second highest PEG to Dish Network's (NASDAQ:DISH) level of 3.8x.

2. CTL also appears somewhat expensive relative to the firm's other financial fundamentals (see table above). Despite a lower EPS growth estimate, the company's revenue and EBITDA are forecast to grow at higher 2-year CAGRs of 8.8% and 7.8% compared to the peer averages of 5.0% and 6.0%. However, CTL's EBITDA margin is expected to shrink by 0.8% versus the group average of 0.4% expansion. On the profitability side, CTL's LTM gross and EBITDA margins are largely higher than the peer averages but its EBIT and net profit margins as well as ROE and ROIC are substantially below the par. CTL assumes a lower leverage relative to the peers as reflected by the company's lower debt to capitalization and debt to EBITDA ratios, but the firm has a weaker liquidity position. Its LTM free cash flow margin is slightly below the average and due to the below-average EBIT margin and high cost of borrowing, the company's interest coverage ratio at 1.9x appears to be weak. Moreover, CTL's balance sheet appears to lack of liquidity as indicated by the low current and quick ratios.
As such, CTL's relatively below-average financial performance should warrant a small valuation discount. Nevertheless, based on my valuation model, the current price of $41.89 actually represents an average valuation premium of 12.6% over the three peer-average trading multiples (i.e. EV/EBITDA, EV/FCF, and P/E, and assuming they are equally weighted in determining the stock value) (see table above), suggesting a somewhat stretched valuation.
3. Compared CTL's current financials with what they were in exactly a year ago, CTL's revenue and EBITDA grow estimates have dropped significantly, but its EPS growth potential has become positive (see table below). The company has also become less profitable as reflected by the lower margin and capital return measures. In addition, CTL's liquidity measures such as free cash flow margin, interest coverage ratio, as well as current and quick ratios have also decreased substantially. Despite the deteriorated financial performance, the stock's P/E and EV/FCF multiples have expanded by 132.4% in average over the year, indicating a pricier valuation.

4. Although the current dividend yield at 6.9% looks very attractive, CTL has a tight capacity to support that dividend level. According the chart below, the company's LTM levered free cash as of June 2012 is slightly less than the LTM dividend payment, implying that the current dividend level may approach the limit and the probability of further dividend growth is low if CTL is not able to improve its capability in generating free cash flow. Furthermore, CTL's LTM payout ratio has been raised significantly over the past few years to 346.3% at present (see charts below), a very high level on both absolute and relative basis as the average payout ratio for CTL's peers is much lower at 264.9%.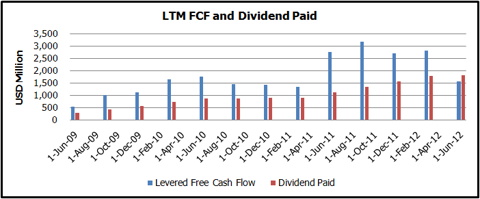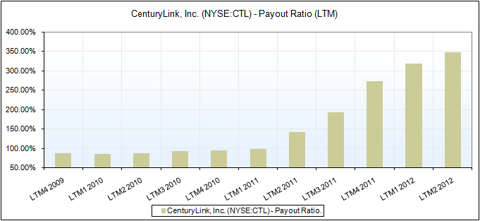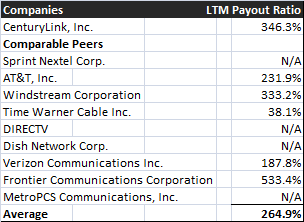 5. According to Thomson One, Street analysts have a mean target price of $35.73 with the high at $40.00 and low at $29.00, reflecting that CTL is likely fully valued at the current market price of $41.89.
Bottom line, given CTL's rich valuation and somewhat fragile dividend yield, I would recommend a hold rating for the shares as the investment lacks a sufficient margin of safety.
Comparable analysis tables are created by author, all other charts are sourced from Capital IQ, and all financial data is sourced from Morningstar, Thomson One, and Capital IQ.
Disclosure: I am long VZ. I wrote this article myself, and it expresses my own opinions. I am not receiving compensation for it (other than from Seeking Alpha). I have no business relationship with any company whose stock is mentioned in this article.