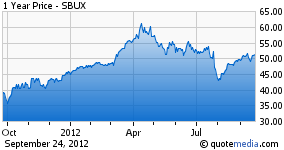 Starbucks (NASDAQ:SBUX) launched its coffee machine, Verismo, last week, which marks its official entry into the growing single cup coffee market. The premium single cup market is expected to grow to $8 billion globally. Consumers have purchased a single cup machine for every three brewers that were sold last year. The new machine provides loyal SBUX customers with an option to get the whole Starbucks experience. Shares of Green Mountain Coffee Roasters (NASDAQ:GMCR) dropped from $30 to $26 (roughly 13%) in the two days following the Verismo news, although the launch was not a surprise (announced in March). SBUX's shares were up almost 2%. We advise against a long position in GMCR because of competition for brewers as well as K-cups. However, we believe that SBUX is a good buy in the long run.
The machine can make brewed coffee, latte and espresso, and is at present available through starbucksstore.com; the machine is expected to be available at Starbucks' stores and some select retailers like Macy's (NYSE:M) by October, in a bid to take advantage of the holiday season. The basic version carries a price tag of $199, while another version with additional features like LED displays, temperature controls and self cleaning, is priced at $399. These prices are competitive with existing players in the brewers business like GMCR and Nestle (OTCPK:NSRGY). GMCR's relatively new Keurig Vue machines are priced at around $230, while the K-cup Keurig machines range from approximately $90-to-$250. GMCR has more than 75% of the U.S. market for single cup machines, while Nestle dominates mainly in Europe, and has a 35% share internationally, according to the Chicago Tribune.
Although GMCR and SBUX now have competing machines, SBUX CEO Schultz has said that the partnership entered into last year for supplying Starbucks-branded K-cups for GMCR's machines is not in danger. Schultz also said that 75% of Starbucks customers do not own a single cup machine because they do not deliver on their expectations. If this is true, we might see Verismo triggering a significant jump in SBUX's revenues.
GMCR's CEO remains bullish about his company's prospects, as he thinks that the new Vue machines offer a larger choice of beverages, including cold. He also said that GMCR is getting ready to launch an espresso maker "with a twist or two," either at this year's end or next year's beginning. SBUX's latest launch is mainly an espresso maker and might enjoy some first mover advantage.
We think SBUX's move to sell hardware that goes along with coffee is a good attempt to diversify its business. Schultz expects this machine to be another $1 billion brand. The brewer will help drive sales for Starbucks' coffee pods (whose prices are in line with the competition) as well. On the other hand, a couple of GMCR's K-cup patents expired last week, making it susceptible to competition from retailers making similar K-cup offerings. GMCR, the industry leader in single cup brewers, can end up losing its market share in a still growing industry.
The forward P/E for SBUX is 24x, while the last 5 year average is 31x. It is trading at a 21% discount to its 52-week high.
The forward P/E of GMCR is 11x, while the last 5 year average is 50x. The 52-week low is $17.
Peers like Time Horton (THI) and Dunkin' Brands Group (NASDAQ:DNKN) are trading at forward P/E multiples of 17x and 20x, respectively.
For GMCR, we continue advising investors against a long position at the moment because of the immense competition it will be facing, not just from SBUX. Moreover, the kind of growth it experienced over the last few years cannot be expected to continue. SBUX, on the other hand, faces economic headwinds in the near future. Over the long term, we are confident of the company's prospects because of its established brand name and global presence.
Disclosure: I have no positions in any stocks mentioned, and no plans to initiate any positions within the next 72 hours. The article has been written by Qineqt's Consumer Analyst. Qineqt is not receiving compensation for it (other than from Seeking Alpha). Qineqt has no business relationship with any company whose stock is mentioned in this article.