Shares of Colgate-Palmolive (NYSE:CL) have steadily returned 18.38% on an upward price momentum over the past 12 months. At $106.53 per share, the stock is trading very close its 52-week high of $109.84 achieved just recently. I am of the view that this defensive dividend stock is still priced reasonably and there is likely an additional upside given the company's strong fundamentals and sustainable dividend yield. My bullish view is based on the following three reasons:
1. CL stock is priced reasonably relative to the firm's financial fundamentals (see table below). In terms of growth prospects, CL's estimated growth is slightly weaker than the average estimates for a peer group consisting of CL's competitors such as Procter & Gamble (NYSE:PG) and Clorox (NYSE:CLX). The company's revenue, EBITDA, and EPS is forecasted to rise by 2-year CAGRs of 3.6%, 5.6%, and 8.7% over the current and next fiscal years, compared to the group averages of 2.7%, 5.8%, and 11.2%. CL's EBITDA margin is predicted to expand by 1% in 2 years, slightly below the peer average of 1.2%. However, CL has a superior performance on the profitability side as all of the firm's margin and capital return measures are significantly above the peer group averages. The firm has a similar leverage level with the peer group as reflected by the higher debt to capitalization ratio but lower debt to EBITDA rate. Moreover, CL's has an excellent liquidity position. Its LTM free cash flow margin of 14.1% outperforms the peer average at only 10.1%, and due to the robust profitability, CL is able to maintain a very high interest coverage ratio at 83.2x. The company also has a fairly healthy balance sheet as both its current and quick ratios are above the par.

Click to enlarge
As such, CL's overall above-average financial performance should warrant a premium stock valuation. Based on my model, the current stock price of $106.53 actually implies a 6% valuation premium to the three peer-average trading multiples (i.e. EV/EBITDA, EV/FCF, and P/E, and assuming they are equally weighted in determining the stock value) (see table above), suggesting the stock is priced fairly.
2. CL's decent dividend yield at 2.3% is firmly backed by the management's strong commitment and the company's ample financial resources. The stock's annual dividend per share has been steadily raised by a solid 10-year CAGR of 13% from $0.68 in FY2001 to $2.27 in FY2011 (see chart below), reflecting a quality dividend policy. In addition, over the last decade, the company's annual dividend paid in average only represents less than half of the annual free cash flow generated (see chart below), meaning that the current pace of the dividend growth can be at least maintained over time. Lastly, CL's LTM payout ratio of 46.3% is much lower than the peer average of 53.5% (see chart below). With a lower payout ratio, dividend per share is less likely to be affected if EPS deteriorates substantially.

Click to enlarge

Click to enlarge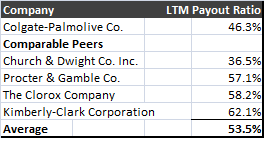 3. From a technical perspective, CL's 100-day simple moving average has been supporting the upward price trend since early 2011 (see chart below). The stock has recently dipped the 100-day SMA, but successfully bounced back, indicating that the price support at the 100-day SMA may likely continue.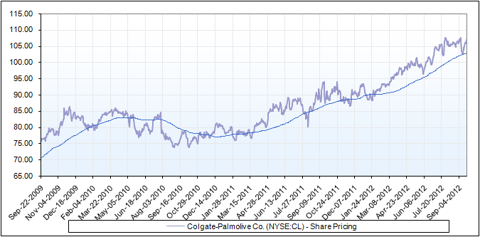 Click to enlarge
Despite the above positives, the stock has indeed become more expensive over the last 12 months (see table below). Comparing CL's current financials with where they were in exactly a year ago, CL's revenue and EPS growth estimates have largely come down, and the company has also become slightly less profitable. But liquidity has improved as reflected by the higher FCF margin, interest coverage ratio, as well as current and quick ratios. However, the CL's EV/EBITDA, EV/FCF, P/E, and PEG multiples has expanded by an average of 14% over the year, and one would argue that the stock is pricier given a slower financial growth and a slightly lower profitability.

Click to enlarge
Bottom line, although the share price is not cheap, it is not expensive either. In the light of CL's sustainable dividend yield of 2.3%, healthy financials, and defensive nature, I recommend acquiring the stock at the current price if you are a long-term buyer.
Comparable analysis tables are created by author, all other charts are sourced from Capital IQ, and all financial data is sourced from Morningstar and Capital IQ.
Disclosure: I have no positions in any stocks mentioned, but may initiate a long position in CL over the next 72 hours. I wrote this article myself, and it expresses my own opinions. I am not receiving compensation for it (other than from Seeking Alpha). I have no business relationship with any company whose stock is mentioned in this article.