Trulia (TRLA), founded 2005, is a real estate data-aggregation web site. Naturally, it has corresponding mobile applications accessible form smartphones. Trulia's IPO was this past Thursday, September 20th, and it was a tremendous success with shares trading up some 40% immediately. The implication of the share price is that Trulia is worth more than half a billion dollars:
Shares Outstanding x Price = Market Capitalization

26,376,654 x $22.57 = $595,321,080
Given its annual revenue of only $38.5 million in 2011 (or $1.45 a share), and its annualized 2012 revenue of $58 million (or $2.19 a share), its price to sales ratio will likely end this year around 10 to 16 times.
That means we can derive the following conclusion regarding current prices: If Trulia achieves a large 10% profit margin this year (not on track for that, however), then it would have a P/E in the range of 100 to 160; alternatively put, it would have an earnings yield of 0.6% to 1%.
If we throw its growth rates into a table, we can see that even if it continue to grow, and if it achieved a profitability of 10% next year, it would still be considered overvalued for the next 4 to 5 years.
| | | | | |
| --- | --- | --- | --- | --- |
| (in millions) | Sales | Profit | Market Capitalization | P/E |
| 2011 | 38.5 | -6.1 | 595 | N/A |
| 2012 | 58.0 | -7.6 | 595 | N/A |
| 2013 | 87.4 | 8.7 | 595 | 68.1 |
| 2014 | 131.6 | 13.2 | 595 | 45.2 |
| 2015 | 198.3 | 19.8 | 595 | 30.0 |
| 2016 | 298.7 | 29.9 | 595 | 19.9 |
| 2017 | 450.1 | 45.0 | 595 | 13.2 |
Or if we only assumed it could achieve a 5% profit margin, the numbers would look even worse:
| | | | | |
| --- | --- | --- | --- | --- |
| (in millions) | Sales | Profit | Market Capitalization | P/E |
| 2011 | 38.5 | -6.1 | 595 | N/A |
| 2012 | 58.0 | -7.6 | 595 | N/A |
| 2013 | 87.4 | 4.4 | 595 | 136.2 |
| 2014 | 131.6 | 6.6 | 595 | 90.4 |
| 2015 | 198.3 | 9.9 | 595 | 60.0 |
| 2016 | 298.7 | 14.9 | 595 | 39.8 |
| 2017 | 450.1 | 22.5 | 595 | 26.4 |
| 2018 | 678.0 | 33.9 | 595 | 17.6 |
| 2019 | 1021.4 | 51.1 | 595 | 11.7 |
It would take until 2018 for its P/E multiple to enter a normal range -- and that is assuming (1) revenue growth continues, (2) an increase in profitability and (3) no decline in share price.
It seems to me that for this company to enter a more normal valuation, it would be easier for the share price to fall than for the company to grow into the valuation.
Basically, it current price assumes a Herculean -- and successful -- effort in the future.
Trulia - Content Aggregator
Trulia aggregates and organizes real estate data from the web, from in public records, and from data generated by users -- the last of which numbers some 5 million user contributions. It also tracks previous sales history, and school locations; all in all, pretty useful stuff. Here are its operating statistics, all positive:

Trulia's 22,030,000 unique user count is behind Zillows (NASDAQ:Z) figure of "33.5 million average monthly unique users" (see Zillow Q2 10-Q, p. 15).
Over the six month period ending June 30th, it had 360,000 active real estate professionals on the site, and importantly, 21,544 paying subscribers. The last, of course, is where Trulia generates most of its revenue:
"We generate revenue primarily from sales of subscription products to real estate professionals. We also generate revenue from display advertising sold to leading real estate and consumer brand advertisers seeking to reach our attractive audience." (Prospectus, p. 2)
Its subscription revenue has steadily increased as a percentage of total revenue: from 32% in 2009 to 68% in 2011. Recurring subscription revenue is a huge positive from a cash flow perspective. Unfortunately, Trulia goes on to say that it does not focus on the renewal rate -- which it calls misleading due to seasonality. Trulia may be right, but one would think that maintaining a high renewal rate would be a big priority.
Now according to Trulia, there are 2.8 million real estate professionals in the United States -- those professionals make up the market which Trulia seeks to tap. I'd point out, real quick, that means that 0.89% of the U.S. population sells real estate -- a number which seemed a little high. Upon looking it up, the National Association of Realtors puts the figure at 1.2 million, and the Department of Labor puts the number at 500,000. Skepticism aside, new housing starts are picking up in the united states: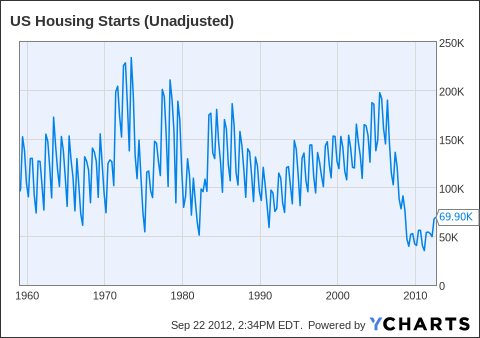 US Housing Starts (Unadjusted) data by YCharts
If history is any guide about the normal level of housing starts, then it appears that the housing market has more room to move upward than it does downward. Such an increase in housing starts would theoretically be a boon for Trulia (and Zillow).
The Online Real Estate Space Is (Very) Crowded
Competition is hazardous for all business, so let us list the players within the "online data aggregation of real estate information" business:
Within this competitive context, Trulia lays out its market vision:
"Borrell Associates, Inc., an advertising research and consulting firm, estimated in an August 2012 industry paper that $23.7 billion would be spent in 2012 on real estate-related marketing in the United States. According to a November 2011 survey by the National Association of Realtors, 88% of home buyers used the Internet to research homes. However, according to the Borrell Associates report, only 55% of the real estate marketing dollars in the United States were projected to be spent online in 2012." (p. 3)
So there is, in theory, money to be made within this segment. But given all the players within this market already -- and specifically, with the profitable Zillow -- the wise words of Warren Buffett echo in my ear:
"I've given talks in the past where I carry with me a 70 page, tightly printed, list and it shows 2000 auto companies. Now at the start of the 20th century, if you had seen what the auto was going to do to this country, the impact it would have on your children and grandchildren and so on -- it transformed the American landscape. But of those 2000 companies, 3 basically survive -- and they have not done that well. So how do you pick out 3 winners of 2000?" (Warren Buffett Speaks to UGA Students, video)
How do you pick one winner out of 15?
Zillow
And as I noted, Zillow is its main rival. For instance in Trulia's S-1, it states:
"[A]ccording to comScore, during each month in 2011 and in each of the six months ended June 30, 2012, more than 50% of our audience did not visit Zillow.com."
That is one of the difficulties with internet companies. Setting up the database and getting the user interface is not the hard part. Getting chosen by hordes of users is what makes a social site work. And a 50% rate, for me, does not quite qualify as a competitive advantage.
Conclusion
Whenever a company does not have a history of earnings or free-cash-flow [1], the investment becomes immediately speculative by definition. As Trulia itself says on page 13 of its prospectus:
We have not been profitable on a quarterly or annual basis since we were founded, and as of June 30, 2012, we had an accumulated deficit of $43.8 million.
For me, with a whole universe of profitable companies, why speculate? In Security Analysis, and under a paragraph segmented with the title "Speculation Characterized by Future Prospects," Ben Graham writes:
"The future was uncertain, therefore speculative; the past was known, therefore the source of safety."[2]
If we take heed, and if we consider the preservation of our capital as a goal logically prior to the goal of achieving an appropriate return, then we ought to avoid investments which are clearly speculative. There is no margin-of-safety here.
The future may work out brilliantly for Trulia, or the speculator could make a few bucks off trading with a bigger fool, or, it is possible, one could lose their shirt. Either way, the past record does not suggest that current valuations will remain at present levels. It suggests, rather, that this untested business was able to fund its operations by selling a portion of its ownership at a good price (that is, a good price for the sellers).
Notes:
Free-Cash-Flow = FCF = Operating Cash Flow - Capital Expenditures
Graham, Benjamin, and David L. Dodd. "The Theory Of Common Stock Investment." In Security Analysis: Principles and Technique. 6th ed. New York: McGraw-Hill, 2009. 354.
Disclosure: I have no positions in any stocks mentioned, and no plans to initiate any positions within the next 72 hours. I wrote this article myself, and it expresses my own opinions. I am not receiving compensation for it (other than from Seeking Alpha). I have no business relationship with any company whose stock is mentioned in this article.