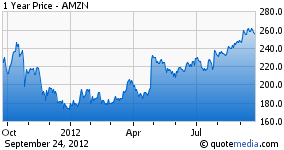 Does the world really need another column about the stock of Amazon (NASDAQ:AMZN)? A humble "yes" is my answer. A column is needed that makes the case for Amazon in easy-to-understand language, that tells shareholders why they should hold fast to the stock, how they can generate a rough estimate of intrinsic value, and last, but far from least, why they can comfortably ignore all those silly bashers.
Let's start with the bashers, if only for the entertainment value. Here's a sampling of their complaints:
"Amazon's profitless ecommerce has been sold all these years as 'they will make it up in volume' story. We are still waiting."
"This is trading at 300 times imploding earnings. If one is going to short anything, this is it."
"AMZN HAS FAILED TO MAKE A PROFIT FOR 15 YEARS."
(Memo to bashers: Putting a claim in caps doesn't make it true … or more persuasive.) The Amazon-doesn't-make-a-profit criticism has been around since the company went public in 1997 - then the subject was debatable; now it's patently absurd.
Amazon's ability to generate earnings is well documented going back to 2003. For eight consecutive years, from 2003 to 2010, Amazon generated reasonable profitability, averaging 3.4% net profit margins, almost identical to Wal-Mart's (NYSE:WMT) 3.5% net profit margin for the same time period. Remember, Amazon was spending aggressively back then (and even more aggressively today), so the 3.4% average net profit margin mentioned above understates their true margin potential.
Now, let's cut to the chase: After eight years of reasonable profit, what happened to cause net profit margins to fall to 1.3% in 2011 and to less than 1% this year? And, more importantly, is it cause for concern for investors?
The bottom line: There's no need to get all Henny Penny over recent earnings numbers. The sky most certainly is not falling. Simply stated, the drop in net margins is a result of a discretionary decision made by CEO Jeff Bezos and team. Take a look at the numbers below, and I'll explain how you can see it.

Sales growth is amazing, of course (how can you hold back a smile if you're an Amazon shareholder?). As you can see, gross profits are growing quite nicely. And gross profit margins haven't changed much, oscillating a tenth of a percentage point or two over the years - this clearly shows that Amazon generates a healthy gross profit spread of over 22%. (FYI: Gross margin has increased in the first two quarters of 2012, to 23.95% and 26.07%, respectively.)
Here's the key: Bezos has flexibility is in what he does with gross profits - he can spend a lot in an attempt to gain market share (which depresses earnings, as is the case now) or he can spend conservatively (and earnings would soar).
(A primer for those who seek to understand the accounting: Gross profit is what's happening today: the difference between today's revenue and the actual cost of product. From Amazon's 2011 gross profit of $10,789,000,000 - and if you recall nothing else from this column, please remember this - operating expenses are deducted that support both current AND future sales. Sure, it'd be cool if GAAP perfectly matched current revenue with current expense, but it's nigh impossible when you're a rapidly growing company. Expenses associated with future sales have a way of worming their way into the operating expense line. Not a big deal, any skilled analyst will recognize them as such and make the required adjustments.)
So the point is, Bezos and his team are increasing operating expenses (and temporarily depressing earnings) not because they're losing money on sales - continued growth in gross profit dollars constitutes irrefutable evidence of that - but because they're building out an infrastructure (reflected in operating expenses, below the gross profit line) that can handle many times their current level of sales. (We'll discuss whether or not this is the optimal strategy in a bit.)
How should you value Amazon stock?
For investors seeking a valuation shortcut, here it is: A rough approximation of intrinsic value is 1.8 times sales; this back-of-the-envelope quickie should be useful for the next several years. Note that it discounts profit prospects (which are easy to define if you study the financials) as well as their blistering sales growth (37% last quarter). A reasonable strategy might be to buy the stock aggressively at 1.5 times sales and trim when it reaches 2.5 times sales.
In 2010, when Amazon generated a 3.4% net (similar to Wal-Mart), it traded at between 1.4 and 2.4 times sales. The market didn't so much as shrug in 2011 when the net profit margin completely collapsed (yikes, the sky is falling!) to 1.3%. In fact, it traded in a tighter range in 2011, at between 1.5 and 2.3 times sales. So far in 2012, the stock has been trading more conservatively - between 1.2 and 1.9 times sales (it's at 1.9 times today).
The current quote approximates fair value, in my view, but remember: Intrinsic value will increase next year in tandem with sales. If you assume (like me) that 1.5 times sales is an attractive entry point in any given year, that means you'll be buying the stock in 2013 if you can get it for $270 per share. (Yes, Sherlock, that's a clue to consider buying right now, with the stock trading at $255.) My estimate for fair value next year (1.8 times sales) is a range of $325 to $350, and my preliminary valuation estimate for 2014 is a range of $425 to 475.
Is Jeff Bezos making the right strategic call?
Is CEO Bezos making the right move in spending aggressively, depressing earnings in the short-term? Let me invoke the John McEnroe invective as a non-reply to the question: You can't be serious!
It's on-the-nose obvious: The moment requires it.
You don't have to be a sophisticated investor to recognize this much: The Internet land-grab is a historic, incredibly large, one-off opportunity (Investors who wait for the sequel will be sorely disappointed). Capturing market share is Amazon's top priority, as Bezos explained in his 1997 letter to shareholders (reprinted in each Amazon annual report). The priority is not, as he said, "short-term profitability considerations or short-term Wall Street reactions."
Secondly, the recent surge in gross profit dollars is an early confirmation of Bezos' strategy. To state the obvious, you can't have net profit until you first generate gross profit. And gross profit is growing at a faster clip since Bezos increased investment spending.
Let me explain it in a different way (and slowly if it'll facilitate basher comprehension): A bigger pile of gross profit dollars is a good thing. Because that's the pile from which you take profit. And hey, here's an idea: Instead of taking out as much profit as you can, it might be a smart thing to invest those gross profit dollars, you know, so you can make an even bigger pile of…well, you get the picture.
There's this, too: If Jeff Bezos says it's in the company's long-term interest to spend aggressively in the short-term - and I'm sure the vast majority of shareholders agree with me on this - it's his call to make. He's earned that right. If any other Entrepreneur/CEO (itself a rarity, as entrepreneurs tend to be lousy CEO's, and vice versa) in the modern business world deserves more respect, I don't know who it is. Bezos and his team built the company from scratch, from an idea and $0 in sales about sixteen years ago to 70,000 employees and over $65 billion in sales today. I'd say it's reasonable to assume he knows what he's doing.
Most investors know the mantra of Jeff Bezos, repeated time and again since 1997: "This is Day One for the Internet." To underscore the emphasis, the two biggest buildings at Amazon headquarters in Seattle are named Day 1 North and Day 1 South. There is a sense of urgency and expectation embedded in such labeling, as well as an implicit recognition of how enormous the opportunity in front of them really is (whatever you think it is, double it; and then again; you're still not close).
I think I speak for my fellow owners, as well as for those non-owners who admire the hell out of Amazon's operating model: We can't wait to see what Day 2 brings.
Disclosure: I am long AMZN. I wrote this article myself, and it expresses my own opinions. I am not receiving compensation for it (other than from Seeking Alpha). I have no business relationship with any company whose stock is mentioned in this article.