Google (NASDAQ:GOOG), Amazon (NASDAQ:AMZN) and eBay (NASDAQ:EBAY) have slowly been escalating their war for consumers, and this is a battle that is about to get much more fierce.
A large portion of consumers currently use Google initially to search for products, and typically in a product search, Amazon and eBay listings are the first listings to come up in the organic (i.e., free) listings on Google. However, Amazon and eBay are also listed very prominently in the Google Shopping link that can be clicked on after every product search on Google.
In the picture below, you will see a search for a particular product (Abby Coffee Table) and the first box that appears says at the top "Shop for abby coffee table on Google," which if clicked on will bring you to the Abby Coffee Table in Google Shopping. Immediately below this are the organic (FREE) listings, the first of which is a link to Amazon.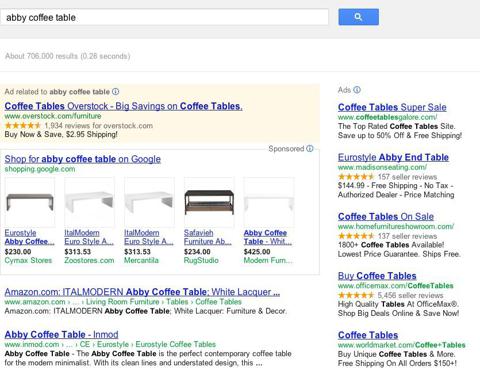 Over the past several years, Google has been working to expand its shopping services in an attempt to become what I believe is a virtual mall that piggy backs off the enormous amount of search volume it receives on a daily basis. To get a sense of just how much volume is done on its site, check out the chart below of daily search volume over the past 5 years:
| | | |
| --- | --- | --- |
| Year | Annual Number of Google Searches | Average Searches Per Day |
| 2011 | 1,722,071,000,000 | 4,717,000,000 |
| 2010 | 1,324,670,000,000 | 3,627,000,000 |
| 2009 | 953,700,000,000 | 2,610,000,000 |
| 2008 | 637,200,000,000 | 1,745,000,000 |
| 2007 | 438,000,000,000 | 1,200,000,000 |
(data provided by: http://www.statisticbrain.com/google-searches/)
Google understands the value of the search not only in generating the majority of its revenues (via paid search listings) but also in tapping into this to provide additional services. Over the past several years, Google has made a significant push into online shopping in an attempt to dethrone Amazon and eBay as the king of online shopping. Below are the various areas that the company has spent a significant amount of money in within the online shopping space:
Google Wallet - is a virtual wallet for in-store and online shopping and allows its users to store debit cards, credit cards, loyalty cards, and gift cards all in one place.
Consumer Reviews - Amazon and eBay place a lot of emphasis on consumer reviews of merchants to drive the overall shopping experience for customers. If a merchant receives enough poor reviews, their status can be dropped from a Featured Merchant to a non-featured merchant on Amazon which then makes all of their listings less visible to consumers or in the case of eBay the merchant can be booted from the site. Not to be outdone, Google has been focusing heavily on integrating consumer reviews in its search results algorithms.
Google Shopping - The granddaddy of them all, Google Shopping is a subsection of Google that allows people to search for particular products and filter the search results by relevancy or by price. Consumer reviews, mentioned above, are listed right beside the product listings and give consumers an idea of what it is like to do business with the merchant of those goods.
I refer to Google Shopping as the granddaddy because it is what will ultimately become a virtual shopping mall that will compete directly with Amazon and eBay and steal away a lot of Amazon's and eBay's consumers.
For years, Google Shopping operated as a subsection of Google search that allowed merchants to post their products for free to the millions of customers coming to Google every day. Each product listing is grouped together with listings for the same product from different merchants. All of the large shopping marketplaces like eBay and Amazon are listed on Google Shopping and a good deal of consumers use Google Shopping to go find the lowest merchant with the best ratings, the majority of which are found through Amazon or eBay.
All of this changed over the past several months, though. Back in May, Google announced that it was going to begin monetizing its Google Shopping platform, which up until then had been a free shopping platform for retailers to list goods. Thousands of retailers are currently on Google Shopping because it is a free service and because of the exposure they get from Google search traffic. Starting in October, retailers will have to pay for every product listed on Google Shopping.
Google has stated that the reason they are moving to this pay per click model is so that they can improve their listings. Sameer Samat, vice president of product management for Google Shopping, stated that Google believes it will have better and more trustworthy data that will improve the shopping search experience for its users as a result of this change.
I believe what Google is ultimately trying to do is move away from being a middleman (i.e., providing links to Amazon which then hooks consumers up to merchants) and direct its consumers directly to merchants. Ultimately, I believe Google will follow the same commission structure model that Amazon and eBay are using, whereby each sale done online generates commissions for them. I think they will integrate Google Checkout / Google Wallet with this strategy over time.
Amazon and eBay are currently ranked at the top of most product searches on GOOG and, for this reason, merchants have focused heavily on getting their merchandise up on those two shopping marketplaces. Both charge merchants anywhere from 5% to 15% in commissions on every sale made on its site, which for retailers is a hefty price to pay in what is a low margin, ultra competitive business. A portion of these fees go to credit card fees that the merchant would have otherwise had to pay anyway and the assumption is the remainder is what the merchant would have had to pay for advertising to get that sale made elsewhere.
However, with Google appearing to step into the fray and having begun monetizing their shopping assets, I think there is now a 3rd player in town that will become a major thorn in the side of EBAY and AMZN. Given relative valuations, I think AMZN's stock could be hurt far worse than EBAY from this competitive threat.
Disclosure: I have no positions in any stocks mentioned, and no plans to initiate any positions within the next 72 hours. I wrote this article myself, and it expresses my own opinions. I am not receiving compensation for it (other than from Seeking Alpha). I have no business relationship with any company whose stock is mentioned in this article.