An ETF managed by WisdomTree holds all U.S. companies that pay dividends and weights the stocks by projected dividends. The fund has outperformed the broad market the past three years and includes stable, established companies in the portfolio.
WisdomTree Total Dividend (NYSEARCA:DTD) has a 2.7% yield with a 0.28% expense ratio.
"WisdomTree's dividend-weighting scheme is a bet against growth stocks, which has paid off in spades in the past," Morningstar says in a report on DTD.
DTD allows investors to access multiple dividend paying companies with one investment at a relatively low price. The low turnover rate of 0.15% is due to the portfolio remaining consistent and not re-weighting the holdings frequently, reports Selena Maranjian for The Motley Fool:
Exchange traded funds offer a convenient way to invest in sectors or niches that interest you. If you'd like to load up your portfolio with some solid dividend-paying stocks, the Wisdom Tree Total Dividend ETF could save you a lot of trouble. Instead of trying to figure out which companies will perform best, you can use this ETF to invest in lots of them simultaneously...A well-chosen ETF can grant you instant diversification across any industry or group of companies -- and make investing in and profiting from it that much easier.
DTD has a three-year annualized return of 14.6%, compared with 13.3% for the S&P 500, according to Morningstar.
WisdomTree Total Dividend
(click image to enlarge)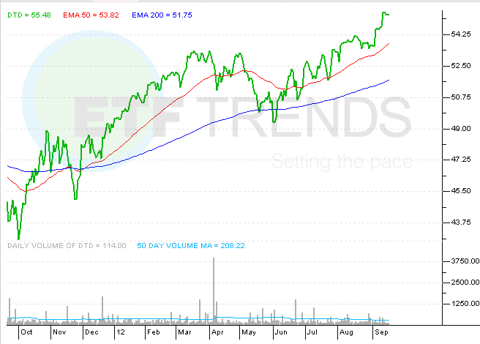 Tisha Guerrero contributed to this article.
Disclosure: I have no positions in any stocks mentioned, and no plans to initiate any positions within the next 72 hours. I wrote this article myself, and it expresses my own opinions. I am not receiving compensation for it. I have no business relationship with any company whose stock is mentioned in this article.