Introduction
I am a retired, self-directed investor with a modest pension that covers my basics, and a small IRA that I'm investing in individual stocks using the U.S. Dividend Champions list kept by Seeking Alpha author David Fish, better known as the Dividend Champions, Contenders & Challengers (CCC lists). This is my version of an old method known as the "Dogs of the Dow" combined with Dividend Growth Investing (aka DGI), a sort of "DGI Lite" method started in November 2011. How this strategy came about is detailed in my previous articles:
Confessions of a 'DGI Lite' Investor
Confessions of a 'DGI Lite' Investor - Part 2: Creating The DGI Lite Portfolio
Confessions of a 'DGI Lite' Investor - Part 3: Care & Feeding of the DGI Lite Dogs
Meet The Dogs
In November 2011, I bought 5 of the highest-yielding stocks (aka underdogs or "Dogs") with over 6% yield from the October 2011 combined CCC lists, excluding Master Limited Partnerships (aka MLPs). Within 2 months, 3 of them cut or froze their dividends, and I held onto them longer than I should have before I sold them, mostly at a loss. In August 2012, I decided to go back over the CCC lists to see if there were any guidelines I could use for my portfolio creation as I went along. This is the portfolio I would have if I had followed these rules, but is not my actual portfolio. This method is based on only ONE metric, and that's yield. It completely ignores the business fundamentals, and therefore carries much more risk that things can go south in a hurry, so you know the drill: don't try this at home! Also known as "always do your own due diligence."
These are the 7 stocks that came up with the new rules in mid-November 2011 (and one replacement in December 2011) to start the portfolio:
Omega Healthcare (NYSE:OHI), Old Republic Intl (NYSE:ORI), Pitney-Bowes (NYSE:PBI), PennantPark Investments (NASDAQ:PNNT), Senior Housing Properties (NYSE:SNH), Triangle Capital (NYSE:TCAP), and Vector Group (NYSE:VGR). This assumes a starting amount of $35,000 and free trades to get started.

Watch Out For the Big Red Doghouse!
After working through all the back CCC lists from 2007 to August 2012, these are the guidelines and rules I defined.
Rule #1 - Sell and replace any CCC stock that doesn't raise the dividend, the sooner the better. (Kick any Dog out of the kennel that isn't producing more dividend puppies every year!)
Rule #2 - Don't buy any CCC stock while it's has red dates on the CCC lists, as there is an 84% chance the dividend will be cut. (Stay away from any Dog that's in The Big Red Doghouse!)
Rule #3 - Only buy American CCC stocks that pay at least quarterly. (Only buy good, ole homebred Dogs that deliver dividend puppies as frequently as possible.)
Rule #4 - Add a new CCC stock when it will raise the overall yield, otherwise reinvest in the highest yielder. (Always go with the fastest Dog-add a new Dog to the Pack when it can outrun the current Pack!)
In March 2012 (end of Q1), a new CCC Dog, Dynex Capital Inc (NYSE:DX), was added to the pack by trading in all the warm and fuzzy dividend puppies, and again in June 2012 (end of Q2), as Dynex had a higher yield on the CCC lists than any of the current Dogs at both points in time.
Just What Do We Expect Out of These Dogs Anyhow?
Maybe it's time to set some goals for these Dogs. As with any DGI portfolio, the short-term goals are to produce more dividends than the year before it, and preferably more each quarter than the previous one. The DGI Lite Dogs are on track to do that, the first quarter dividend puppies were $766.76, and the second quarter dividends were up to $812.32, from dividend increases plus reinvesting the first quarter's dividends. The Dogs are on track to make $841.40 by the end of this month (Q3), plus an additional 14 shares of VGR, which pays an additional 5% in stock annually. Six of the 8 Dogs have already produced more dividend puppies this year than last, leaving only 2 Dogs still needing more puppies due to come in, PNNT and SNH. We'll need to keep an eye on them to make sure they don't slink off into the Big Red Doghouse.
This is the current kennel full of DGI Dogs and the increasing number of dividend puppies each Dog produces. The shaded cells indicate a dividend raise. Both OHI and TCAP have made two raises this year. Good Dogs!

When Will These Dogs Be Fully Trained?
If this were a primary retirement portfolio, the ultimate job of these Dogs would be to produce enough in dividends to replace an earned income. Since this is a supplemental portfolio, the main job of these Dogs will be to bring in some extra income not essential for everyday living. So how much extra fun money will these puppies produce? Right now, the dividends coming in are $841 per quarter. Adding more Dogs to one of the kennels by reinvesting the dividends will probably add another $30 or so, and then I'd be up to around $870 per quarter, not counting 2 more dividend raises still to come in during Q4. The income from dividends for the 2012 year so far is $2853.33. If I have $870 in dividends for Q4, my annual total for 2012 would be $3290, a 13.4% increase in income in one year from $767 in Q1 2012. Way to go, Magic Dividend Dogs!
What about next year? My Projected Annual Dividends for next year based just on the prospective Q4 2012 dividends would be $3480 ($870 x 4), a gain of @ $200/year over Q4 2012. With the dividend increases and reinvesting, a 13% gain in dividend income next year would be $3932, or just under $1000 per quarter. A goal of $4000 in dividend puppies for 2013 seems to be a reasonable target. A longer-term goal of $3000 per quarter, or $12,000/year in dividends would be a very nice supplemental income, and a very respectable return for the initial $35,000 investment. The Dogs could easily do that with the current average 8.71% yield plus 4.5% current dividend growth rate (with 2 Dogs still to announce their raises!), plus reinvesting more puppies, or any combination thereof for around a 12% income growth rate. That will take about 6 years according to the Rule of 72. Can the Magic Dividend Dogs do it?
All Working Dogs Can Get Hurt!
What could go wrong? Well, all Dogs who work for a living risk illness or injuries that could prevent them from doing their job, or eventual old age when they're no longer productive. These Dogs might produce less puppies, or stop producing puppies altogether by freezing or cutting the dividend. In the extreme, a Dog might cross that Rainbow Bridge into the Sky of Bankruptcy and no longer have any capital value at all. This kennel full of DGI Lite Dogs need to be reviewed every quarter at least to make sure they're still healthy and not headed toward that Big Red Doghouse always lurking just outside the kennel. If one of our Dogs starts turning red or suddenly stops producing puppies at all, it might be time for replacement with a healthier dog!
The Annual Vet Check!
Some of these Dogs are younger and faster than the others, and a couple of them have run twice as fast as the oldest and slowest Dog, PBI. Both the TCAP and OHI Dogs are pretty zippy at the moment, and have fetched some nice capital gains along with those dividend puppies. At the end of the year, these Dogs need to be weighed and examined. Some of them may have produced more dividend puppies per quarter, but others may grow those puppies at a faster growth rate. Three of our Dogs are too young to have a 5-Year DGR (Dividend Growth Rate) yet, but should by the end of the year. Maybe we need to make sure our Dogs produce an adequate number of dividend puppies AND they need to grow up fast enough to trade in at the end of the year!
The current portfolio from Seeking Alpha's tracking portfolio as of end of business 9/21/12, with the dividend information pasted in. All the Dogs love to have their pictures taken! Wag your tails and smile, Magic Dividend Dogs!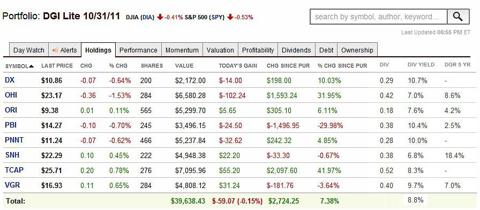 There are several other excellent authors on Seeking Alpha who also write about variations on the Dogs theme. David Fish writes a series of articles on selecting Dog stocks from his individual CCC lists, the most recent can be found here:
2012 Dogs of the Dividend Champions
2012 Dogs of the Dividend Contenders
2012 Dogs of the Dividend Challengers
Author Fredrik Arnold regularly writes about Dog stocks on every index and then some. His most recent article on the combined CCC lists can be found here:
CCC Combo Dogs Allege 33.58% Annual Gains
This is the final installment of the 4-part Confessions of a DGI Lite Investor. But never fear, there are more Adventures in Investing still to come! There will be regular quarterly reviews to make sure the DGI Lite Dogs are still producing lots of barking, bouncing dividend puppies, and the Annual Vet Check at the end of the year. At the end of this month, it will be time to decide whether to add more Dogs to our current pack, or trade in our puppies for a brand new Dog! Sit! Stay!
Please note this light-hearted look at my "Adventures in Investing" is not meant as advice for anyone else, nor in any way to demean those who take investing as serious business. I am fortunate that I have a pension and can afford to indulge my adventurous little heart with my investments.
Disclosure: I am long DX, OHI, PBI, PNNT, VGR. I wrote this article myself, and it expresses my own opinions. I am not receiving compensation for it (other than from Seeking Alpha). I have no business relationship with any company whose stock is mentioned in this article.