AU Optronics (NYSE:AUO), a manufacturer of flat panel displays, continues to slide in a tough consumer environment. Thursday the stock hit a new 52 week low of $11.25 and closed at $11.30. The company's products are used in computer products, such as notebook computers and desktop monitors; consumer electronics products, such as digital cameras, digital camcorder, car television, car navigation systems and portable digital versatile disc [DVD] players; liquid crystal display [LCD] televisions, and industrial displays. This makes the company highly sensitive to changes in consumer spending and the economy as a whole.
In early July the company reported a sharp drop in June sales (down 17.2% sequentially from May). In addition, the company's 2nd quarter revenues, while up sequentially for the same period in 2007, dropped from the 1st quarter by 9.6%. In addition, the company beat 2nd quarter earnings estimates by $.27 ($.84 versus $.57). However, the company's June drop in sales, general macro economic conditions, and the company's saying it may shut production lines and cut capital spending this year because of lower-than-expected demand for LCD monitors and TVs has put immense pressure on the company's shares.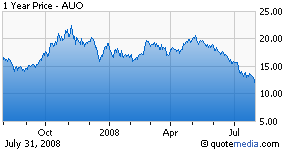 One analyst has the company projected to earn $.52 and $.54 for the 3rd and 4th quarters respectively. If these numbers hold true, combined with the $1.96 they earned in the first two quarters puts them at $3.02 in earnings and a FY08 PE of 3.75. I think it is fair to to conclude that the market is very worried about the effects of consumer demand on AUO and does not believe they will hit their numbers in the second half of the year and that the estimates for 2009 of $2/share earnings (a forward PE of 5.65) may also be lofty.
The company's key financials are as follows:
The 5 year annual average sales growth is 44.70%
The net income 5 year annual average is at 55.81%
It trades at a price/sales ratio of .56 vs. an industry average of 2.41
The price/book is .94 (book value is $13.25) vs. an industry average of 2.67
The current price/cash flow is 1.7 vs. an industry average of 14
Debt/equity is .56 versus a .34 industry average
Current and quick ratios are 1.4 and 1.2 (versus industry average of 2.2 and 1.9)
ROE is 32.5% vs. 14.7% for the industry and ROC is 20.6% versus 8.7% for the industry
.09 dividend for a .53% yield
The financials looking back are clearly impressive and the balance sheet is solid (with the exception that I would like to see the company pay down a little more debt).
Looking forward, the general economy and softening consumer demand is going to significantly impact performance and the market appears to be pricing this in with each passing day. I do not currently hold a position in AUO because it seems like the stock cannot and has not yet found a bottom in this market. Personally, I cannot see the stock trading below .8-.85 of book ($9.04-$9.60 a share currently) unless we see massive revisions to earnings for the rest of the year and for 2009 (something along the lines of earnings drops of 50% or greater from current estimates which would still put 2009 at $1/share and still give the company a forward PE of 11.3).
It is worth noting that Acadian Asset Management, an investment management firm specializing in global strategies, owned 19.2m shares valued at approximately $288m at the end of the 2nd quarter and increased their holdings during the 2nd quarter by roughly 8.96m shares (data complements of www.insiderscore.com).
Disclosure: None