I've been a Precision Castparts (NYSE:PCP) bull for years. I've been impressed with management's ability to maximize operating margins despite a steady stream of acquisitions. The company actually increased margin during the Great Recession, remarkable for a company that has made over $3 billion in acquisitions during the last four years. But lately, I've been questioning how Precision Castparts manages that admirable margin. Management strives to use its "toolbox" to take costs out of takeovers and develop synergies. Yet, the lofty margin seems out-of-place for a serial industrial acquirer.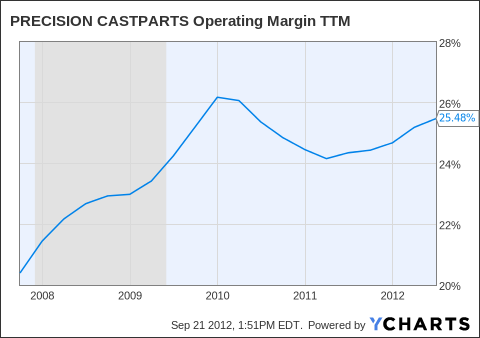 Operating margins are indeed remarkable: Precision Castparts' margins are either the highest in the part of the industrial sector that makes things or close to it. Last quarter, PCP managed a 26% operating margin. Nice.
Moreover, this isn't a one-time event. The company has a five-year operating margin of 24%. Only a few industrials get even close to Precision Castparts' margins - 3M (NYSE:MMM), W.R. Grace (NYSE:GRA), Roper Industries (NYSE:ROP), Polypore International (NYSE:PPO), Joy Global (NYSE:JOY).
Precision Castparts towers over the rest of aerospace and defense when it comes to margins, way better than Rockwell Collins (NYSE:COL), B/E Aerospace (NASDAQ:BEAV), Hexcel (NYSE:HXL), and Triumph Group (NYSE:TGI).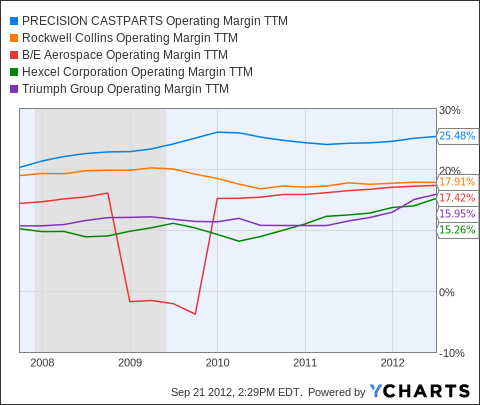 Precision Castparts' operating margin blows away other companies that operate in the casting, forged, and fasteners arena, such as Haynes (NASDAQ:HAYN), Allegheny Technologies (NYSE:ATI), and Alcoa (NYSE:AA).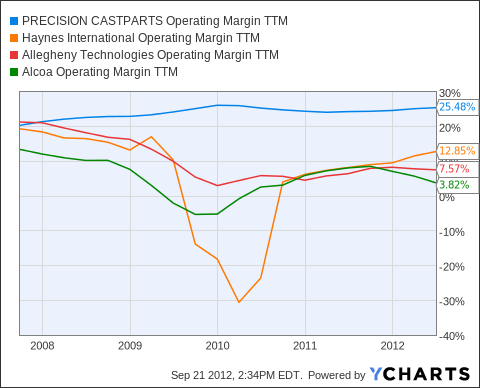 Yet how is it possible to manage these superlative margins in the face of competition and the challenge of adding $3 billion of acquisitions? Presumably, the companies Precision Castparts acquires have much lower operating margins. Yet, Precision Castparts' margins don't seem to get affected by incorporating them into the fold.
For instance. Precision Castparts bought Primus in August 2011 for $900 million. Yet, margins have been stronger following the acquisition.
I wonder. Could how Precision Castparts accounts for its acquisitions prop up margins? This acquisition gives me the jitters. Per the 10K:
The Primus acquisition was a stock purchase for tax purposes and operates as part of the Fastener Products segment. This transaction resulted in $422.1 million of goodwill and $505.3 million of other intangible assets, including customer relationships with indefinite lives valued at $468.5 million, customer relationships with finite lives valued at $15.6 million and backlog valued at $21.2 million. We also recorded a long-term liability related to the fair value of loss contracts valued at $85.3 million.
Could Precision Castparts be using the $85 million in loss contracts to keep operating margin higher? Book profits in the P&L and write-off losses in the acquisition numbers?
While I have no knowledge of how Precision Castparts keeps its margins so high, sometimes things that appear too good to be true really aren't.
I'd love to see more info on how Precision Castparts accounts for its serial acquisitions. Then I might reenter the name. I was convinced management was head and shoulders above the rest of the industrials. Now I am not so sure. Until I find out more, I'm staying away.
Disclosure: I have no positions in any stocks mentioned, and no plans to initiate any positions within the next 72 hours. I wrote this article myself, and it expresses my own opinions. I am not receiving compensation for it (other than from Seeking Alpha). I have no business relationship with any company whose stock is mentioned in this article.
Additional disclosure: Disclaimer: The opinions in this document are for informational and educational purposes only and should not be construed as a recommendation to buy or sell the stocks mentioned. Past performance of the companies discussed may not continue and the companies may not achieve the earnings growth as predicted. The information in this document is believed to be accurate, but under no circumstances should a person act upon the information contained within. We do not recommend that anyone act upon any investment information without first consulting an investment advisor as to the suitability of such investments for his specific situation.