As the economy outlook worsens, Coca-Cola (NYSE:KO) is bucking the trend and showing strong potential to grow over the long run due to a number of bullish factors.
First, the company is launching a new product called Dasani Drops. The new concept is a convenience-size flavored product which can be squeezed into water for on-the-spot do-it-yourself flavoring. It seems this categorical classification is quite popular among retailers after being launched by Kraft (currently seeing $100m in sales in this area in the last six months).
If successful, it will open up a new product line for Coke, possibly a very lucrative one.
On the operations front, KO has been cutting costs within their global bottling divisions to boost profit over the long run. They're integrating their global supply chain and also their Coca-Cola Enterprises' North American business. This could save the company anywhere between $550 and $600 million over the next three years. That's as good as additional new profits right there!
Here's a third point: Coke's free cash flow leverage is 2.5 to 3 times debt-to-EBITDA. Plus their Fitch rating is BBB+ following a new issue of $350 million in senior unsecured notes. No financial structure problems evident at all.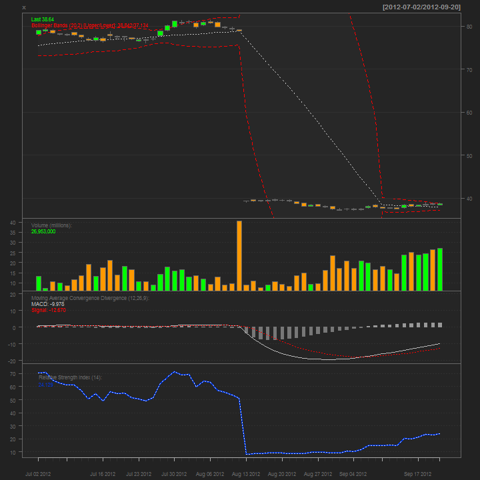 Click to enlarge
(Click to enlarge)
Here is the source.
And if you look at KO's chart, there was a substantial frothy head in early August which has recently been beaten down. However, the uptrend remains intact. There was also a upward trend up until this point. When you look at both the Relative Strength Indicator and the Bollinger Bands they have dropped significantly. Through closer examination the stock has literally been halved, if the trends and muumuus headlines prove to be positive, this stock over the long run could be on a major tear in the foreseeable future.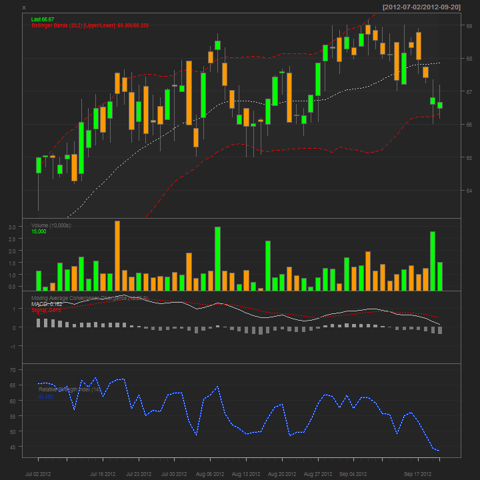 Click to enlarge
(Click to enlarge)
Here is the source.
As compared to the stock chart for KO, there is a very similar pattern with KRO. As you see in the Bollinger Bands there is a sudden we see a strong buying opportunity as well as the RSI is in the low RSI range. This obviously represents a buying opportunity for this stock. It would be highly recommended to investigate and potentially acquire this particular stock.
Disclosure: I have no positions in any stocks mentioned, and no plans to initiate any positions within the next 72 hours. I wrote this article myself, and it expresses my own opinions. I am not receiving compensation for it (other than from Seeking Alpha). I have no business relationship with any company whose stock is mentioned in this article.