Norfolk Southern Corporation (NYSE:NSC) engages in the rail transportation of intermediate products, raw materials and finished goods mainly in the United States. Based in Virginia, Norfolk Southern is one of the country's leading transportation companies. Its Norfolk Southern Railway subsidiary runs roughly 20,000 miles in 22 states and the District of Columbia, supplies to every key container port in the eastern United States, and offers competent connections to other rail carriers.
Norfolk Southern operates the most extensive intermodal network in the East and is a key transporter of coal and industrial products. Norfolk Southern is the second largest railroad services provider behind CSX Corp. (NYSE:CSX) in east Mississippi. However, it has routes firmly focused on the key sources of traffic and has long generated better returns than its rivals. It is reliant mainly on coal, handling coal produced in the Appalachians, Kentucky and Pennsylvania. The company exports much of its coal through the company's dedicated coal facility at Lamberts Point in Portsmouth, Virginia.
Stock Performance and Ratios: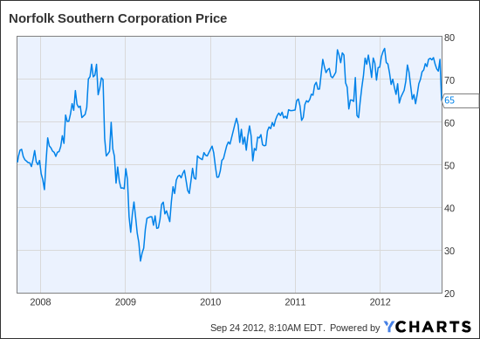 Click to enlarge
Norfolk stock hit bottom in 2009 and the price went below $30. However, since that plight, the stock has recovered immensely and is currently trading at $65. Recently, the stock price has been fluctuating, and the recent announcement by the company about earnings estimate has brought the stock further down. The analyst community was expecting NSC to report diluted earnings of $1.63 per share. However, according to the company estimates, the earnings will be between $1.18 and $1.25 per share. As a result, the stock has come down by more than 5% since the news came out.
Nonetheless, the stock should be able to weather this storm and come back to its previous levels. The stock has a one year target price of $81.13 and 52 week range of $57.57 and $78.50. At the moment, the stock is trading close to its 52 week lower limit. NSC has a beta of 1.14 and a market cap of more than $20 billion. The firm has an attractive P/E ratio of 11 as compared to the industry average of 14.4 and an EPS of $5.84. In addition, the stock offers a healthy dividend yield of 2.80% and juicy annual dividends of $2 per share.
Financial Highlights:
Over the past three years, NSC has experienced a steady increase in its revenues. At the end of 2011, total revenues for the company stood at more than $11 billion. Revenues for Norfolk southern Corporation have shown an average growth rate of 18% in the previous three years. In addition, the net income generated by the firm stood at $3.2 billion last year. This represents a growth of almost 64% in net income from the levels of 2009. On the other hand, the firm has stable levels of debt. Over the past three fiscal years, the firm has recorded total debt levels of around $7.5 billion. Norfolk Southern has extremely impressive operating ratio of above 70% and a debt to capitalization ratio of around 40%. The firm exhibits some of the most impressive operating and efficiency ratios in the industry.
However, for the current quarter, the revenues for Norfolk Southern will come down due to reduced coal and products shipments. However, growth in intermodal volumes will offset some of the decline in revenues from coal supply. Collectively, the decrease in revenues will be about $120 million compared with the third quarter of 2011. In addition, the company anticipated the fuel surcharges to be approximately $80 million below the same period last year. Over the past seven years, the firm has generated less than $1 billion in free cash flows only once. Meanwhile, the cash flows from operations have recorded an impressive growth and crossed $3 billion in 2011. Norfolk Southern also invests heavily in the business, and capital expenditures for the previous year stood above $2 billion.
Peer Comparison:
| | | | | |
| --- | --- | --- | --- | --- |
|   | Norfolk | Union Pacific | CSX | Canadian Pacific |
| P/E | 11.00 | 15.40 | 11.90 | 21.00 |
| P/B | 2.10 | 3.00 | 2.50 | 2.80 |
| P/S | 1.90 | 2.80 | 1.90 | 2.50 |
| EPS Growth | 6.40% | 14.00% | 11.00% | -5.10% |
| Operating Margin | 30.10% | 31.30% | 29.60% | 20.80% |
| Net Margin | 17.30% | 18.20% | 15.80% | 11.90% |
| ROE TTM | 19.30% | 20.00% | 21.10% | 13.10% |
| Debt to Equity | 0.80 | 0.50 | 1.00 | 1.00 |
Source: Morningstar.com
Norfolk Southern peers include Union Pacific Corp (NYSE:UNP), Canadian Pacific Railway Ltd (NYSE:CP) and CSX Corp . Norfolk is cheaper than almost all of its peers based on market multiples. In addition, the firm has impressive margins and EPS growth rate. Only Union Pacific demonstrates slightly better margins than Norfolk, but it is trading at a considerable premium. Norfolk debt to equity ratio is also impressive as compared to its peers.
Summary:
Norfolk Southern Corporation has extremely efficient operations as it is clear from the operating ratios mentioned. The company also boasts impressive margins and EPS growth. In addition, the stock is currently trading close to its 52 week lower boundary. I believe the long term business prospects of the firm remain strong, and the current fall in price is temporary. In fact, current fall in price gives investors an opportunity to take a position in stock at a discounted price. I would suggest Norfolk Southern as a long term investment, as the stock has potential to generate steady returns.
Disclosure: I have no positions in any stocks mentioned, and no plans to initiate any positions within the next 72 hours. I wrote this article myself, and it expresses my own opinions. I am not receiving compensation for it (other than from Seeking Alpha). I have no business relationship with any company whose stock is mentioned in this article.