Based in Houston, Magnum Hunter Resources (MHR) operates in the oil and natural gas industries. The firm develops and produces oil and natural gas from reserves in West Virginia, North Dakota, Texas, and Louisiana. The firm has an active presence in the Marcellus Shale. Previously, the firm was known as Petro Resources Corporation, but changed to Magnum Hunter Resources in 2009. Magnum Hunter shares appear to have high potential for gains for the following reasons.
Forecast Strong Production and Cash Flow Growth: MHR has built a diverse asset portfolio that has allowed the company to accelerate liquids growth while awaiting better gas prices and the build out of midstream infrastructure before refocusing on its Marcellus shale assets. The company is targeting more than 90% of its $325 million upstream capital budget in 2012 toward the Eagle Ford and Williston Basin, which would drive ~160% production growth (200% liquids growth). The $325 million budget itself represents more than a 50% increase in exploration and development spending over 2011 levels and 470% over 2010. MHR entered 2012 with crude oil and NGLs constituting ~40% of total production and expects to exit the year at over 60% liquids by production.
MHR Asset Portfolio Overview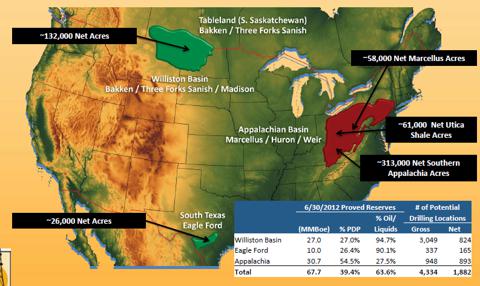 Source: Company Presentation
Focus Shifting from Inventory Building: MHR has completed ~$1.2 billion in acquisitions since 2008, starting with the $2.7 million acquisition (all stock deal) of Sharon Resources, with assets in the Eagle Ford in September 2009 and more recently (April 2012) a $311 million all-cash deal to increase its position in the Williston Basin. The acquisitions have resulted in the addition of ~27 mmboe of proved reserves for ~$43 per boe (excluding undeveloped leasehold) but more importantly, have provided a deep, repeatable project inventory in the Eagle Ford, Marcellus, and Three Forks and exploration potential in the Utica and Pearsall shales.
Improving Results in Divide County: MHR has aggressively grown its Williston Basin position with the 2011 acquisition of Nuloch and Baytex in 2012, accumulating 132k net acres in the process. Economics of short laterals in Tableland (Saskatchewan) are enhanced by a favorable royalty structure, while recent results in Divide County, North Dakota in the Three Forks point toward improving project returns. While results from MHR's operating partners Baytex and Samson have historically failed to stack up to those of peers (SM and CLR) and the company's internal 350 mboe type curve, recent results suggest that a change in completion recipe is delivering better recoveries and returns. The data from Samson wells in Divide County in 2012 have delivered a 68% improvement in peak month oil rates compared to older vintage wells.
Strong Returns in the Liquids-Rich Marcellus: While the company has focused on Three Forks and Eagle Ford development in the weak gas price environment, MHR maintains 58k net acres prospective for liquids-rich Marcellus in West Virginia. Activity in the area has been limited to date owing to a lack of infrastructure. The company's midstream subsidiary Eureka Hunter is addressing the issue, and the start-up of MWE's Mobley gas-processing plant in 4Q12 will allow the company to extract liquids. The company has drilled eight wells to date, with average IPs of ~10 mmcfe/d and for total drill and complete cost of $6.5 million projects 9.2 bcfe recoveries (including ethane recovery).
Exploration Upside: MHR acquired ~12k net acres in Noble County, Ohio in 1Q12 for $25 million, an area that is increasingly looking to be a core area prospective for the Utica/Pt. Pleasant. A portion of the company's acreage is in the vicinity of the Antero Miley well, which has been discussed have had an initial production rate of greater than 3 mboe/d without being rested after the completion. The company is also expanding its Pearsall position, which has received a great deal of attention following a JV deal between COG and Osaka that valued the Pearsall alone at $25k/acre. MHR recently paid $2.4 million for 1,900 net acres, bringing the position to a total of 5,200 net acres prospective for the Pearsall, which lies 2500' below the Eagle Ford and is 500-600' thick. While the company will likely let peers prove the value of its Utica position in the near term or until a JV is consummated, MHR recently spud a vertical pilot to the Pearsall, with plans to ultimately take the well horizontal.
JVs and Midstream Assets Enhance Liquidity: MHR exited 2Q12 with $185 million of liquidity (cash and $160 million available its credit facility), and despite having raised roughly $600 million in 2Q12 to finance the Baytex acquisition and pay down, existing revolver debt the balance sheet remains stretched. The company continues to rely on an at-the-market offering of Series D perpetual preferred stock (sold $45 million in September) and expansion of its credit facility to fill the gap between capital expenditures and cash flow, which we estimate is ~$220 million in 2H12- 13. The company anticipates spinning its Eureka Hunter Midstream and TransTex assets into an MLP by mid-2013 and has more recently discussed seeking a JV for its Utica and Eagle Ford assets; transactions we expect will allow the company to unlock value and strengthen the balance sheet further.
Built for Sale: Management has laid out a very clear exit strategy, with plans to grow MHR to 100 mmboe in proved reserves and then sell the company. Gary Evans was the CEO of the prior iteration of Magnum Hunter that was sold to XEC in 2005 for $2.1 billion, in all-stock deal that included the assumption of $645 million of debt. The assets were not the same, with the prior MHR focused on the Permian, Mid-Continent, Gulf of Mexico, and Gulf Coast regions, but we note that there is clearly a track record of building and divesting a successful E&P business, while less clear who a strategic buyer may potentially be.
Attractive Relative Value: According to credit Suisse, MHR trades at a 25% discount to our 'PD Plus' NAV of $6/share and 5.3x 2013E EBITDA compared with the Credit Suisse SMID-cap E&P peer group, which trades at a 8% discount and a multiple of 4.3x. While a cash flow premium cash flow multiple is warranted, given the company is in the early stages of ramping liquids growth, the discount to its NAV estimate fails to recognize the value of the MHR's deep project inventory in the Williston, Eagle Ford and Marcellus, as well as evidence of improving Three Forks results.
| | | | | | | | |
| --- | --- | --- | --- | --- | --- | --- | --- |
|   | Tkr | M.Cap* | NI* | P/S | P/B | P/E | Dvd Yld |
| Magnum Hunter Res. | (NYSE:MRH) | 806 | (74) | 3.2 | 1.5 | -6.7 | - |
| Canadian Natural Res. | (NYSE:CNQ) | 36,202 | 2,848 | 2.1 | 1.5 | 12.5 | 1.2 |
| Anadarko Petroleum | (NYSE:APC) | 35,941 | (1,342) | 2.6 | 1.8 | -26.7 | 0.5 |
| Apache Corp. | (NYSE:APA) | 34,657 | 3,344 | 2.1 | 1.2 | 10.9 | 0.7 |
| EOG Resources | (NYSE:EOG) | 30,769 | 1,381 | 2.7 | 2.3 | 22.2 | 0.6 |
| Devon Energy Corp | (NYSE:DVN) | 24,727 | 2,415 | 2.2 | 1.1 | 10.2 | 1.3 |
| Encana Corp | (NYSE:ECA) | 16,920 | (1,364) | 2.3 | 2.5 | -12.4 | 3.5 |
| Noble Energy Inc | (NYSE:NBL) | 16,585 | 701 | 4 | 2.1 | 23.9 | 0.9 |
| Continental Res. | (NYSE:CLR) | 14,557 | 801 | 5.8 | 5.2 | 18.1 | - |
| Talisman Energy Inc | (NYSE:TLM) | 14,415 | 891 | 1.8 | 1.4 | 16.2 | 2.4 |
| Pioneer Natural Res. | (NYSE:PXD) | 13,070 | 384 | 3.7 | 2.3 | 36.6 | 0.1 |
| Chesapeake Energy | (NYSE:CHK) | 12,882 | 2,339 | 1.2 | 0.9 | 7.2 | 1.8 |
| *USD mn |   |   |   |   |   |   |   |
Investment Risks:
Commodity prices are volatile and subject to various factors, including changes in supply and demand, the economy, weather, inventory levels, OPEC's ability to maintain quotas, government regulation and taxes, and the worldwide political climate.
As a result of the rapid acceleration in unconventional resource plays, access to services, infrastructure, and labor have become an issue.
There is no assurance that the drilling for hydrocarbons will result in commercial quantities of oil or gas, and MHR may be unable to replace its produced reserves in a given year, which would likely have negative implications for the stock.
Proved reserve estimates are subject to many complex technical, economic, pricing, cost, and spending assumptions that cannot be known with certainty.
Disclosure: I have no positions in any stocks mentioned, and no plans to initiate any positions within the next 72 hours. I wrote this article myself, and it expresses my own opinions. I am not receiving compensation for it (other than from Seeking Alpha). I have no business relationship with any company whose stock is mentioned in this article.