After reporting stellar earnings on June 23rd (conference call transcript here), Baidu.com (NASDAQ:BIDU) should be owned for a variety of reasons, headlined by a little catalyst known as the Olympic Games. I know that management talked down any short term boost from the Olympics but the long term benefits are obvious. August 1st is a solid time to enter this stock as it still is $100 off of it's high. Here are 5 reason to buy the 'du:
1. The Fundamentals. In Q2 Baidu exceeded revenue guidance with 100% year over year growth and 87% net income growth. Management reiterated strong guidance going forward as well. The company saw an increase of 41% in online customers and boosted revenue per customer by 42%.
2. The Launch of My Marketing Center. In the past quarter they launched this new service to aid customers in making better marketing decisions. This customized platform integrates industry information, market trends, as well as business and industry news. A great tool to maintain current clients and to grow market share.
3. Hao123.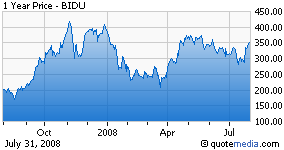 This is an index of popular Chinese websites that is one of the most used default homepages in China; according to management it's gaining traffic quickly. Many users would rather utilize click through navigation instead of typing in a url address.
4. Formal launch of eBay (NASDAQ:EBAY) competitor by the end of the year. Customer to customer buying and selling is just starting to gain traction in China; Baidu plans on being a big part of it.
5. The 2008 Summer Olympic Games. More people will be turning to the Internet than ever before for sport updates, travel, recreation, etc... Management is worried that they will lose some marketing customers who will be forced to shut down operations during the Games but that is just a short term glitch. The big picture in much more important. Baidu will have an Olympic channel, 2008.baidu.com, reporting up to date news and results whose traffic should more than make up for any government imposed shutdown.
August marks the long awaited moment for Baidu to officially replace Research in Motion (RIMM) as one of tech's famed four horsemen. The new RIMM Thunder appears to be an iPhone copy cat but without access to the 'real' Safari mobile Internet, iTunes music, iTunes movies, or the iTunes app store. Getting rid of their one superior feature, the physical keyboard, stands to be the straw that will break the camel's back. RIMM has been a very successful one trick pony, they will continue to have a niche in the business market but the days of high growth are nearing an end. With a probable decrease in growth rate, it's time for Baidu to claim their well deserved spot.
Disclosure: Long BIDU, AAPL.