The economy is not looking very strong these days despite continued cheerleading from Wall Street and government circles. Uncertainty is growing as we await potential government defaults in Europe.
So where to go for safety? The health industry is generally a very stable area in which to invest over the long run.
Medtronic is a key provider within the global health sector with operations in 120 countries and six major businesses focused around a condition or therapy type: Cardiac Rhythm Disease Management, Spinal and Biologics, Cardiovascular, Nleuromodulation, Diabetes, and Surgical Technologies.
As the world's largest medical technology company, it's shown a solid and positive recent history with the current price near a 52 week high.
Little wonder when looking at some of the products they've released, such as their cardio vascular drug Resolute Integrity. It looks like a solid winner, plus the company seems to be adding incremental revenue in several other areas: net sales improved 7% to about $4.1 billion. Management has cited strong trends in structural heart, endovascular and physio-control sales in particular.
Medtronic is even showing themselves to be a standout as compared to industry peers such as Johnson & Johnson (NYSE:JNJ), Stryker (NYSE:SYK) and Boston Scientific (NYSE:BSX).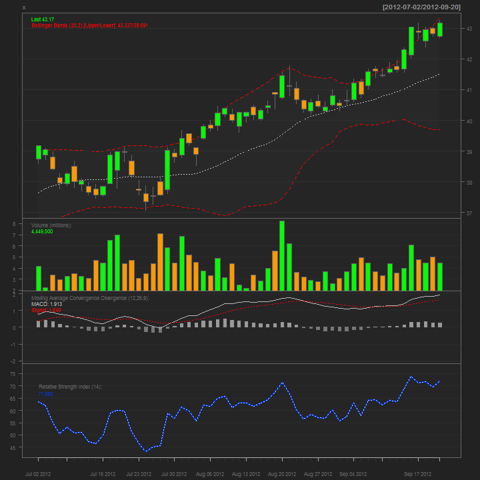 Click to enlarge
Here is the source
Looking at the chart, institutional and retail investors are certainly piling into this stock right now. However, there may be some pullback in the short term. Because as you look at that chart, you'll find MDT is trading in the upper range of the Bollinger Band. That infers that the stock is currently overbought (the relative strength indicator is also within the upper range).
That says "pullback" to me, perhaps to the $41 level, maybe even the $39 level if investors stampede out.
However, it should be onward and upward once some support has been found at that price. At a forward P/E of approximately 10, the stock will deserve a close look once short term over-enthusiasm has been squeezed out of it. And it doesn't hurt that the dividend yield is relatively tasty at 2.9%.
At the very least, the industry should remain stable in an uncertain economy barring a market crash. It's a safe bet that the equity curve of MDT will be very positive over the long run.
Disclosure: I have no positions in any stocks mentioned, and no plans to initiate any positions within the next 72 hours. I wrote this article myself, and it expresses my own opinions. I am not receiving compensation for it (other than from Seeking Alpha). I have no business relationship with any company whose stock is mentioned in this article.